EPOS is a new name in the UC (unified communications space)/Office Comms/Gaming, yet it comes with a 75-year heritage from Sennheiser. And it is up against traditional UC suppliers like Poly (formerly Plantronics and Polycom), Jabra and Logitech.
Now before you say, "Why read about UC (or gaming)?" it is really relevant to COVID-convicts working from home. They require top-class headphones/boom mics/conference speakers and more so as not to let the screaming baby or barking dogs interfere with their professional presentation. And in gaming, a split-second advantage can be the difference between a kill or be killed.
Over the coming weeks, we will be reviewing the gear, but here is an overview.
BTW a headset is a headphone plus an integrated mic – usually on a boom.
EPOS On the Go (Bluetooth headsets or cabled with BT dongles)
Now I don't want to list them all – boring – but there are essentially over-the-ear, on the ear, in-the-ear, single and double-sided and some dongles to convert 3.5″ into USB-C or BT
The top of the range is the ADAPT 660 (BT/ANC) and costs $640. It has been beefed up with the EPOS AI app and certified as a UC device. And as a bonus, it looks like my favourite lightweight travelling Sennheiser PXC550 II that has the best sound for movies and music.
Its single-and-double sided on-the-ear are to avoid 'helmet hair' and range in price from $63-118. The top-of-the-range is the cabled ADAPT 165 featuring 'soft, noise-cancelling pads and a pivoting boom noise-cancelling mic".
EPOS Call Centre (designed for all-day use, cabled, BT and DECT)
I have never worked in a call centre, but my naive son did so many years ago selling advertising. I can remember well his comments on the 'sweat-shop, noisy environment' and how hard it was to make your mark feel as if you were talking solely to them.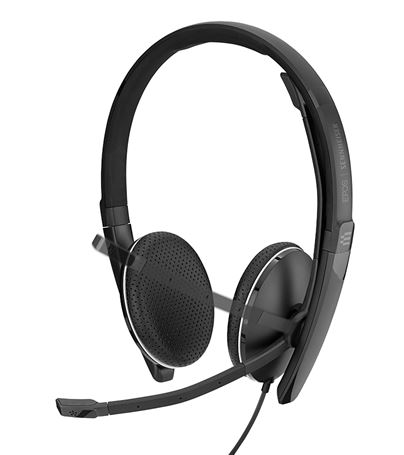 The CC and Impact range feature enhanced noise cancellation and beamforming mics for the best possible conversation. Batteries are for longer use and ruggedised headsets for harder use. These range from $123 to nearly $600 (DECT). They also have a choice of narrow or wide headbands, single-or-double-sided and different impedances to match UC gear.
These feature Active Guard (it is a PDF link so check downloads) that protects the wearer from unexpected 'acoustic shock' by compressing sound rather than clipping it. This has become more important as telephone calls move off copper wire to VoIP and softphones where extraneous signals can get in.
This part of the IMPACT range includes DECT base stations with USB and BT conversions and headsets.
A range of USB/3.5mm speakerphones from the Expand 80 (for up to 16 people around a board table) at $1045 to MS Teams huddle room speakers at $362.73.
Gaming – not garish but high-efficiency headsets and mics – formerly called Sennheiser Gaming Team
Rugged, great noise isolation, mics that focus on you and not a glowing, pulsing LED light show to be seen
We particularly like the External Sound card GSX 300 ($129.90) and the two multi-way audio amps ($349/399). Some headsets would look at home on a Star Trooper. The top-of-the-range, 7.1 surround sound, lag-free wireless (dongle supplied), 20+ hour play GSP 670 below is $469 (review here 4.3/5).
GadgetGuy's take EPOS is a new name with Sennheiser's very good, long sound heritage
We don't typically cover UC, but it is becoming far more interesting now. Why? Because the WFH (work from home) phenomenon looks like it will be a permanent feature.
I had a quick look at the ADAPT 660 (review soon) and the AI app. It certainly adds value to the headset it is based on.
EPOS will leverage Sennheisers traditional retailers, computer parts (like Mwave, Scorptec), specialist UC (Simply Headsets), gaming outlets and EPOS Online. If you are looking for the products search for 'EPOS Audio'.
You can read Sennheiser reviews here.