Fathers Day is right around the corner, and if you're anything like us and wondering how that snuck up on you, not only are you not the only one, but you also have a list of bits and bobs that'll make your old man smile.
The Cook
Does Dad enjoy time in the kitchen over everything else? Awesome, because there are a few gadgets you can whet his palette with.
Sunbeam Big Fill Toastie
Price: $45 for two sandwiches; $70 for four sandwiches;
The jaffle is about as Australian as it gets, and no one makes it like your Dad, so why not up his game with a proper modern toastie maker?
That's what you get with the Big Fill, a large toastie maker that offers deep cavities for you to pack in large sandwiches, filled with all manner of toppings. Cheese and ham or cheese and tomato are the basic ones, but if you want to fill up and potentially burn your mouth, you can grab the canned spaghetti and go for your life.
Sodastream Play
Price: $99
SodaStream has been around long enough for most people to know what it is, but just in case you've forgotten, here's a quick primer: bubble drinks made with tap water in the space of a few seconds.
Essentially, you're carbonating bottles of water yourself, making soda water super fast, and then adding your own syrups afterwards, and that's where it gets fun.
While it can be nice to make your own sparkling water, and while it's great fun to make your own ginger beer or orange drink, you can even take fruit or spices and boil up your own cordials, mixing them with the sparkling water that has just been made.
That means Dad can experiment in the kitchen with some playful things like watermelon soda or his very own sarsaparilla, encouraging inventiveness with bubbles.
Lavazza EspressGo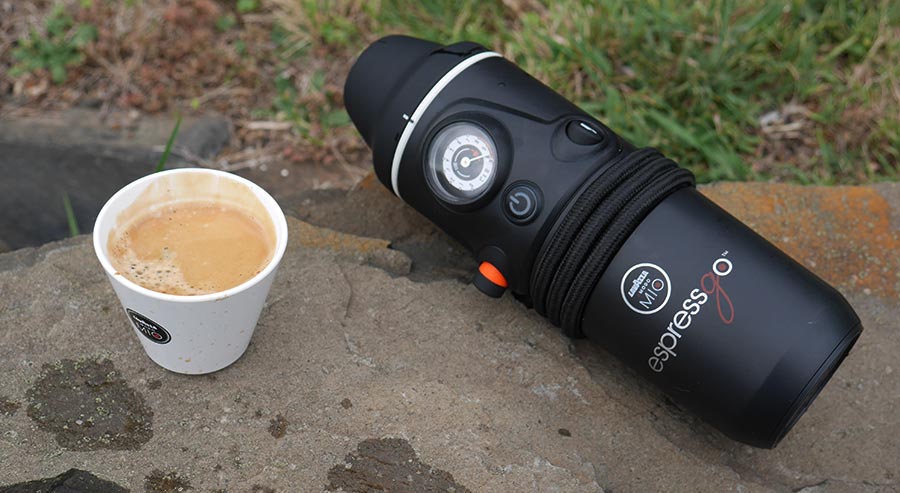 Price: $199
The coffee pod machine isn't for everyone, but what about when it's doing something that other coffee pod machines can do, like making coffee in the car?
Then the coffee pod machine is worth talking about, and that's what you get with Lavazza's EspressGo, a rather unorthodox take on the instant espresso machines.
For this one, you rely on a thermos-like gadget powered by your car's cigarette lighter to make a cup of hot espresso, pouring it into a small cup that the gadget comes with.
The EspressGo relies on Lavazza's A Modo Mio system, with the pods available from supermarkets across Australia, so you won't have to line up for pods at a specialty store.
Sharp Slow Juicer
Price: $499
Ask any juice fanatic about the best kind of juice technology out there and they'll say slow juicing or "pressure juicing" is where it's at.
For those who have never heard of it, this is basically where you crush the juice out of fruit using large mechanically winding objects, pulverising the liquid out of the fibre instead of slicing the juice out with conventional blade-based juicers.
While the jury is still out on whether this actually leaves more vitamins in the juice, we can tell you that it definitely gets more juice out of the fruit, which one could argue in turn provides more vitamins due to there being more liquid altogether.
What we do know, however, is that Sharp's Slow Juicer is one of the better ways to get into slow juicing, and is even more compact than some of its competitors, too.
Breville's The Boss
Price: $999
Breville's take on the everyday blender might have an unusual name, but it's one of those things that screams its dominance on the kitchen, setting it out the moment you open the box.
"This is The Boss," it says, "and what it will do is ideal for someone who commands their kitchen."
As such, this isn't your ordinary blender, offering up the ability to make nut butters, green smoothies, mayonnaise, and more thanks to a special blade and bowl system that turns any ingredient to something so small it may as well be liquid or powder and nothing in between.
For those people who can't live without green smoothies, this is one blender that even supports that feature as a function.