The Hisense 2019 Series 7 4K (3840×2160), offers great performance and value in the mid-range market.
Hisense is still a challenger brand chasing after the 'big three' market share. It does this by having a huge range of TVs with different feature sets and prices. Its Hisense 2019 series 7 (R7) is a TV for all – a great mid-range set.
Hisense Australia says, "2019 is shaping up to be a big year for Hisense. Demand for our consumer electronics and home appliances is continuing to grow, both from consumers and retailers. As a result of this demand, we are expanding our offerings across our existing categories in 2019 and are also launching into new categories. It's an exciting time and we look forward to sharing some more detail on our business growth in the coming months."
We will try and make sense of the range (the 'P' identifier is 2018 model) – Series:
2 (ongoing) 720p, edge-lit LCD with DVD in 24 and 32-inch
4 (P4) 1080 (1K) edge lit LCD in 32, 39, 49 and 55-inch
6 (P6) 4K, HDR, edge-lit LCD, in 43, 50, 55, 65-inch
7(P7) 4K, HDR, edge-lit LCD in 50, 55, 65 and 75-inch
8 (P8), 4K, HDR Plus, Quantum Dot, edge-lit, in 65 and 75-inch (GadgetGuy review here)
9 (P9), 4K, HDR Plus, Quantum Dot, back-lit, in 65 and 75-inch (GadgetGuy review here)
X (PX), 4K, OLED, HDR, in 55 and 65-inch (GadgetGuy review here)
Designer White Collection (P1) exclusive to Harvey Norman 4K in 43, 55, and 65-inch
You will find these at retailers for run-out prices to make way for the new range. Gadget Guy gave the series 9-2018 a 10-out-of-10 for its great back-lit Quantum Dot panel and the Series 8-2018 an 8-out-10 for the Series 8 edge-lit panel.
At the time we uncharacteristically said that the recommended retail prices were too high for a 'challenger' brand and should be a step under that of similar ranges from Samsung, LG, Panasonic or Sony. We do not normally comment on price – value is in the eye of the beholder.
To be fair better retailers like JB Hi-Fi, Bing Lee and Good Guys lowered prices, so Hisense had a good year.
Ergo – its 55/65-inch generation one PX OLED, initially for $3499/4999 is now around $1496/2495 making them the real bargains.
BTW, Hisense is the world's fourth-largest TV maker (by unit market share) behind Samsung, LG and Sony.
Now in 2019, we have the 'R' identifier
5 (R5), 4K, HDR, edge-lit in 58 and 65-inch
6 (R6), 4K, HDR10, edge-lit in 43, 50, 55, 65 and 75-inch
7 (R7), 4K, Dolby Vision, voice control, edge-lit in 50, 55, 65, and 75-inch
And we presume series 8 (R8 Quantum Dot), 9 (R9 Quantum Dot) and new OLEDs (RX) will come later.
Review: Hisense 2019 Series 7 (R7) 65-inch model 65R7
Website here
Let me start by saying that I tend to review the top-end-of-town products, so for me, I was a little taken aback when asked to review the Hisense 2019 Series 7 (R7). I do not mean that negatively – I was impressed with the series 8 and 9 last year. But I did not expect greatness – I was pleasantly surprised.
The Series 7 has traditionally been its most popular range, perhaps because it is about half-way up the good, better, best ladder – a mid-range TV with an RRP at $1499 (50), $1799 (55), $2499 (65) and $3499 (75).
Again, I repeat that these are RRP and buyers should practice severe arm twisting if they decide to go this way.
The main differences between 2019 R7 over 2018 P7 are
Dolby Vision (a superset of HDR10) and High Log Gamma (HLG)
Dolby Atmos 5.1.2 decoding (you need a Dolby Atmos soundbar to hear this)
Voice control (Amazon Alexa built-in and Google Assistant to come via a Google speaker)
Updated VIDAA 3.0 User Interface with AI content suggestions
Updated RemoteNow smartphone app
Dolby Vision and Dolby Atmos alone are reasons to buy the R7 over the P7
What is Dolby Vision and Dolby Atmos?
If you are buying a TV in 2019, go for Dolby Vision and Atmos if you can afford it.
Analysts agree that Dolby Vision has won the HDR (High Dynamic Range) race. It improves details in dark areas and stops a wash-out of detail in light areas. HDR is the base standard, and Dolby Vision encompasses the higher HDR10 and HDR10+ standard as well.
A movie (content) contains 'metadata' that reveals the details. The TV decodes this as part of the HEVC.265 data stream.
The screen is 10-bit (8-bit plus FRC frame rate control dithering), providing over 1 billion colours.
Dolby Atmos is 3D sound where up to 128 sound 'objects' can move around you – overhead, behind, left, centre, right, etc.
In this case, the R7 decodes 5.1.2 (Front left/centre/right, left up/right up and subwoofer) sound and downmixes it to the TV's 30W 2.0 (left/right) speakers. But importantly it passes through the Dolby Atmos sound via HDMI ARC to a soundbar. If that is Dolby Atmos compatible then it will reproduce Dolby Atmos sound or again downmix it to the soundbar's capability.
So how does the screen look?
Remember we are comparing this to other mid-range TVs. We set the screen to factory defaults (not as all TV makers do – the store mode that oversaturates colours and brightness). Our only alteration to the defaults was to set it in Dynamic mode and to enable Dolby Vision.
It has pre-set for dynamic, day, night and sports. While these adjust gamma slightly, the Dynamic provides the most saturated colours that Australian's covet. Night mode provides the best natural colours in a darkened environment.
The screen assessment is on two levels.
The first is to the naked eye, and it passes the visual tests with ease. Colours are relatively accurate, HDR details are there, and overall it is a good picture.
The second is via a suite of tests with greyscale and colour bar generators that bring out the best (or worst) in the panel.
Grey Scale
We test in 2% increments. It covered 96% with the last two black bars merging which is typical of edge-lit LCD TV – you can never achieve true black. The top end whites were good. Pass.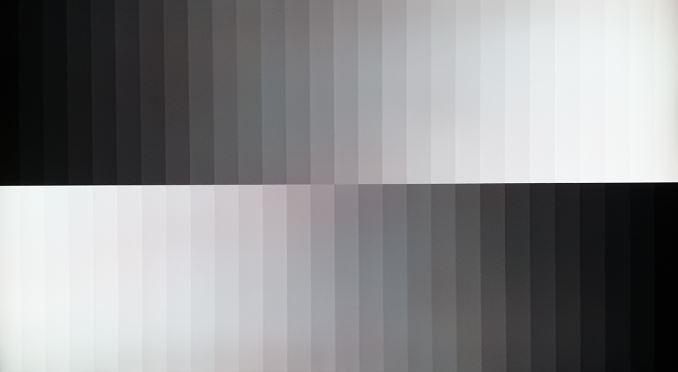 Colour bars
We test for Red, Green and Blue (RGB) primary colour accuracy and then secondary 'manufactured' colours like pink, yellow, light blue and white.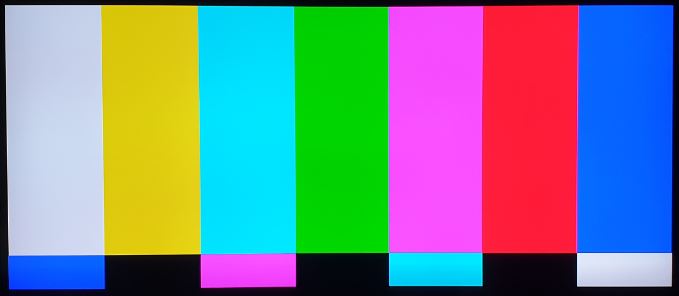 RGB was good as were the secondary colours. There was a little colour overlap where the bars abutted each other. While the main colour bars were even the lower set had a slight blotchiness. That is typical of almost any bottom edge-lit panel. Pass.
Colour quality
The screen cannot be Dolby Vision unless it can reproduce every tone. The simple test below shows it can faithfully reproduce most tones. However, we did change the colour temperature slightly to cool down the reds a little.
Pass.
Screen reflection
Like last year's P7 reflectivity, it is still an issue for brightly lit rooms. The image below is in a darkened room with lights off overhead and behind and on at the far left.
The warning applies to any TVs that have a glossy coating – you must be able to control lighting. This was not any worse than most I have seen. Pass with caveats – you need to control light sources.
Elite Backlight ultra 'local' dimming
Hisense is a bit cheeky using the term Backlight – it is bottom edge lit LCD dimming.
The Hisense Series 7 R7 achieves local dimming via PWM (Pulse Width Modulation). If you wanted 70% screen brightness, you would keep the digital signal on for 70% of the time and off for 30% of the time. These flickering 'breaks' are rapid, with the frequency measured in Hertz (Hz), or the number of times per second.
Your eyes cannot see this as the refresh rate is a higher frequency than you can see, but we can photograph it using higher shutter speeds. Because it is LCD based with an LED edge-lit light source, you can see the flicker.
This screen is like other brands in this class and for some people can cause eyestrain, headaches, nausea as the eye's pupil has multiple rapid contraction and expansions. If you suffer this, then an OLED screen is what you need.
The easiest cure to PWM sensitivity is to have the screen as bright as possible in a bright room! You can also play with (turn off) Dynamic Backlighting, Adaptive Contrast and Ultra Smooth Motion controls (not tested).
Pass with caveats – PWM susceptible people need to look at non-PWM panels.
Dolby Vision
Dolby Vision needs Dolby Vision content, usually found on 4K Blu-ray and increasingly from online sources. If you have the more expensive Netflix 4K account and a decent NBN50 or higher you can stream Dolby Vision/Dolby Atmos content  – otherwise you will get HDR and 2.0 to 5.1 sound.
Using a suitable Star Trek Discovery clip reveals that it achieves around 80% of the best Dolby vision I have seen – note the left eye details of the Klingon. On a top range TV, you will see the right eye detail down the pupil.
Wide angle
While Hisense claims 89° (that is almost a right angle) the reality is it also claimed this for the P7 series last year. Off-angle viewing at about 60° starts to see a colour shift and past 75° colours wash out. Hey, it is no worse than any other mid-range brand.
How does it sound?
It has a 15W 2.0 (30W total) system comprising two tweeters and four mid-range speakers. Let me preface comments by the fact that even a $300 2.1 stereo soundbar will enhance most TV sound and this is Dolby Atmos capable so buy a damned Atmos sound bar!
Overall volume was 78.4dB – loud enough for most smaller lounge rooms. At this level, it was a tad harsh as our frequency spectrum analyser reveals.
It has pre-set for standard, speech, late night, music, theatre, sports and a custom EQ. Regrettably like most EQs, it does very little to the native signature of the speakers.
What is sound?
I want to remind you of our sound measurement paradigms.
We just against six sound signatures. 'Warm and sweet' is the nirvana for movies and music or 'mid' for clear voice (and it is OK if you can use an EQ to add more bass or treble). The last thing you want on a TV is the first three.
Analytical: (bass/mids recessed, treble boosted)
Balanced: (bass boosted, mids recessed, treble boosted)
Bass: (bass boosted, mids/treble recessed)
Mid: (bass recessed, mids boosted, treble recessed)
Warm and Sweet (bass/mids boosted, treble recessed)
Bright Vocal (bass recessed, mids/treble boosted)
Note: Frequency response is from 20Hz to 20kHz, which is outside the human hearing range.
This had:
Deep Bass: 20-40Hz – none
Middle Bass: 40-100Hz – none
High Bass: 100 to 200Hz – creeping ever so slowly in
Low-mids: 200-400Hz – good
Mids: 400-1000Hz – good
High-mids: 1-2kHz – good
Low-treble: 2-4kHz – dropping
Treble:4-6kHz – peaking
High Treble: 6-10kHz – peaking
Dog whistle: 10-20 – none
This is Bight vocal signature and despite EQ pre-sets you simply cannot get bass out of these speakers. You need a separate sub-woofer to achieve that.
The treble is 'peaky' meaning its harsh at full volume.
Bright vocal is good for clearer voice – news broadcasts and typical shows where dialogue is more important.
VIDAA U 3.0
VIDAA is Hisense's take on a smart TV, and you could compare it to Android TV, LG webOS, Panasonic MyHomeScreen, and Samsung Tizen etc. Hisense says it may offer Android TV on some models in 2019.
VIDAA U 3.0 is the TV operating system. It is noticeably better than V2.5 last year with a more polished interface and AI. It also has a SmartSense hub that can display weather, a discover feature and will recommend trending shows and content that users relate to.
Netflix, Stan and YouTube are on the remote. The expanded App store has Amazon Prime. It tries to autodetect attached devices (not tested).
Out of the box, it will integrate to Alexa as a skill which allows it to turn off (not on), change volume and inputs. At present, you need an Echo Dot speaker, and later this year it will support Alexa on the device and after that Google Assistant via a speaker.
It is important that Hisense has its proprietary OS under the Made In China 2025 initiatives where every component and operating system is Chinese made. Hisense already makes its own panels, and its processing power comes from a custom system-on-a-chip.
Its RemoteNOW app for Android (tested) and iOS (not tested) works via Wi-Fi. We used it last year, and it was OK, not great. Users have complained of onerous permission settings including access to phone and contacts – which causes issues if you deny them. Still, you don't need to use it – the traditional IR remote has buttons for almost everything.
Other things
Wall mountable (no cable management system in the stand)
Thin top and side bezels
4 x HDMI 4K@60Hz and HDCP 2.2 ports (one is ARC)
2 x USB 2.0 5V/1A (OK for PVR recording to flash drive but not enough amperage for SSD or portable hard disks – note: single Tuner means either record or watch TV)
Freeview Plus
SPDIF optical out and 3.5mm
Wi-Fi AC dual band and Miracast screen mirroring (not Chromecast)
Bluetooth (unspecified)
1450×913 ×323mm x 34.7kg
GadgetGuy's take – RRP aside th Hisense 2019 Series 7 (R7) is a pretty good mid-range TV
OK, we have poked and prodded and not really found it wanting. It has everything you could want in a 65-inch mid-range TV except that at RRP it is not price competitive (and we seldom comment on that aspect – value is up to you).
So, I was impressed to see the 65-inch at $1999 (RRP $2499) from VideoPro, and doubtless, you can do deals with major electronics retailers. That alone adds a point for value for money, and then you can get a decent Dolby Atmos soundbar (at least 3.1.2 and up to 7.1.4) from LG, Samsung, Sony etc
Good mid-range panel with accurate colours, Dolby Vision and Dolby Atmos
Shop around for a deal
Screen reflectivity
Inbuilt speakers do not support Dolby Atmos – you need a soundbar