As expected, Apple dropped its iOS 16.2 update overnight, which finally brings one of the biggest features touted by the company in recent months.
Along with the karaoke feature Apple Music Sing and other improvements, the latest iPhone update introduces Freeform, a new app designed for creative brainstorming and collaboration. It functions as a powerful digital whiteboard ideal for sharing ideas with others in a visual format.
Freeform comes to iOS 16.2 for free
Also available on iPad and Mac devices via iPadOS 16.2 and macOS Ventura 13.1, Freeform might leave third-party notetaking apps in the dust. It enables you to map out content on a customisable canvas, with a wide range of file compatibility. In addition to typing or handwriting notes using an Apple Pencil, Freeform also supports integrating photos, videos, audio, documents, PDFs, links and more all in one place.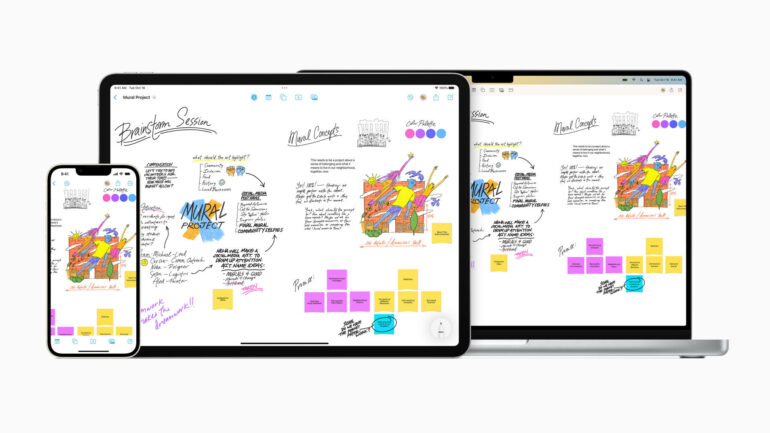 Built for teamwork, you can invite up to 100 collaborators to a single board. Thanks to seamless Messages and FaceTime integration, it's easy to bring others together and work on ideas in real time. Additionally, iCloud automatically syncs Freeform boards between devices so you can keep jotting down plans wherever you are.
Plenty of apps have similar features, although many require ongoing subscriptions or purchases to access all features. Freeform looks like it delivers a premium app experience at no additional cost to Apple device users, which is an enticing prospect.
Apple Music Sing makes it easy to belt out tunes
As announced last week, Apple Music Sing is a new feature available to Apple Music subscribers. It lets you adjust the volume of song vocals, view animated lyrics, and access other options intended to turn your device into a karaoke machine.
Another cool thing about Apple Music Sing is how it streamlines duets for when you want to perform with a friend. Songs with multiple vocalists appear on opposite sides of the screen, making it easier to see which parts you're singing along to.
Additionally, Apple has more than 50 Apple Music playlists made specifically for the new sing-a-long feature. These range from Party Anthems to Air Guitar Classics, and plenty in between. If you're after a specific era, there are also playlists sorted by decade.
Other notable iOS 16.2 inclusions
Improvements to the Always-On display for iPhone 14 Pro and Pro Max come with the update, letting you further customise the experience. This includes being able to hide your wallpaper or notifications when the setting is enabled. Plus, you can add sleep and medication widgets to your lock screen, giving you reminders and access to data at a glance.
Unfortunately, one of the bigger security updates to Advanced Data Protection, Apple's end-to-end encryption service, is US-only for now. Overseas, more iCloud categories received encryption coverage, including Notes and Photos. According to Apple, Advanced Data Protection for iCloud rolls out to the rest of the world in early 2023.
Also, Crash Detection received further tweaks across iPhone 14 and iPhone 14 Pro devices. It's likely in response to Crash Detection triggering false alarms recently.
Full iOS 16.2 update notes
As listed on Apple's support site, here's everything included in the latest update:
Freeform
Freeform is a new app for working creatively with friends or colleagues on Mac, iPad and iPhone
A flexible canvas lets you add files, images, stickies and more
Drawing tools let you sketch anywhere on the canvas with your finger
Apple Music Sing
A new way to sing along with millions of your favourite songs in Apple Music
Fully adjustable vocals let you duet with the original artist, sing solo or mix it up
Newly enhanced beat-by-beat lyrics make it even easier to follow along with the music
Lock Screen
New settings allow you to hide wallpaper or notifications when Always-On display is enabled on iPhone 14 Pro and iPhone 14 Pro Max
Sleep widget lets you view your most recent sleep data
Medications widget lets you view reminders and quickly access your schedule
Game Center
SharePlay support in Game Center for multiplayer games so you can play with the people you are on a FaceTime call with
Activity Widget allows you to see what your friends are playing and achieving in games from your Home Screen
Home
Improved reliability and efficiency of communication between your smart home accessories and Apple devices
Additional improvements and fixes
Improved search in Messages allows you to find photos based on their content, like a dog, car, person or text
Reload and Show IP Address setting enables iCloud Private Relay users to temporarily disable the service for a specific site in Safari
Participant Cursors in Notes allow you to see live indicators as others make updates in a shared note
AirDrop now automatically reverts to Contacts Only after 10 minutes to prevent unwanted requests to receive content
Crash Detection optimisations on iPhone 14 and iPhone 14 Pro models
Fixes an issue that causes some notes not to sync with iCloud after updates are made