The JBL Bar series 2020 includes a 2.0, 2.1 and 5.1 all with JBL's signature sound and Samsung/Harman pedigree.
Regular readers know that we like JBL – it is reasonable value and has one of the better 'warm and sweet' sound signatures, suitable for movies and music. The JBL Bar series 2020 are all new products with the latest technology.
Marcus Fry, Country Manager of AUNZ at HARMAN said of the JBL Bar series 2020, said
"Our Soundbar range gets better and better each year. JBL uses its experience in cinema and stadium sound and delivers it in a powerful and high-quality soundbar range. TVs are getting bigger and better with 8K technology, and the sound needs to match. With the current environment of staying home and staying safe, entertaining yourself and your family has never been easier."
We will be reviewing some of the new JBL Bar series 2020, but here is an overview.
JBL Bar series 2020 soundbars
Website here
Available from: Harvey Norman and electrical retailers
Warranty: 2-years. JBL prefer you to register it online.
Bar 2.0, 2x40W (80W) $279.95
Compact small apartment use, 614 x 58 x 90 (mm), HDMI ARC/Optical/BT, 70Hz-200kHz
Bar 2.1, 2x50W (100W) and wireless 200W subwoofer for 300W total $549.95
Adds much-needed mid-bass for movies. 965 x 58 x 85 (mm), HDMI ARC, HDMI In/Optical/BT, 40Hz-20kHz. 965 x 58 x 85 (mm)
5.1, 5x50W (250W) and wireless 300W subwoofer total 550W $799.95
In our opinion the minimum you need for immersive (not Dolby Atmos) sound. It has Dolby 5.1 and Pro Logic sound, 4K pass-through of HDR10/Dolby Vision, Chromecast, Apple AirPlay 2, Wi-Fi 2.4 and 5Ghz/BT streaming, HDMI ARC/HDMI In/Optical/Ethernet, 34Hz-20kHz, 1018 x 58 x 100 mm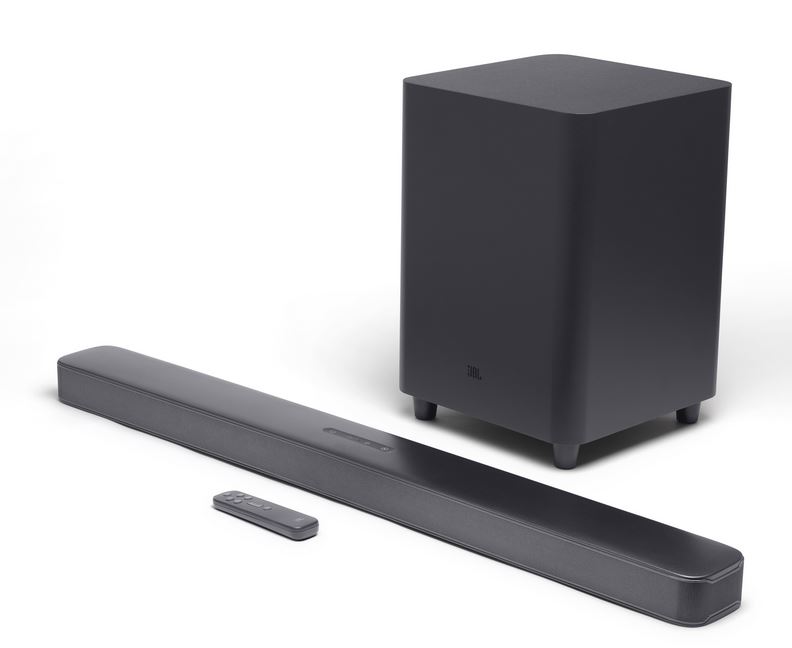 GadgetGuy's take – the JBL Bar series 2020 fills three niches
The 2.0 (stereo) will add 'something' to free-to-air TV – if only to add smart mode sound processing or EQ pre-sets for things like clearer voice.
My inherent bias is towards the 5.1 for its great lower/mid-bass and connectivity options. But the 2.1 is pretty good too and will add more to your listening pleasure for free-to-air and streaming than any TV speaker setup.
I have invested heavily in 65" OLED Dolby Vision and Dolby Atmos 7.1.4 yet 90% or more of my viewing does not use it. The JBL, especially the 5.1 and a reasonably priced <$1000 65" 4K TV are all you need.
BTW – you may be interested in our review of the JBL Link Bar that adds Android TV OS to any TV – its very good.