You have until 30 June to create some instant asset Tax write-offs up to $20,000 per items. Yes, we know that you need to have made a profit to instant asset tax write-off in the first place.
But if you don't want to spend as much then smaller items also qualify for an instant asset tax write-off.
We have looked at some value items that may just end up costing you nothing!
Equip your gender-equal, customer-facing staff with work-life bags from Code Republic
Shakespeare said, "Clothes maketh the man." Well if he had been around today that would have been, "Shoes and handbags maketh the woman." Only shoes are not tax deductible unless they are steel toe protective boots.
Code Republic have a collection of leather work-life bags that can be claimed as a tax deduction this end of financial year. These combines the strength and space to carry everything you need including a laptop, iPad and more, with the aesthetic of a luxurious, feminine and stylish handbag.
GadgetGirl reviewed the Daniell Luxe Tech handbag and it cost me dearly. Bags feature
Rose gold accents and a bright palm tree lining
Integrated pockets, keys and small items are easily found
Dedicated compartments securely hold your phone, water bottle, makeup and so much more
Supportive, reinforced shoulder straps
Code Republic is exclusive to Harvey Norman and sells for $349.
GadgetGirl also reviewed the STM Grace range of backpacks and laptop/table sleeves.
The gender-equal Road Warrior is more often seen now with a Surface Pro or iPad than a full fat MacBook or Laptop.
GadgetGuy was taken by the large range of third-party keyboard/covers for these new breed of two-in-one devices.
Belkin has a range for iPad including the new QODE Ultimate Lite keyboard case for 9.7" iPad 2018 model at $149.95. The iPad 9.7 2018 is a lite version of the Pro.

Brydge has a range of, for what of a better word, hard keyboards that turn your tablet into aa clamshell notebook. These come for the iPad Pro (9.7, 10.5 and 12.9-inches), iPad 9.7-inch (6th, 5th and Air) and Surface Pro (all models)
Spare phone – outright purchase
A smartphone should first and foremost be a phone that can receive emails and send texts. Flagships cost well north of $1,000 but Alcatel make a range of lower cost phones that are perfect work phones.
The Alcatel A3  at $149 is the standout in this market. It has

5-inch, 1280 x 720, IPS LCD
Quad core 1.25 GHz Cortex-A53
2/16GB RAM/microSD slot
Rear: 13MP
Selfie: 5MP
Wi-Fi N and Bluetooth 4.2, FM Radio, 3.5mm audio jack
2,640mAh battery
Fingerprint to unlock your phone and private mode
If you have a little more to spend then OPPO's A73 is a standout at under $300.
It is one of the new breed of 18:9 handsets
6-inch FHD+, LTPS, 2160 x 1080 pixels, 402 ppi, 18:9 ratio, Gorilla Glass
Octa-core 4×2.5GHz ARM Cortex-A53+4×1.6GHz ARM Cortex-A53
3/32/microSD up to 256GB
Rear Camera: 13 MP
Selfie Camera: 16 MP
Wi-Fi N and Bluetooth 4.2, 3.5mm audio jack
3,200 mAh, VOOC fast charge
Fingerprint unlock
GadgetGuy Loves Qi charging
Both our economy phone choices are micro-USB charged. But there are a few Qi charge phones now
Samsung Galaxy S and Note series since S6
Apple iPhone 8/X
LG G4/G5/G6/G7 and V30 and V30+
Nokia 8 Sirocco
Sony XZ2 and compact
Google Pixel 2 XL and many earlier Nexus
Moto Z (with Mod charge back)
Qi can have a 5W charging plate (for overnight or top up charge), 10W (faster charging) or 15W (for hybrid fast charge).
Here are some of our favourite Qi chargers
Laser "The Hills" Qi charger and four-port USB charger is a great business tool. It has a singe 5W charge plate and four 5V/2A USB charge ports. You can stack four smartphones or tablet devices between the crests.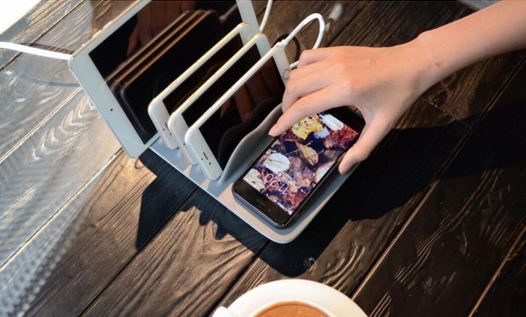 Belkin have a range of BoostUP wireless chargers including a dual pad charger and a car windshield mount. My favourite is the 15W Belkin Wireless Charging Pad for Samsung but it is not currently available.

Microsoft is in the mix too
Microsoft Store also have business consultants available to give advice in Store on how to best buy tech this tax time.
Customers get 15% off Select Surface Devices. Includes: Surface Laptop, Surface Pro, Surface Pro with 4G, Surface Book 2 13" & Surface Studio (Doorbuster & Surface Book 2 15" not included) – (9/6 – 1/7)
Customers get 50% off on select Bags & Sleeves – (9/6 – 1/7)
Customers save up to $500 on select PCs: Asus UX370 & Asus UX461 devices – (21/6 – 1/7)
Customer purchase an Xbox One S 1TB and get 6 free select games: Gears of War 4, Killer Instinct, Forza 6, Forza Horizon 2: 10th Anniversary Edition, Dead Rising 4, plus the bundle game. – (31/5  – 3/6 )
Customers purchase any Xbox One S 1TB and get Fifa 18 physical game plus one game of the console of choice. – (11/6 – 1/7)
Customers get $50 off when purchasing Xbox One X Console – (11/6 – 24/6)
GadgetGuy's take – instant asset tax write-offs. Why pay more tax than you need?
June is the time to spend on items that can improve your small business. Look around and order up on stationery, small items and low value tech – it will always be useful.