LG is a South Korean electronics conglomerate. Its recently introduced LG Gram 16 (in fact the 14, 16, and 17″ series) are hailed by its brethren as the 'perfection' of laptops. Even to the extent of becoming a Korean 'slang word' for the ultimate portable laptop – you guessed it under 1000 grams.
Now we Aussies are seldom as effusive about a particular product to allocate it cult status, but I have to say that the LG Gram 16 is impressive. And to be fair to other brands and their Project EVO laptops – they are all pretty good. So, let's look at the LG Gram 16 and find out why the Koreans are so hot about it.
Review: LG Gram 16 16Z90P
Website here
Price from: 14" $1799, 16" $2399 and 17" $2999
Warranty: 1 year ACL
Country of manufacture: China
LG Gram 16 as tested (options in brackets)
16" 2560 X 1600, 16:10, 99%, DCI-P3 IPS LCD (option 14 or 17")
Intel Core i5-11357G (i7-1165G7)
16GB LPDDR4X (soldered in – order 8 or 16GB)
512GB SSD (128/256/512GB on-board plus one empty M.2 slot* a micro-SD slot
Wi-Fi AX, BT 5.1,
2x Thunderbolt 4/USB-C 4, 2 x USB-A, HDMI 2.0
72/80Wh battery and 20V/3.25A/65W or USB-C PD 5V/3A, 9V/3A, 15V/3A/45W
* The M2.2280 slot is under the base. During warranty, you must get an approved LG service agent to fit any additional SSD.
First impressions – LG Gram 16 is drop-dead gorgeous
Despite my preference for small and light (the 14″ weights 999g), my review unit is the 16″ at 1190g – incredibly light. And the 16:10 format screen with small bezels means it fits into a svelte 355.9 x 243.4 x 16.8 mm device.
The colour is Snow White – a matte white over a magnesium alloy body. I don't know the exact paint process, but I understand it's a kind of ceramic two-pack. In any case, it seems durable. The keyboard and trackpad also match the colour. I have one gripe that will stop me from buying – it lacks touch. But one person's deal-breaker is another's deal-maker. So, there it is – light, white, and I love the extra screen real estate.
Screen
It uses an LG LP160WQ1-SPA1 IPS screen. Factory panel specs are 2560×1600, 144dpi, 16:10, 60Hz, 300 nits, 1400:1 contrast and 99% DCI-P3 colour gamut with a Delta E of 2.2 (<4.0 is great). Colour tests show these specs are correct. It supports HDR streaming and along with the excellent DCI-P3 gamut would be suitable for photographers and on-screen editing.
My concern is that it lacks touch – I can't remember the last non-touch laptop I reviewed. It may not be a deal breaker, especially for Mac users who have never had touch. Due to small bezels, it fits the 16″ screen in a 15″ enclosure. This offers 11% more screen real estate than the 15″ it replaced. LG doesn't advise if the screen is Gorilla Glass protected – we suspect it is not as it is not touch or supports a stylus.
Summary: Not as bright as some EVO laptops, and as is usual, the specs are based on mains power. You get about a 20% dimming using battery.
Processor
Intel Project EVO refers to the 11th generation of low wattage, 12-28W laptop processors. The 10nm i5-11357G has a PassMark of 9,620, and the i7-1165G7 has 10,494. Desktop processors (with no wattage TPD constraints) can be twice as fast.
The i5/i7 Geekbench 5 single/multi-core ratings are 1410/1410 and 5189/4658 – no slouch. We could not test the i7, but Geekbench confirms that the i5 is faster in multi-core. You can read a comparison of the i5 and i7 here – the i5 seems to be the sweet spot. You can read more speeds tests and gaming tests here. Most importantly, this processor supports Thunderbolt 4 and USB-4 with PCIe 4.0 and 16 PCIe lanes.
Stress test
We ran a stress test – 100% load (on power) for 15 minutes and the processor temperature never exceeded 90°. A fan sat around 6300-6500 RPM, but there was little noise at <41dB. This kept the temperature to around 62°. Now it does get toasty on the underside at full load. We ran the same stress test on battery power, and it at once throttled at 80% – a Windows constraint that you can change at the expense of battery life.
Memory/Storage
Memory is either 8 or 16GB  LPDDR4X x 4266 (2133Mhz dual channel) – not user upgradable so go for the latter if you can.
It uses the Samsung MZVLB512HBJQ (512GB model PM991a) that supports PCIe 3.0 X 4 lane. It has a maximum of 3500/2900MBps sequential read/write. This also has a DRAM cache for turbo write, allowing faster throughput of larger files. It is Ball Grid Array motherboard mounted – not upgradable.
LG advertises a second free M.2-2280 slot for an extra SSD. While users can fit an additional SSD, an authorised LG service centre must do it, or the warranty may be void. There is a micro-SD slot as well that supports SDXC cards.
GPU
It uses the Intel Iris Xe Graphics. The XE claims to deliver smooth full-HD 1080p gaming for most games. It is most comparable to an NVIDIA MX350. The Intel game-compatibility page for the i5 version is here.
Wi-Fi and BT
It uses the Intel Wi-Fi 6 AX201 adapter with 2×2 TX/RX streams, MU-MIMO, OFDMA Uplink/Downlink, 1024QAM, VHT160. It reaches 2.4Gbps data transfers on our NetGear AX router. Wi-Fi holds the data transfer out to about 8 metres – excellent.
BT is 5.1 and is good to about 20 metres. It supports A2DP (2.0 audio) or HFP (mono plus a mic channel). Windows uses an SBC low-res codec.
Ports
It has more than you can expect for its size.
2 x Thunderbolt 4 (TB4)* 40Gbps (backwards compatible with USB-C 3.2 Gen 2 10Gbps, 5V/3A)
2 x USB-A 3.1 Gen 1 5Gbps 5V/2A
HDMI 2.0 4K@60fps
3.5mm combo audio
Micro-SD port
We particularly like that it has an HDMI 2.0 port in this ultra-slim body. And the 2 x USB-A is just so handy.
But the real test is the 2 x Thunderbolt 4 ports. Regrettably, we don't have any TB4 docks yet. Still, it performed flawlessly with the latest Plugable TB3 docks using the latest Intel JHL7440 Titan Ridge chipset supporting DP 1.4 and dual 4K@60Hz monitors. Belkin also has an 85W Titan Ridge Dock, but it uses a Display Port and the remaining downstream TB3 port to run dual monitors.
* What is Thunderbolt 4 (TB4)?
We assume that you know a little about Thunderbolt 3. TB4 offers all TB3 functionality plus:
High-speed 40Gbps (5000MBps) full-duplex (both ways) interface
Power upstream (100W to the device) and downstream (15W from the device)
Audio and video (DisplayPort mode for 2x4K or 1x5K display)
Supports USB-C 3.2 Gen 2 (10Gbps)
and has at least 8 PCIe lanes (think multi-lane highways to avoid congestion).
The benefit of TB4 is that it is Intel Certified (guaranteed to work with TB3 and earlier docks) and supports more ports. You may have heard of USB 4.0. It is a 'free' limited subset of TB4, and while some devices will support 40Gbps – most won't.
Battery
The battery is 2-cell, 80Wh, capable of theoretical use up to 22 hours. Practical use depends on what you do with it. We used it for about a week in a variety of content and office productivity conditions. Invariably, it would last about two full days with the usual sleep mode settings when we broke for lunch etc.
The video loop test (1080p), 50% screen (150nit) and aeroplane mode hit just over 12 hours.
Youtube HD stream and Wi-Fi – nine hours
Power use day with all tests, it maxed out at eight hours.
Screen-on normal use topped 11 hours
Screen-on 100% load – 4.5 hours
Discharge screen-on rate idle – 5367mW
GFX Bench Manhattan 3.1 battery test – 288 minutes (4.8 hours) and 2649.79 frames
GFX Bench T-Rex battery test – 464 minutes (7.73 hours) and 3345 frames
Based on these tests, the 9-hour minimum project EVO requirement is satisfied.
But we were a little confused about the supplied charger. It is a 20V/3.25A/65W or USB-C PD 5V/3A, 9V/3A, 15V/3A/45W. Even at maximum voltage and amperage, it is still 65W, feeding an 80Wh battery.
We discovered that the adaptor ADT-65DSU-D03-2 is a Navitas GaNFast (gallium nitride) charger, and the laptop uses a high-frequency quasi-resonant (HFQR) charge circuit (very efficient). Forgetting the gobbledegook, it means faster and more efficient charging. Otherwise, LG recommends at least an 80W PD charger. You can use lower wattage USB-C PD (GaN or not), but charging time will be longer.
Keyboard and touchpad
This is where it shines. A 1.65mm throw is heaven to touch typists, and its 45g activation means you don't lose much typing speed. Compare that to a MacBook, and you will see how much further LG is ahead.
The 16″ keyboard is also unusual as it has a separate numeric keypad which admittedly takes a little getting used to. Why? Because this layout is a rarity and muscle memory means you hit the '6' key instead of the enter key.
The 16:10 touchpad is a real bonus allowing complete and accurate cursor control. One of the few can move the cursor from top right to bottom left in one diagonal stroke – no need for a mouse here. The two-stage White LED-backlit via injection moulded lettering – should withstand lots of use and is excellent for night use.
The power key (top right of the keyboard) is a Windows Hello fingerprint reader. A benefit of the 16:10 screen is that it allows a larger keyboard deck – this is 'hugely' comfortable.
Camera
It is a .9MP capable of 1280x720p@30fps with HDR and a timer. It is not an IR Windows Hello device. Say no more
Build – MIL-STD
The MIL-STD810G U.S. military tests examine each feature's limits to assess the product under certain conditions. The LG gram series underwent 7 of the MIL-STD810G tests passing all – shock, altitude, high and low temperature, dust, vibration and salt fog.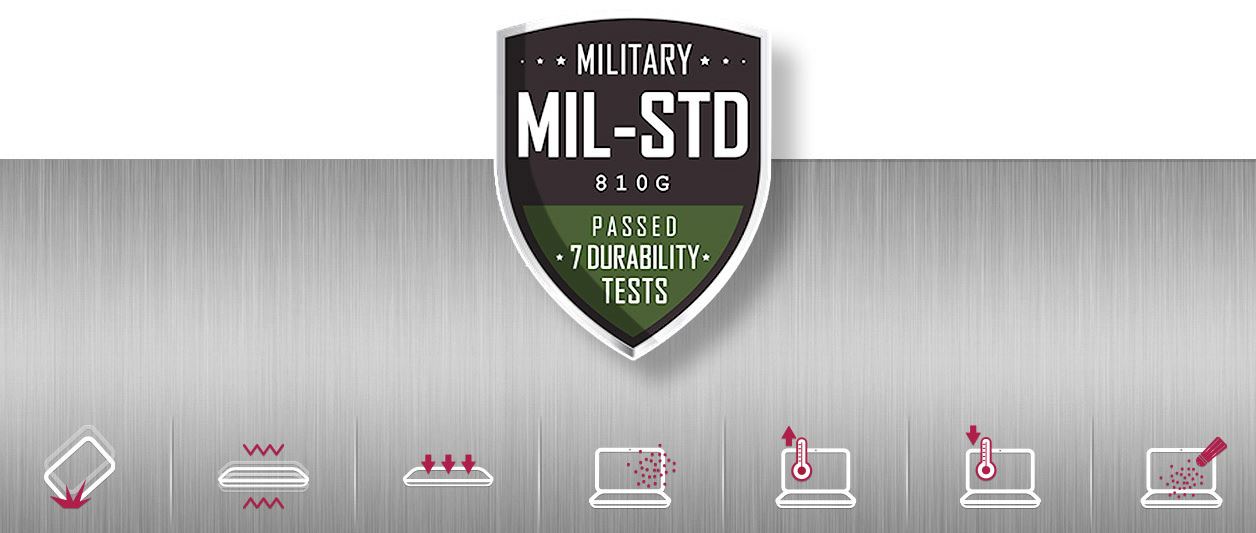 The critical issue here is that this is way better for durability than a non-MIL-STD laptop. It does not infer super powers like water, snow and mud resistance etc. – just that it is well made and long-lasting.
Sound
Few laptops have decent sound – this edges over the line. It has 2 x 2.0W stereo speakers and a smart amp. The DTS:X Ultra means that it creates faux spatial sound in headphones and via the speakers. Does it work? Yes. It is a software codec over the standard Intel RealTek sound system. The original audio content very much determines its success.
The maximum volume is 77dB with reasonably low harmonic distortion. The DTS:X EQ was set to flat (no enhancements) and showed no low/mid/upper bass but good strong mid and treble. This is a bright vocal signature for vocal and string instruments but can make them a little harsh.
We played with the DTS settings and managed to get some mid-bass in there and pull back the mid-range slightly, which adds a little warmth to music tracks. Overall not too bad.
The 3.5mm and BT 5.1 (SBC) feeds were clean and loud.
Software/apps
Control centre – control system settings, power, security screen, fan and more
Update centre – searches LG servers for hardware update (not Windows 10 updates)
Reader – changes the screen to the same colour and temperature as printed paper
DTS:X Ultra – has an EQ and pre-sets for automatic, music, voice, movies and custom. There are games pre-sets for strategy, RPG, Shooter. Works with the internal speakers and cabled/BT headphones with DTS:X content
Virtoo by LG – Android or iOS smartphone linking to the PC for notifications, messages, phone, mail, media, mirroring and downloads
LG Power Manager – a battery and app usage management app
It also has McAfee and a few other usual Windows trials.
GadgetGuy's take
LG Gram 16 in a 15″ body with almost everything.
The LG Gram 16 passed all tests with aplomb. Apart from the lack of touch screen, the 14, 16 and 17″ models (that share 90% of the same components) all get our buy recommendation.
Intel EVO pretty well ensures that all its certified laptops meet base standards. So how does LG stand out?
Small and light form factor – extreme portability
GaN charger and charge circuits
Well made
Desirable
Great battery life and performance
And I think the 16″ screen is the sweet spot
LG does make an x360 touch version, but it is not coming to Australia just yet. If you want to touch the Dynabook Portégé X30W-J is your best bet. It scores a 10/10.
LG Gram 16 in a 15″ body with almost everything
Positives
99% DCI-P3 display
Incredibly light yet MIL-STD durable
Good battery life
DTS:X Ultra sound app works!
Negatives
No touch screen (could be a deal breaker)
Can get toasty under load