I have reviewed dozens, if not hundreds of gaming headsets over the years, and it's a gadget category with really uneven results. For starters, most people don't even need a specific gaming headset, given you can use any wired headphones with a microphone. It's not until you get to the more premium end of the market that it starts to make sense to get an actual, dedicated gaming headset.
The Logitech G Pro X 2 is designed for that premium end. It is a gaming headset that focuses on object-based audio and accurate sound reproduction with low latency to give players an edge. What makes it special is the use of relatively new graphene drivers, which are more rigid than traditional drivers and promise to maintain accuracy for longer.
After roughly a month of using the Logitech G Pro X 2 and comparing it to the original Logitech Pro X, I'm quite impressed, even though it's not perfect.
First impressions
Setting up the Logitech G Pro X 2 was a pretty easy process:
Step one: Remove from box.
Step two: Plug small, easily lost dongle into PC (or PS5).
Step three: Use headset and enjoy.
Step four: Realise the leatherette ear cups were like putting tiny saunas on my ears, even on the coldest days, and then battle with the memory foam cloth ear cups to try and put them on. It's a difficult experience that I can only compare to trying to put on shoes that are four sizes too small, but that you love anyway.
My first impression of using the headset was that the audio quality really isn't all that different to the original Pro X. The way Logitech PR described it, I was expecting a revelatory experience. But, brand new from the box, the differences in audio quality were so minor that I, someone whose passion in life is being pedantic about the smallest details in audio, didn't really notice any difference until I'd been playing for hours and something suddenly clicked.
Logitech G Pro X 2 Specifications
Driver
Graphene 50 mm
Frequency
20 Hz-20 KHz
Impedance
38 Ohms
Connectivity
Wireless (Lightspeed 2.4GHz dongle, Bluetooth) up to 30m range
3.5mm wired
Battery life
Up to 50 hours
Price (RRP)
$449
Warranty
Two years
Official website
Logitech Australia
Compared to the previous generation, the main differences are thus:
50mm Graphene drivers instead of hybrid mesh
Impedance of 38 Ohms instead of 32
50-hour battery life vs 20 hours
Wireless range of 30m vs 15m
Adds Bluetooth as a connection option
Over the original Pro X, it's easy to justify the extra $50 cost with just the graphene drivers alone, but more than doubling the battery life and making it so they can be used as Bluetooth headphones on the go (just disconnect the mic), and it becomes a really attractive option for everyday headphones. The difference in impedance is interesting, but in practice, it's not something you're going to be able to notice.
The one thing that annoys me with these specs is that you can't be connected to Bluetooth and Lightspeed wireless at the same time. With my SteelSeries Arctis Nova Pro Wireless, I can stealthily play Fortnite on my Xbox while chatting to a friend on my phone, or play Forza Horizon 5 on Xbox while listening to different, better music from another device, thanks to the dual connection. With the Logitech G Pro X 2, I have to choose between the two, and I've had a couple of occasions where the audio source will abruptly switch because I shrugged too hard, or something else got bumped, which is less than ideal.
In this price range, I also would have liked to have seen a proper DAC, rather than just an easily lost dongle that looks like a USB key (and identical to every other Logitech dongle). Once this dongle is lost, you can't use the headset as a wireless headset anymore. With a DAC, it's harder to lose and you gain some extra functionality. Other gaming headsets in the price range often come with DACs instead of just little dongles.
Performance
There are four main things you want out of a good gaming headset around the $400 mark:
Accurate object-based audio
Long battery life
Good quality microphone
Comfortable
On all four counts (plus a secret, bonus count of making music sound good), I am extremely impressed by the Logitech G Pro X 2, to the point that it is now my main PlayStation 5 headset.
The reason why graphene drivers are special is because they're so light and rigid. The rigidity is important, because mesh drivers warp with time, which can add distortion and change the sound from what's intended. It drifts slowly with age and is the trade-off that's required to make headphones light, portable and affordable. Graphene is made out of a similar material to pencil lead. It notionally stays rigid for the life of the product (unless otherwise damaged), so sounds stay at their correct frequencies and position.
That drift is something most listeners won't notice while using a lower-quality music streaming service like Spotify, but it is something that's important to competitive gamers who can hear opponents before they see them.
The moment the Pro X 2 clicked for me was when I was playing Fortnite and realised just how accurately the positions of my enemies were coming through in my ears. It almost became like a superpower in solos. I started consistently coming top 3, whereas before I was usually just top 10-15 with the occasional win. The positioning is more accurate than my usual headset, the SteelSeries Arctis Nova Pro Wireless, which retails for $749 (the also-impressive wired version sells for $565).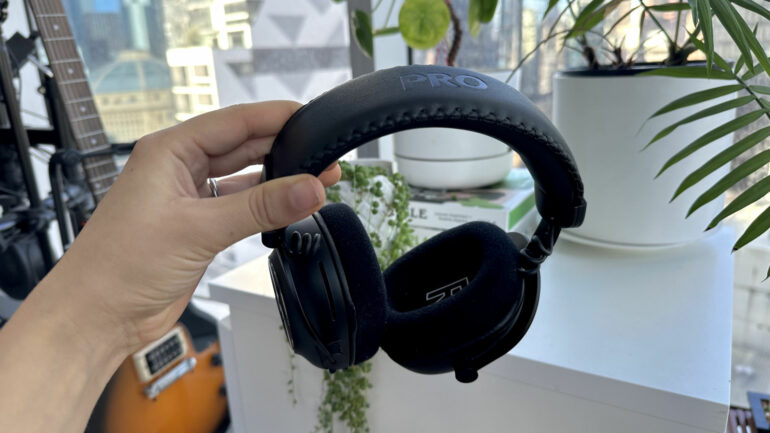 With the battery, I think I've only charged it once in the last month, and I'm not entirely sure I even needed to do that, it was more out of habit.
The microphone is also excellent. I wouldn't use it to record a podcast any time soon, but it's perfect for clear communication in-game. It's also really easy to mute the microphone when the urge to consume a chip overtakes you mid-game.
What's more, they're so comfortable. I hated the pleather ear cups because I found them too hot and icky, and a bit prickly. But I really appreciated that there was the option for pleather and cotton in the box, so everyone could use the style that suited them. It was thoughtful and catered for more people. Sure, trying to change them over is a pretty unpleasant experience, but you're unlikely to need to do it often.
With music use, I would place the performance closer to $700 pairs of headphones. They look far too stupid to wear out in public as regular headphones, but at home, I've found myself just getting lost in songs like "Everything At Your Feet" by Odesza and "Full Heart Fancy" by Lucy Chops. There's so much detail at every register. Most gaming headsets emphasise bass with everything else as an afterthought, but these are surprisingly well-rounded for what they are.
Who is the Logitech G Pro X 2 Lightspeed for?
I love this headset. For very serious PC and PS5 players, the Logitech G Pro X 2 Lightspeed has a lot to offer, but it's not perfect, and I'm not convinced it's the best option for most users despite its many positive attributes.
For ultra-competitive players, that granular detail of positioning is so key that the Logitech G Pro X 2 Lightspeed seems like the obvious choice, even over more expensive headsets. The $449 price seems just right for what it offers that segment of players.
But for everyone else, the Rig 800 Pro HX is around $150 cheaper, is more comfortable, is compatible with more consoles and still sounds great. It doesn't have that graphene driver or the more precise object-based audio, but most players don't really need that.
For people wanting to throw the kitchen sink at their gaming experience, the SteelSeries Arctis Nova Pro Wireless has much more functionality, compatibility, and versatility, even if the object-based audio presentation isn't as accurate.
What's holding me back from recommending the Logitech Pro X 2 Lightspeed more wholeheartedly is how easily lost that tiny dongle is going to be (rendering the headset useless for its intended purpose), and the fact it doesn't support simultaneous Lightspeed and Bluetooth connections. Because if it wasn't for those two things, then it would easily be the second-best gaming headset I've ever used at any price point.
However, all of that said, even though it's technically a PC headset, the Logitech G Pro X 2 Lightspeed is now my main PS5 headset, edging out the Sony Inzone H9, because of the comfort and accuracy of the object-based audio. I still favour the Arctis Nova Pro Wireless for Xbox and PC (just because of the granular control over microphone noise cancelling, the ability to play music from my phone while playing, and that hot-swappable battery), but I have extremely high hopes for the third generation of the Logitech Pro X, and making those updates would put it on top of the category.
A truly excellent (though imperfect) headset for pro gamers.
Positives
Impressive 50-hour battery life
Graphene drivers should have a longer lifespan than other materials
Comfortable
Negatives
Can't use Lightspeed wireless and Bluetooth connection at the same time (unlike other headsets)
Expensive
Relies on a small, easily lost dongle