You would expect any infrared thermometer to work! But let me tell you there are a lot of Chop Suey cheapies that don't. Andatech MedSense infrared thermometers work very well and are TGA approved.
TGA is the Australian Register of Therapeutic goods (ARTGA), and so far, nearly all the thermometers we have been 'begged' to review are not.
ARTGA means that the MedSense Infrared Thermometers gives clinical-grade accuracy as a Class IIa digital or infrared thermometer.
Medsense Infrared thermometers – COVID contactless temperature detection
The normal human temperature range is from 36.5-37° – anything outside that upper range is a fever indicator. If it is up around 39-40°+, they probably should be in a hospital.
The problem is that 36.5-37° is a precise range, and you need accurate devices that are not affected by the environment as well.
We tested a range of devices against the MedSense Infrared thermometers at our local cafes and found three things
Some cheap ones only had a green-or-red LED for in-range and out-of-range.
Some took as long as 10 seconds to get a result and were not good as recovery times were long
Without fail, they delivered different results from the two MedSense devices. The MedSense devices gave the same results as an under-tongue reading with a hospital-grade thermometer.
And none had an ARTGA ID on them
You can search the ARTGA register here by brand name, model or ARTGA number. In the case of MedSense, the brand is Andatech that also distribute breathalysers and other health items. Importantly the approval has no special conditions placed on MedSense use – anyone can use it.
So as John Law's used to say, "Oils ain't oils' or in this case, thermometers ain't always accurate.
The Law on contactless COVID temperature testing
As it is contactless and non-invasive, the easiest thing to do is display a sign saying that entry is contingent on contactless temperature testing.
A person can lawfully refuse but then cannot legally enter the premises. And under the Privacy Act, you cannot record that person's temperature or tell a doctor/emergency medicine provider.
The WHO states that if a person's temperature is 37.3° or more, you must tell them they should self- isolate and be COVID Tested. If they refuse to leave you can call the police. Let's protect our shops, cafes and more!
That also means that the café, workplace etc. must be adequately COVID cleaned.
.3° is an extremely narrow margin for error. ATRGA accuracy is critical.
We tested two MedSense infrared thermometers
MedSense Infrared Non-contact Forehead DT060 website here RRP $169 on special for $149 (limited time) plus freight
MedSense Infrared Forehead and Ear TFE02 website here RRP$159 on special for $139 (limited time) plus freight
DT060 – for medical professionals
It is a little 'clinical', comes with a plastic carry case and essentially only measures forehead temperature from a distance to 2-3cm.
It uses a CR2032 lithium battery good for 5000 tests. At 131.5x26x22.5mmx39g it is small and pocketable. It has a three-digit mono LCD readout, Fahrenheit or Celsius and a 10-place memory.
In will measure body temperature from 34-43° in .1° increments with a +/- .2° error tolerance in 2 seconds. It will warn you if you are too far away or if the temperature is over 37°.
And it is suitable for objects too (press MEM for three seconds to change from forehead to object) from 10-60°. It is perfect for water surface temperature testing of baby's bath water or milk.
GadgetGuy's take. MedSense DT060 for doctors!
The object surface measurement in interesting and frankly gives you a lot more use from an otherwise occasional use device. 5/5.
TFE02 – for cafes, families and more
This is a lot less clinical looking a tad faster with a 1-second measurement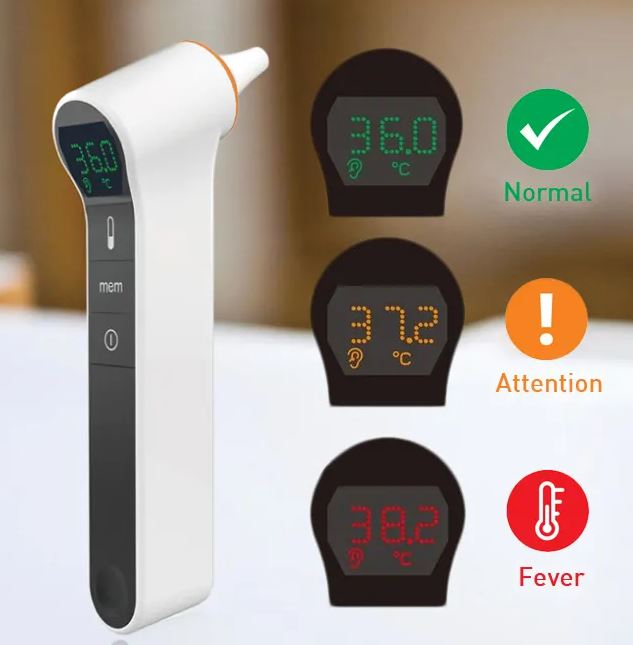 It has forehead, in-ear, and object temperature measurement and a large, user-friendly colour LCD readout.
A little-known fact is that in-ear measurement is normal from 35.8-38°, whereas the same person will have a 34.7-37.3° forehead reading.
This uses 2xAAA Alkaline batteries, so it is a little heavier and larger than the DT060. All up its 100g with batteries.
Other facts:
Body temperature range is 35-42° in .1° increments with a +/-.2° error.
Object temperature range is 0-93.2° with a +/-.3° error. This is wider than the DT060
Shutdown automatically after 30 seconds
Audible alerts on or off
Nine memories
Life expectancy five years
Audible beeps – if you hear ten beeps head for the hills
Note: This is not the same as the TF01 sold elsewhere online for approx. $128 – that is forehead only.
GadgetGuy's take MedSense TFE02 is more useful for cafes and families
It is the one I would buy, probably because it looks more like a handheld infrared thermometer. 5/5.
Summary – MedSense infrared thermometers
Both are
ARTGA approved – very few Chop Suey ones are (CE, FCC is not medical approval)
No data spying app!
Very easy to use
Non-invasive, non-contact and germ-free
Will measure within .1° accuracy – that is superb as most are nowhere near as accurate
Cost-effective
2-year warranty
Backed by Andatech
What's not to like?
You can read about Andatech AlcoSense breathalyzers test here
Andatech quality and support
Medical grade and ARTGA approved
Accurate and fast