Two years ago, Windows 8 came out, and while it has certainly yielded its fair share of comments and criticism, Microsoft is almost ready with something new, skipping Windows 9 and going straight to Windows 10.
When Peter Blasina came into work this morning, we spoke about the current generation of Windows, a topic that was on the tip of our tongues thanks to something Microsoft was talking about.
"You wouldn't believe how many people call into radio to complain about Windows 8," he said.
But he can believe it. While this journalist has gotten the hang of Windows 8, he can certainly see why so many people have problems with it.
Rather than provide a gradual evolution of the desktop experience, one that Windows 7 felt strong in, Windows 8 was a complete change, designed for the idea that everyone had a touchscreen or at least an excellent touchpad mouse, providing a grid system that was built on similar ideas used in Windows Phone.
If you had a touchscreen, it made some sense, but still took some time to get used to.
If you didn't, though, and you were like most of the world with a PC — with a mediocre mouse at best — Windows 8 was a disaster that took so much time to get used to, you'd have risked jumping ship to a different operating system or installing Classic Shell to make Windows usable again.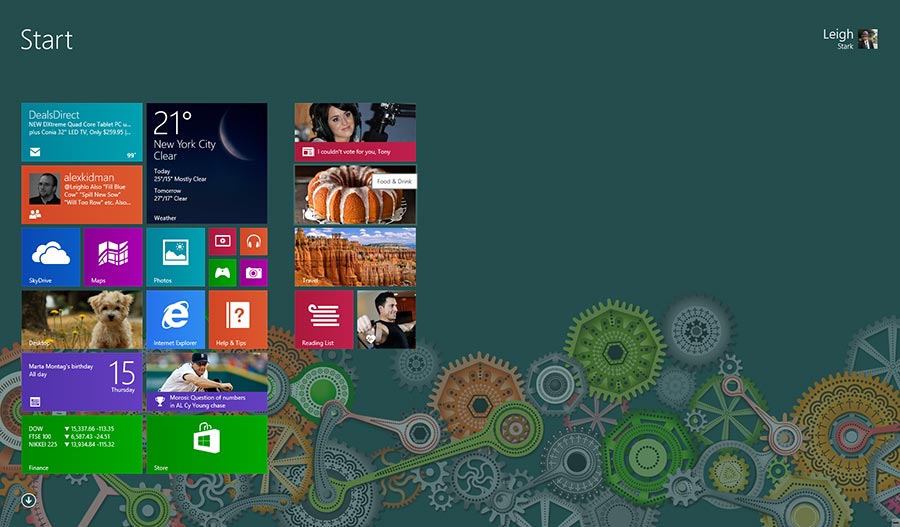 Last year, Microsoft improved things with the Windows 8.1 update, with some patches that brought back the desktop the way Windows 7 people knew it, and even some extras to allow Microsoft's modern Windows 8 apps being loaded on the desktop, too.
But it's still not what people want, and Microsoft seems to know that, announcing today that a new version of Windows is coming, and fast, too.
Called Windows 10, it skips a whole number and allows Microsoft to distance itself a little from what Windows 8 was, or is, depending on the mood you happen to be at the time you're talking about it.
The new version of Windows will return to the desktop style of interface that so many people like, but integrate the live tiles off the side of the menu, bringing the two together in a way that makes both touch and mouse control possible.
Bringing it back to the way things were, everything will run in a window, but you'll be able to use quadrants of the screen for snapping (above), showing as many as four apps in one screen, as opposed to Microsoft's insistence on columns,
which has been better in Windows 8.1, but still isn't what everyone wants.

One feature we're keen to see is a native multiple desktop mode (above), which feels like a page has been taken out of something we've seen on Linux and Mac OS, making it possible to jump between screens quickly, showing different apps and making it possible to load several apps at once, but not overload your screen.
Of particular note is how cross platform Microsoft is taking Windows 10, and that's to make it run across so many devices. Rather than make Windows 8, Windows RT, and Windows Phone 8, the upcoming Windows 10 will run across everything, making it work on practically anything.
We're told this means phones, tablets, TV, laptops, desktops, Xbox, and more, with a slightly different interface for each, but a store that works across all your devices. In essence, you should be able buy an app or game on your laptop and have it work on your phone, or your Xbox, or your TV, and so on.
"Windows 10 represents the first step of a whole new generation of Windows, unlocking new experiences to give customers new ways to work, play and connect," said Terry Myerson (above), Executive Vice President of the Operating Systems Group at Microsoft.
"This will be our most comprehensive operating system and the best release Microsoft has ever done for our business customers, and we look forward to working together with our broader Windows community to bring Windows 10 to life in the months ahead."
Release of the new operating system isn't expected until next year, and given Microsoft's tendency to release operating systems in October, we'd say the final version of Windows 10 isn't expected until this time next year, but there is hope, especially if you're keen to see what Microsoft is doing, and possibly shape its progress.
From October 2 (Australian time, October 1 in the US), Microsoft will have a developer version of Windows 10 ready for people to try as part of its Windows Insider program. We don't recommend this for everyone, either, with the version more of a release candidate for people to try out ahead of its proper release next year.
Think of it as an early beta, and useful for installing on a machine you don't actually work on, because we expect this will be loaded with bugs, and nowhere near final release, especially since it's a year off.
That said, anyone keen to see the future of Microsoft's operating system should be able to check it out, so if you're keen and not afraid of a little reinstallation — and quite a few bugs — it's something you might want to check out on a rainy day with nothing to do (or if you're as geeky as the GadgetGuy staff).