Buttons go on the sides: that's what we've been told about smartphones since the touchscreen slate took over from the physical button. But there might be something better out there, as LG shows us a more interesting way.
Just launched and now confirmed as heading to Australian shores later this year, LG's G2 is the company' next major flagship to really try and take the smartphone fight to its leaders, Samsung and Apple.
With every generation of new smartphone, the technology gets better, and it's no different in the G2, with a better processor, graphics chip, and more impressive multimedia features.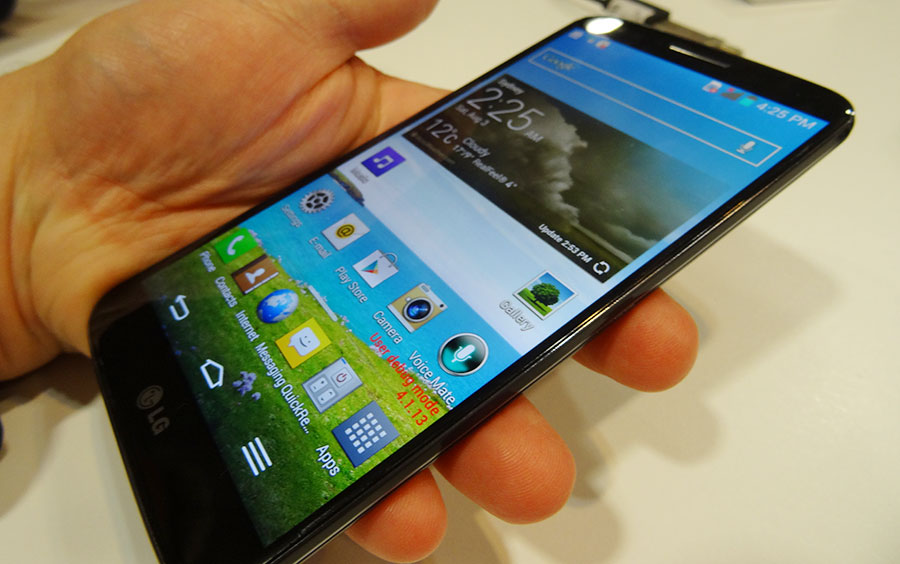 Picking up a prototype that's closer to what customers receive, we find ourselves grappling a device not much bigger than the HTC One we use on a day to day basis.
But while the One uses a 4.7 inch display, LG has managed to pack in a 5.2 inch model here, with less room for the bezels on each side.
It's a design that's obviously effective, maximizing the screen into a body that doesn't seem much bigger, which is hardly surprising because it's not.
The G2's body is plastic, with more of that holographic paint job we first saw on the LG built Google Nexus 4 and then again on the Optimus G released earlier in the year.
We're still not huge fans of plastic as a finishing material, but thanks to the molded design used here, LG has managed to squeeze a bigger battery into the design, with the 3000mAh pack nearing what's inside Samsung's Galaxy Note 2.
So that's a lot of juice, and since there's 4G support here, that's a good thing. It's not just regular 4G either, with support for the Optus TDD technology and the regular FDD found in this handset.
That's both types of 4G LTE, something which was previously only supported by Samsung's upcoming dual-mode Galaxy S4 and S4 Mini.
The processor is also improved, with LG opting for the Snapdragon 800 clocked at around 2.3GHz, working alongside an Adreno 330 graphics chip. There's 2GB RAM and 16GB storage working alongside Android 4.2.2, and the combination of technology seems to result in some very strong performance.
In fact, a quick benchmark against one of the fastest currently available smartphones found the G2 to be much faster.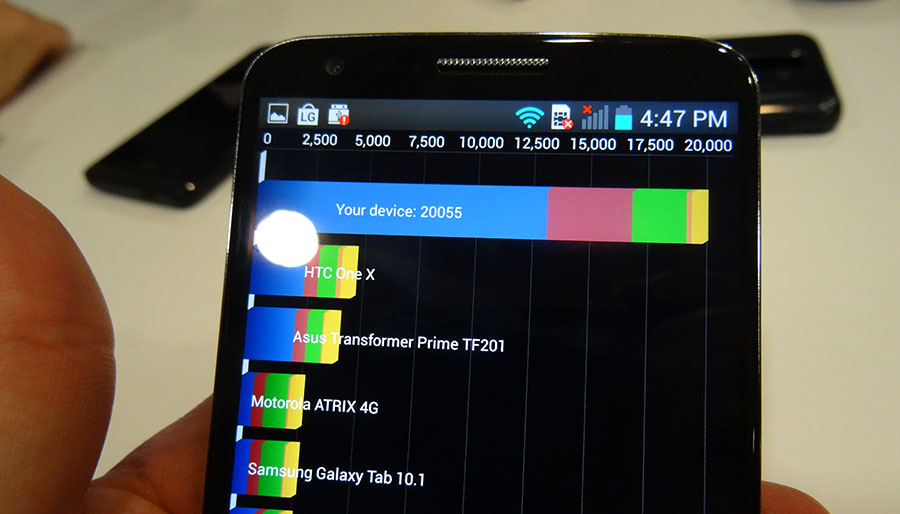 Quadrant's performance benchmark resulted in a score of 20055 for the LG G2, against the HTC One's 11499.
Neither are remotely slow, but the G2 is almost twice that of the HTC One, which is very impressive.
The camera has also been redeveloped, with a new 13 megapixel shooter designed to take better images in low light, as well as have more features from the box.
Photosphere's virtual environment shooting is present, as is a new tracking mode that keeps your camera locked onto a subject from far off and records a video with both the close-up and far-off image in the same shot.
But a bigger screen, faster processor, better camera, large screen, and more 4G support is only one part of the design: you also have the button placement.
This is an important factor, and one that LG hopes to make the G2 really stand out.
Pick up the handset and you'll find there are no power buttons on the top or side, and no volume rocker on that left or right edge. These have all been relocated on the back.
Is it a gimmick? Hardly.
In fact, when you pick it up, you realise just how comfortable it can be, with the fingers resting against the power button in the centre, and the volume up and down buttons around it.
With such a big screen, it makes a lot of sense, as your fingers don't have to stretch around the frame to press a button.
There's no long finger for the power, and your hands don't have to grip the entire frame to change volume.
Even the camera can be used in a better way, with the button on the back easier to hit when taking those selfies.
It's an interesting design choice, and one that really breaks the formula of button-based smartphones. Helping this is the screen, which will switch back on from standby when you double-tap it.
Outside of the design and specs, a few other things have been made better, such as the sound and the software.
On the audio side, there's tremendous competition happening across the board to make smartphones the go-to device to replace the iPod.
You can see this with HTC taking advantage of Beats and Huawei using Dolby, so it's understandable that LG needs something special to make the audio of the G2 amazing.
For that, the G2 will be one of the first phones in the world to be able to ply back 24-bit 192kHz audio files, putting FLAC files to good use.
Ears-on with both a pair of Sennheiser headphones and our own AudioFly earphones let us hear very balanced and detailed sound, and anyone with a library of lossless audio might finally find their perfect player here.
On the software side of things, there are some interesting enhancements, such as a transparent notification bar, transparent soft buttons that can also be changed to match whatever order you want, and more support for devices that rely on infrared remote controls.
The small IR transmitter is at the very top of the handset, but the software LG is using goes beyond the traditional TV and HiFi both HTC and Samsung have used, with devices such as robotic vacuum cleaners and air conditioners included here too.
Remotes can also be added to the lockscreen and setup to appear when different WiFi zones are triggered, making it possible for a TV remote to appear on the G2's lockscreen when you walk through the door of your home.
All up, the LG G2 looks like an interesting smartphone, and with a launch coming real soon.
Two areas are a touch concerning, and that's the 16GB storage — which hardly seems like much at all, especially when you factor in that lossless files will eat up that storage very quickly — and the body, which is made from plastic.
Optus will have the exclusive on this when it hits stores later this year, with the phone coming in at $699. We'll have more on it, and hopefully a review, soon.