Philips Hue is one of the pioneers of smart lighting and as expected does it very well. The new outdoor range adds more flexibility to the Philip Hue system.
Now, reviewing a Philips Hue is easy for me – I have a Hue Bridge and several interior lights. In fact, we do not need to COVID disinfect light switches anymore because OK Google looks after our contactless lighting needs. And because Hue uses economical LEDs, we can afford to have a few on around the home for effect.
The new Philips Hue Outdoor range includes white and colour (or both) and optionally a Hue Bridge
Ambient Lightstrip in 2 and 5 metre
Lilly Spotlight
Impress Wall Light
Discover Floodlight
Fuzo Wall Light
Impress Pedestal light
Calla Large Pedestal light
Fuzo Pedestal Light
Motion Sensor
And a range of cable extensions and piggyback plugs
We received an Impress Pedestal Light and an Ambient 5-metre Lightstrip to review.
What is Philips Hue?
We defined that in the original indoor review but here is a quick overview
The Hue Bridge uses Zigbee Light-Link protocol to control up to 50 Hue lights up to 100 metres away (further with unobstructed line-of-sight). You can use Hue bulbs with a variety of other Zigbee controllers as well. Zigbee is not Wi-Fi but a low powered smart home control protocol.
The Philips Hue app allows you to allocate lights to zones/rooms and use pre-set or custom themes and set routines (like Sunrise)
You can link the app to most voice assistants
Philips Hue uses low voltage LED lamps, so power consumption is negligible
Setting up Philips Hue
Remember that all lights must communicate with the Hue Bridge, and that means they are within 100 metres (or less as building materials can cut the range). It also appears that the hub Lights can act as a mesh able to accept a signal from another light up to 20 metres away (not tested).
In practice, we have found that for a typical cement/block/brick/drywall home that stated distance is ambitious, but there is a trick. Once you establish the link at a closer distance to the Hub, you can then take the light further away. The only time you may need to bring it closer is for firmware updates.
But there is another issue, and that is placement. All lights require 240V power for a plug pack. Naturally, the outdoors ones use IP67 rated 24V/1.67A (40W) packs and 5-metre IP67 extension cables ($18). You can extend the cable to 35 metres in total.
In the Philips, setup guide it shows lights can daisy-chain via a third-party 2-pin Exceedconn-CSA-2DA-T-connector (above right) to a maximum of 40W. As the Impress Pedestal uses 8W, you can add up to four more, but we cannot find any connectors for sale in Australia. You can get them from the U.S. at US$27 plus $40 freight, but that makes it uneconomical. You can also get third-party extension cables and joiners.
So, work out your placement and power needs first. And a warning – each light may have a different IP weather rating.
Philips Hue Impress Outdoor Pedestal
Website here
Price: $261 (prices from JB Hi-Fi)
Warranty: 2-years
Country of Manufacture: China
Country of ownership: Signify N.V. is a European company set in 2018 up to design and distribute Philips Lighting
The black, aluminium and glass Impress Outdoor Pedestal is really quite small at 400 (h) x100mm (square) x 1.935kg. So, if you want a higher bollard style, then none in the Philips range will suit.
While it comes with a garden spike, its IP44 rating is more weather-resistant that weatherproof. The first 'four' means ingress proof against large ants, and the second means water splashing against the enclosure for 10 minutes from any direction (light rain) will have no harmful effect. So, it is best for patio use. The Lily Outdoor spot is IP67, and we think best for in-garden/path use.
It comes with a 240V AC to 24V/1.67A (40W) IP67 rated transformer with a 15.m power cabled and a 2-metre DC 2-pin female screw-down cable.
The light comes from 2x8W (12V/1.33A/16W) LEDs capable of outputting 1200 lumens in total equal to a 49W incandescent bulb or about 350 nits (which we think is a more appropriate light measurement).
Nits (approximate)
Pitch black <50
Dusk to Night 100-200
Indoor, daylight (daylight ambient) 200-500
Ambient indoor office lights 400-500
Indirect sunlight (in the shade) 500+
Task lighting 700-1000
Outdoor daylight >1000
That light can produce up to 16million colour shades or 2000-6500° Kelvin (warm to cold white). In practice, there are 11 pre-sets plus any number of new scenes you want to create.
GadgetGuy's take – The Philips Hue Impress Outdoor Pedestal is a nice addition as a patio light
If you set it to 100% maximum cold white, it can light a large 1.8 m outdoor dining table. If you add colour or warmer shades that reduces accordingly. The light comes out from four sides casting around a metre circumference.
We won't rate it as it needs the right use case and the right expectations. If you want a balcony table light, it is perfect.
Philips Hue Lightstrip Outdoor 2 or 5 meter
It is a silicon white strip 20x11mm and approx. 5m long (4.870m plus 600mm lead-in cable and controller. It comes with the same 24V/1.67A (40W) IP67 rated transformer and has a controller rated for 24V/1.563A/37.5W. So, this draws close to the maximum rated amperage – you cannot daisy chain two 5m together.
It has 2000-6500°K whiteness and 16m colours. Brightness is 1650 lumens (500 nits) at 4000°K so it should be a nice glow that will cast a few mm around it. It is not a task light.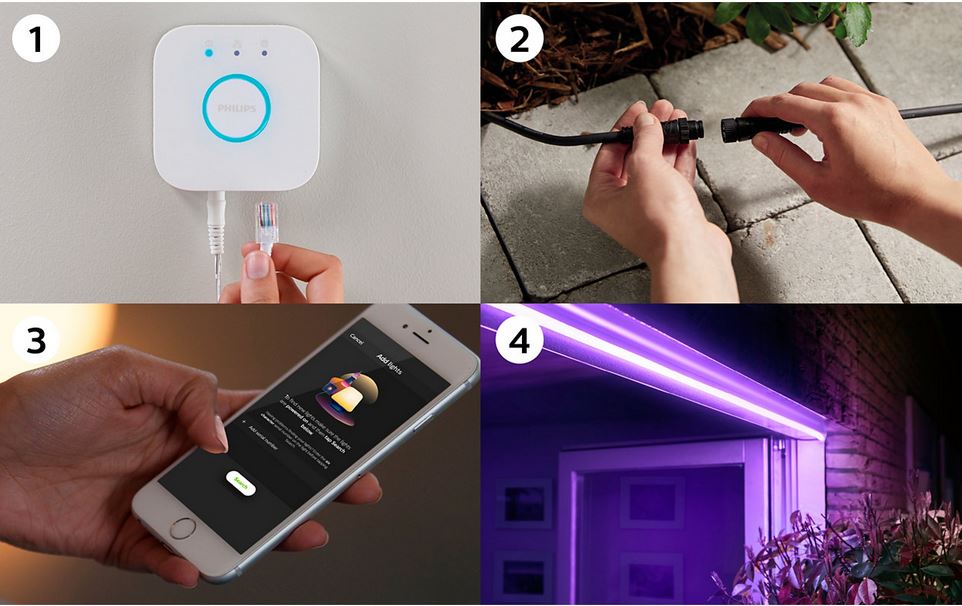 Now while it is sturdy, it is meant to become an architectural fixture and comes with white clips to fix it to a wall or roofline. In other word's do not push the flexibility too much. You cannot cut it to size, so look for a place that fits.
We are waiting for a handyman that does not suffer vertigo to place it under our front balcony roof.
GadgetGuy's take: Lightstrip Outdoor 2 or 5 meter
Again, this is mood lighting, and if you have the right use case (as we do), it is perfect.
GadgetGuy's take – Philips Hue (overall)
This comes down to the raison d'être for Philips Hue – the right use case and the right place, plus the convenience of voice assistants (Amazon Alexa, Apple HomeKit and Google Home).
For example here is how we use it.
We have a pair of Philips Light bars on top of the book cabinet in the media area. These each output 530 lumens (160 nits) and are perfect for casting a gentle up-light to the ceiling for TV watching.
We have three E27 bulbs  806lm (235 nits) in the kitchen pendant lights. Most of the time we use 20% brightness, warm white but its easy to say "OK Google turn the kitchen lights to 100%". And we have settled on a yellow/orange hue here to avoid the blue light syndrome
In all the bedrooms we have E27's in reading lamps. When turned on, they are 20% lilac (restful), but we can read (70% bright white) or get playful and ruby red is most favoured.
A Philips Hue LightStrip adds some mood enhancement as well
In the lounge, we have two Philips Hue Go Portables that provide mood lights as well as three hours battery-operated portability to the pool or balcony (see below)
Later we expect to add task lighting the kitchen and the bathrooms.
The point is that with Google Assistant this all meshes together very well. What we have found, however, is that the Philips Hue System with its separate Zigbee bridge has a greater transmission distance. This gives increased flexibility and reliability – especially after the internet or power outages where it recovers quickly and reinstates lights to the last condition.
5/5 for the right use – forgetting the cost of course.