Oppo's $529 mid-range metal smartphone reviewed

Price (RRP): $529
Manufacturer: Oppo
With phones hitting well and truly past the thousand dollar mark, the mid-range is now the attractive area to price a device, and with a tag of $529 outright and a decent spec sheet, Oppo's R7s may well offer some of the best value out there.
Specs
Oppo has been a busy bee of late, and the R7s is the latest attempt for the company to wedge itself in as a provider of solidly built middle ground machines.
This is the third model we've seen that carries the "R7" moniker, and really it feels like this one is targeted to the person that just wants a solid mid-rounder capable of surviving the day, which is what the specs indicate.
As such, you'll find the Oppo R7s arrives with a Qualcomm Snapdragon 615 eight-core processor paired with 4GB RAM and 32GB storage, though it can support a microSD if you have one and are using a microSIM.
Google's Android 5.1 "Lollipop" runs on the Oppo R7s, though it's a little different from the standard installation as Oppo has customised it into its own operating system called "ColorOS".
A 5.5 inch Full HD AMOLED screen covers this chip, showing up the 1920×1080 resolution with roughly 400 pixels per inch and a layer of Corning's scratch-resistant Gorilla Glass 4 protecting it.
The screen also protects the rest of the innards in the R7s, which includes connection options for Category 4 4G LTE, 802.11ac with backwards compatibility for 802.11a/b/g/n, Bluetooth 4.0, and support for GPS.
Cameras can also be found here, with a 13 megapixel shooter with flash and Full HD video capture on the back, while the front-facing camera relies on an 8 megapixel camera.
There aren't many ports or buttons, though, something that goes part and parcel with phones of today, so expect two main ports here — a microUSB port at the very bottom while a 3.5mm headset jack sits up top — while the physical buttons sit on the other sides, with the left and right serving up individual volume buttons for up and down on the left while power sits on the right.
The battery on the Oppo R7s is rated at 3070mAh and is not removable.
Design
Take the Oppo R7s out of its box and the first thing you'll be greeted with is a phone that looks more premium than the price you paid for it.
That's really the first feeling, and it's hard not to experience this, simply because the glass has a slight curve to the sides while the edges and body are decked in a casing made from aluminium.
This one material helps to cement the Oppo R7 as a relatively premium product, because while other mid-range models stick with plastic as the main material behind a glass screen, Oppo has gone right for metal, something other brands have struggled to come to grips with.
Here on the R7s, the design is easy to carry and feels surprisingly good in the hands thanks to that sub-7mm (6.95mm) thickness, despite the edges of the device not so much being smooth and featuring a pronounced edge as the casing bevels into the back.
That element can detract from the otherwise premium finish, but it's not one that will pull away from the feeling that you're getting metal for in a phone for $529.
Performance
Despite that mid-range price, one area that Oppo's R7s really handles itself in is performance, with the combination of the Qualcomm Snapdragon 615 eight-core chip working very well with 4GB RAM.
That's a rare amount of memory, with this amount only appearing on Samsung's Galaxy Note 5 and Galaxy S6 Edge+ recently, and it tends to signify performance.
With that said, the Snapdragon 615 isn't a total benchmark destroyer, but it can certainly handle its own, and we found very few glaring performance problems with this pairing. Occasionally it would slow, but for the most part, the Oppo R7s just hums along.
Even the storage amount appears decent, with 32GB found inside this mid-range handset, though when all is said and done, there's a little over 20GB for you to play with.
That's a little better than the 16GB minimums you see on handsets, so that's something you can take to the bank.
In use
One thing we've never quite gotten used to is Oppo's take on Android, "ColorOS".
It's still technically the same Google produced operating system, but Oppo applies its own tweaks and modifications, with custom settings and a more Apple-inspired take on the home screens.
This reviewer has never been too fond of this, mind you, and he finds that Oppo's ColorOS is much like Huawei's EmotionUI, with both following designs that makes them too much like iOS with less individuality found here.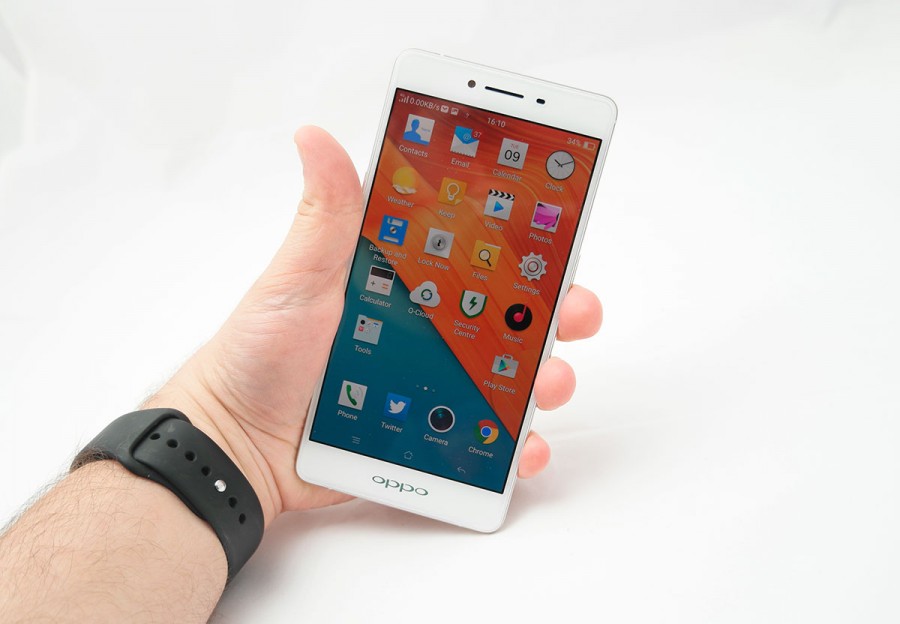 In fact, the whole home screen and shortcut focus of Android is lost in Oppo's ColorOS, with each program existing only on the multiple home screens much like they would in iOS, with the except being that you can add widgets.
If you've come from another Android phone not made by Huawei or Oppo, this can be a touch confusing because it means your programs aren't shortcuts but rather the full thing, so when you remove one, you're not just removing a shortcut, but rather the entire thing.
Coming from Apple's way of doing things, chances are you'll be fine, but Oppo's take is so un-Android-like that it's often hard to take it seriously.
At least the company has shied away from soft buttons on this release, with Google's on-screen buttons used for the R7s.
Beyond this, though, the Oppo practically screams that it's an almost iPhone.
Cameras
Even the camera interface looks like an iPhone, with pretty much the same design and controls.
Touch the screen to get a focus lock, and then flick the exposure slider up or down to the right side, before firing the shot with the big circle.
It's pretty clear where Oppo is drawing its inspiration with the R7s, so are the cameras actually any good?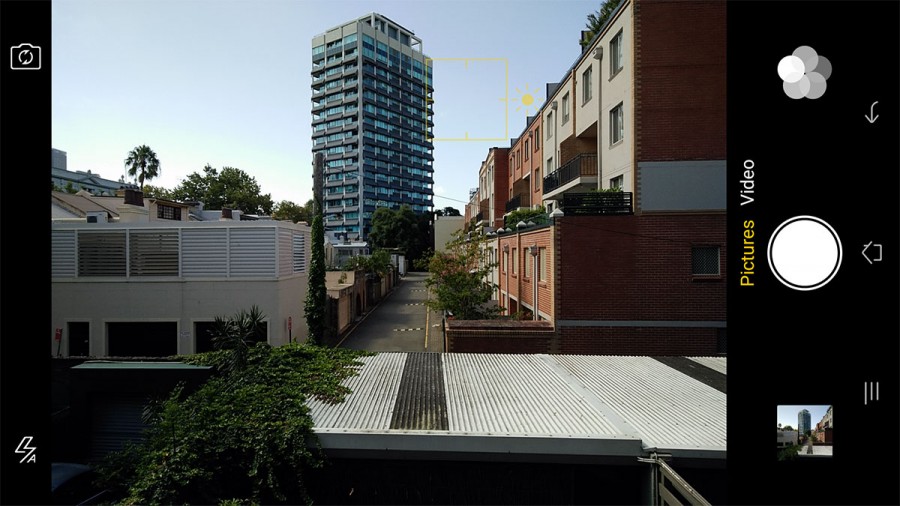 Yes and no.
On the whole, the combination of a 13 megapixel rear camera and an 8 megapixel front-facing camera is a fairly impressive set of specs to accompany a device that sits just marginally over the $500 mark.
Granted, there's no 4K video support here, so that feature is obviously still well and truly in the sights of flagship phones, but at least you're given some decent image capturing abilities in daylight.
In lower light, though, you can see the softness of the images come out, and not even necessarily at 100 percent.
Sure, every smartphone softens up at 100 percent, and quite a few proper cameras do, too, but even when the light dims a little, the R7s feels like it struggles a little to get natural light onto that sensor.
It's not a terrible result, mind you, and there's always that flash to help you out, but the camera on Oppo's R7s mostly caters to daylight, and lots of it.
Battery life
At least battery life isn't too shabby, with a solid day being offered by the Oppo R7s, and a little bit more if you're a touch frugal or use your phone less.
Overall, we found the Oppo R7s could survive close to 36 hours when we were taking the phone through a regular day with no smart devices or wireless Bluetooth connections, meaning if you rely on corded headphones and check your mail, surf the web, make and take the odd phone call, message people, social network, take pictures, and generally use your phone, you can get a day and a half out of the R7s without charge.
Use your phone a little more than we did and you might find only a day of life is possible out of the phone's 3070mAh battery, so we'd probably recharge it nightly, but it's still nice to see that if you were running out of charge, you wouldn't have to worry so much and run for the nearest power point and USB cable.
Value
Value is one area where the Oppo R7s handles itself very well, because with an outright price of $549, it's hard to look past the bang for your buck, at least on paper.
For a little over $500, the R7s offers a fair amount, from decent battery life (for the price) to a solid spec set and an excellent body design.
What needs work
At least Oppo's tag matches mid-range, and there's a fair amount in there for the cost, even if it is from a brand you may not be totally familiar with.
Still, some of the things that need work surprise us, partly because there's just so much similarity between the R7s and some of Oppo's other units, namely other R7 models.
For instance, there's no fingerprint sensor in the R7s, which might be a little annoying if you feel like you need a little more security.
It's a rather surprising omission, too, because the larger 6 inch Oppo R7 Plus includes the technology and even offers less memory for $70 more.
As we noted before, we're still not huge fans of the operating system, but you can get around this, and most people probably won't be bothered by it. Some might even prefer the Apple-inspired take.
Regardless of who uses the R7s, you will still find the odd bug when you hold your phone from the top, and that's apparently called a "misoperation prevention" error.
It's something very specific to Oppo devices, as we've only seen it reviewing phones produced by the company, and while it looks like it's an error, it also isn't one. It's more like something the phone warns you not to do and won't have any effect on the device if you do.
Don't worry if it happens, as you'll be right, and you can even turn it off in the settings if it bothers you.
One thing that we do take aim with, though, is the dual SIM slot which comes with a double edge: you can use the R7s either with a microSIM and a microSD or a microSIM and a nanoSIM.
That's a fair amount of flexibility, and it's pretty cool, but what happens if you have a nanoSIM?
If you're switching from a device reliant on the nanoSIM — like say an iPhone 5 or 6, or a Samsung Galaxy S6 — you have this format, and when you throw this in the tray, you're actually slotting it into the section that handles both the microSD and the nanoSIM.
But while it handles both, you can only use one at a time, meaning if you do have a nanoSIM, you don't get any microSD access, and you merely have a 32GB device.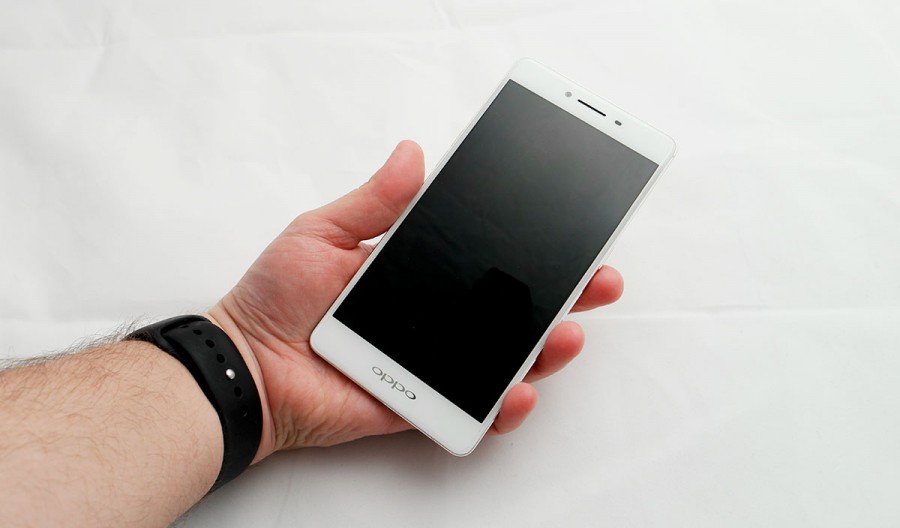 Conclusion
The one thing that confuses us with the Oppo R7s is where exactly it sits.
Oppo has made a fair amount of mid-range models designed to take the fight to its premium competitors, but the Oppo R7s feels like a mid-ranger sitting in the middle of a bunch of other mid-rangers.
There's the Oppo R7 with similar hardware and a smaller screen, the Oppo R7 Plus with similar hardware and a bigger screen, and then there's this phone — the R7s — which kind of sits in between both.
Certainly, there are reasons to pick the R7s over the others, and we'd say they come from the additional memory you get as well as the lack of printed on soft buttons that help to make the R7s feel a little more future friendly.
Still, we can't help but think some things should be improved — like the camera — while fingerprint sensor should be added if only because of how difficult it will be to find so much in one device for this sort of money.
Oppo's $529 mid-range metal smartphone reviewed
Price (RRP): $529 Manufacturer: Oppo
Metal body; Two SIMs or one SIM and a microSD upgradeable slot; 4GB RAM makes the phone perform quite well;
No fingerprint sensor; Oppo's "ColorOS" Android overlay is still a little too iOS for us; Camera could be better; MicroSD expansion disappears if you use nanoSIM;