If you are after a Galaxy Note9 in Ocean Blue and 512GB of ram, be prepared to wait. The uber premium product has been the most popular with well-heeled Australians.
In part that was because if you pre-ordered you got the 512GB for the price of the 128GB, but Ocean Blue has been a wildcard. People traditionally order basic black.
Samsung Australia does not release sales figures. It has said pre-orders have 'surpassed' all previous Notes. It also reports strong opening weekend sales once people got their hands on the product.
Garry McGregor, Vice President for IT and Mobile, Samsung Electronics Australia, said the demand for the Note9 is unprecedented. It was due to people seeking more powerful mobile devices to help them do more.
"The Galaxy Note is one of our most loved products. We believe the Note9 is a complete game-changer for Samsung when it comes to power, performance, and craftsmanship. It changes what customers can expect from our devices." McGregor said. "Updates from around the country indicate a fantastic response at retail outlets as we see more Australians adopt the Note smartphone as their device of choice."
GadgetGuy has had quite an array of coverage. Forgive us – we love the phone, and I have been a committed Note user since the Note6. But, the driver, is the S Pen. Unless you can use it, then the Galaxy S9 or Plus is a better buy.
Our first look is here.
Now to the good stuff – a Note9 teardown.
Our friends at iWreckit, iFixit have completed a teardown of the Note 9 and given it a four out of ten repairability score. That is pretty good for a glass slab!
All the major specifications are well known – Exynos 9810 (or Qualcomm 845 depending on region), 6.4" AMOLED screen, dual camera, 128/512GB storage, 1TB expansion and Bluetooth S Pen etc. it is the whopping 4,000mAh battery that impressed them.
It is a 15.4Wh compared to the Apple iPhone X at 10.35Wh.
Bluetooth has enabled what was previously a passive pen to do so much more.
The diminutive pen has a lot going on inside it. A Bluetooth Smart transceiver powered by a rapid induction charged double layer capacitor. You typically find these in high-end SSD to store enough power to write all data from the cache to the media. In this case, it is good for about 40 button clicks before docking for a few minutes recharge.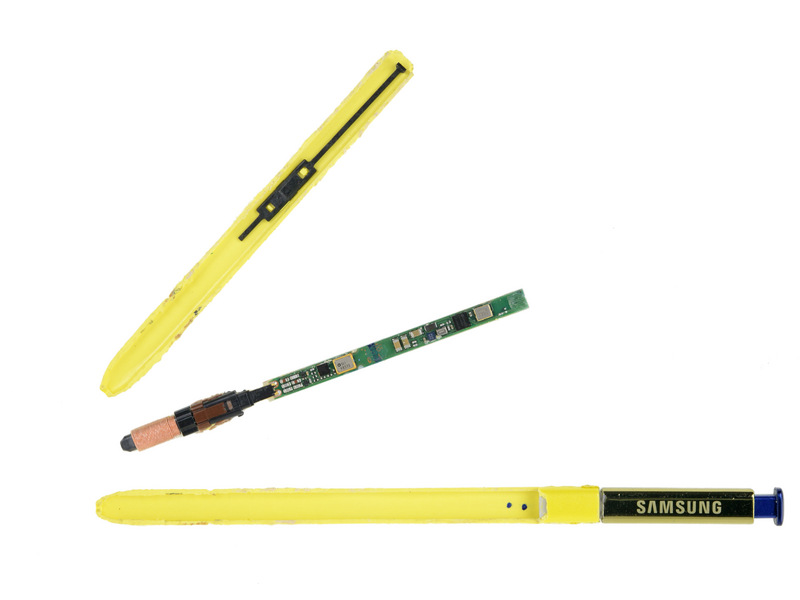 And because it is now an active pen complete with a sensor coil at the tip it can communicate with a real Wacom in-glass Digitiser. This enables 4096 levels of pressure, tip-tilt and so much more.