Overall, the 16 megapixel shooter on the back does a tremendous job, and aside for knowing how big the images are and how much backup you'll be wanting to do, you will be happy.
And Samsung has even changed a bit of the software, keeping that double click of the home button to bring you into the camera (yay!) but also borrowing some inspiration from Apple with an on-screen exposure controller when you touch something to focus on it.
You'll also likely be cool with knowing that the 5 megapixel camera up front handles itself well, offering fairly sharp images that can be controlled with a beauty setting to soften faces able to be turned up or down.
Again, Samsung's not-so-used biometric heart-rate tracking sensor on the back of the phone can be used for good reason here, firing off a self-portrait when you lift your finger from the sensor, using your pulse for a photographic purpose.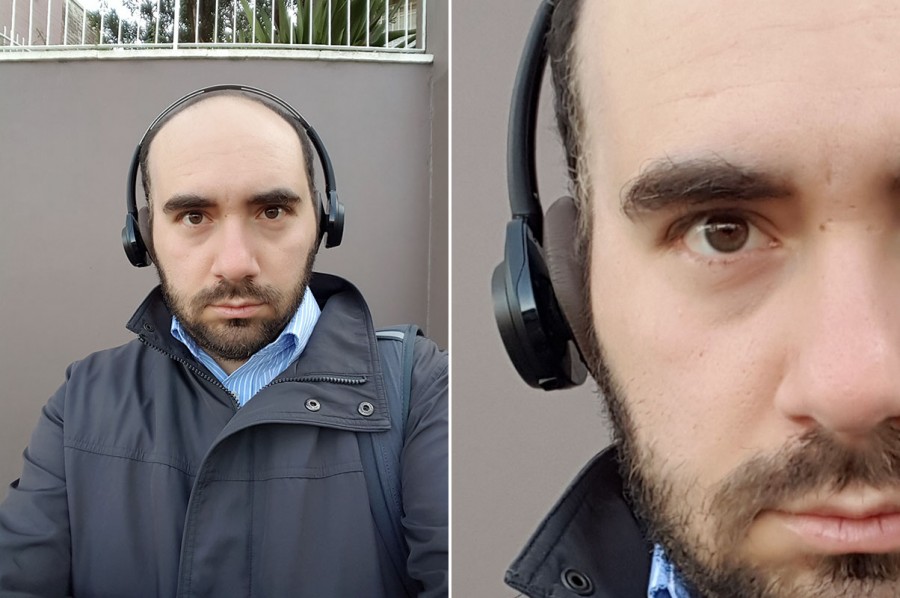 Conclusion
If the "+" on the box doesn't give it away, then this description will: the Galaxy S6 Edge+ is quite literally an oversized version of the regular-sized Galaxy S6 Edge people have been picking up since April.
That's not a bad thing either, mind you, as we can only imagine some fell in love with Samsung's wonderfully unique screen design and only wanted it bigger, even if it does bring very little to the overall functionality of the phone altogether.
If you count yourself in that category and love the edge display but prefer a phablet, the S6 Edge+ is definitely worth taking a look at, but it's also worth a look-in for people unsure of the phablet size altogether, and that's because there's a question of value.
Ah yes. Value is one of those troublesome areas with smartphones these days, especially in the category of top tier flagship models, as these devices start to encroach on laptop territory, with similar prices for tech you keep in your pocket.
We're not sure we agree with the $1500 pricing some of these new phones ask for, and at that pricing, we'd probably say "buy a mid-range phone and a decent laptop", but everyone is different.
The Galaxy S6 Edge+ brings a different set of value questions into play, because while it's still expensive — $1299 for a 64GB phone! — its pricing is spot on with the Galaxy S6 Edge, that smaller "regular-sized" version we checked out earlier in the year.
That's not likely to arouse suspicion, especially since as we've noted several times in this review, the S6 Edge+ is basically an oversized S6 Edge, except for a key point worth raising, and that's this: the hardware in the S6 Edge+ is technically better.
For the most part, it is technically identical hardware, with the same processor, storage supply, WiFi, Bluetooth, Android, etc, making that price more and more logical. Because something that is the same should be the same price, right?
Except for that the new bigger S6 Edge+ delivers more RAM which in turn increases the performance, and that you get a faster modem which ends up providing much faster mobile broadband speeds if you can get them. There's even that bigger screen, which while it isn't everyone's cup of tea and technically delivers the same resolution does manage to pack in more battery life.
And thus you have the confusion of Samsung's S6 Edge+ price dilemma: by paying the same amount for the Plus, you get a little more than the one without the plus.
That is provided you can handle the bigger screen and the omission of an infrared port, which we think most people will be able to deal with.
Ultimately, if the S6 Edge is something you're considering, we'd look past it to the bigger phone, because it improves the regular-sized version in some pretty solid ways. Sure, it's not perfect, and is close to being just an enlarged edition of the device that is changing the way Samsung designs phones, but it manages to work a little better thanks to some extended tweaking.
Simply put, if you have to have an edgy screen, the Galaxy S6 Edge+ is the one you choose. That's all there is to it.
Samsung's curved screen is still a pretty special design to see in public; Built with premium materials; One of the best and brightest screens on the planet; Very speedy performance; Surprisingly comfortable to hold; An absolutely stellar camera; Fingerprint sensor is one of the better implementations found on an Android phone; Supports high-speed wireless charging; One of the first Category 9 compliant devices on the market in Australia; Technically better value than the standard S6 Edge;
Literally just a big Galaxy S6 Edge; Occasional performance hiccup; No infrared port; Doesn't come in storage sizes higher than 64GB; No microSD slot;