First you'll find Oculus Videos, and these are for the most part 360 degree videos. Play one and you'll be able to see a 360 world in motion that you can look around inside.
Samsung has included a few for you to play with, including a short tour over several cities, a relatively boring one inside Marvel's Iron Man workshop of Tony Stark, and one that always brought a smile to the GadgetGuy staff, a tour of Iceland shot from a helicopter.
Play this video and a world comes to life around you, and you can look up, down, left, right, and generally spin around in a comfy chair to see the full 360 degree world of Iceland take over your eyes. The only thing missing is the sense of movement, but if you get motion sickness, you may find this throws you off balance all the same.
Videos can be found for this around the web, and Samsung and Oculus even have a few apps available on the Oculus Store just for this (Matterport VR, im360 VR).
In fact, one of the first videos you see will be the introduction to VR from Oculus and Samsung, and this will let you do the same, move around and let the world of virtual reality immerse you.
Another included app that has the potential to immerse is the 360 Oculus Photos app, which loads up 360 degree photos shot from all over the world, and then some. These let you do the same as the movies app, moving your head around at all angles to see things as if you were standing in that very spot.
There are quite a few of these photos, and you can explore buildings and spots that you might never visit, including a few surprises, such as under the ocean, Chernobyl, and even four from NASA's exploration of Mars.
The 360 photos aren't interactive, and walking in the spot won't get you closer to the scene, but it's pretty thrilling to see a world brought to your face, and for many, these scenes will be like grabbing a passport and hitching a plane, or a shuttle in four of the cases.
Beyond the 360 degree photos and videos, you also have apps made to take advantage of this 360 degree world, and one of the most important ones in the package is called Oculus Cinema.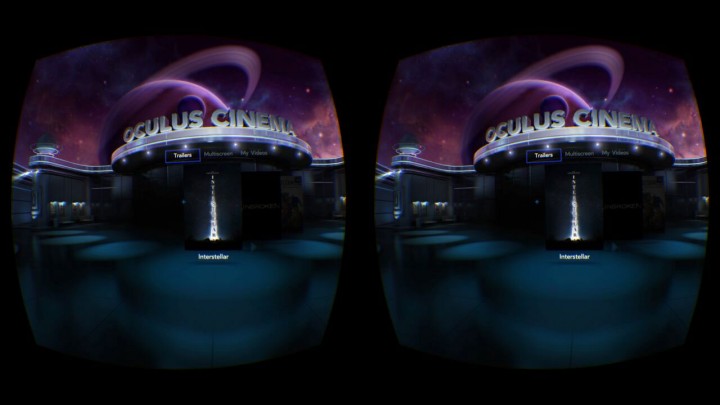 In case the name doesn't give it away, this is a virtual cinema for your headset, and can load regular 2D movies as well as 3D movies inside of it.
From the outside, your menu here looks a little like you're attending Universal Studios, but the moment you select the flick you want to see — and Oculus includes some trailers, but we loaded some of our favourite movies for the test — and enter the cinema.
Four cinemas are available for you to watch movies in, with one made to look like a home cinema, one made to look like a regular cinema, one on the Moon, and one just in a never-ending supply of black called the "Void" which we suspect is useful for people who just want a total immersion.
If, however, you like watching movies inside of a cinema, and the experience is something you enjoy, loading your movie files on the big screen is possible, because when you press the Gear VR to your face, the experience is like viewing a big movie screen.
As a result, if you load in movies you like, the virtual cinema makes it feel like you're watching a movie in a theatre. You can look around and see empty seats, and even look down at the cupholders, but you can't throw Jaffas or popcorn.
Two-dimensional movies (standard movies) look the way you'd expect them to, and 3D ones can work here, too, though they have to be encoded for 3D playback.