The Samsung Sero TV has an automated rotating display that matches your smartphone orientation. Is it a gimmick or an extension of the mobile age?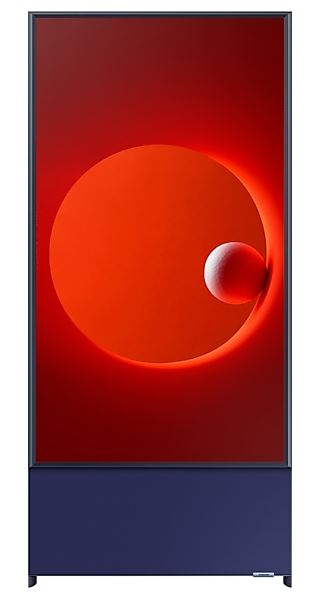 We have not reviewed the Samsung Sero, but we can say it is perhaps the TV innovation of 2019 and now finally here at $2,399. Well its on the Samsung website for $2199 and at JB's for $1995 so shop around for a deal.
The ethos is that traditional smartphone content is portrait (9:16) versus TV (16:9) – or any ratio in between. Samsung found that a lot of audio and video content is shot 'vertically' and it simply loses impact when played on a standard TV.
The Samsung Sero (Korean Sero(세로) 'vertical') was born as the first TV equipped with an automated rotating display that can switch between horizontal or vertical orientation. It uses a PCT Poster Chamber Design. That means a plate stand rotates the TV so leave room to rotate it.
In GadgetGuy style we need to let you know all the specs before you go to AfterPay heaven (as the mobile age is wont to do). Oh and this is one if the few 43″ 4K TVs in Australia.
Samsung Sero specs QE43LS05TAU
Website here
43″ 3840×2160 (4K) 16:9 landscape, VA Panel
Quantum Dot (QLED) 100Hz, HDR
DVB-T2 tuner for FTA TV
Supreme UHD Dimming (appears to be edge-lit)
Dolby Digital Plus decoder (not Dolby Atmos) with a 4.1, 4x10W and 1x20W woofer speakers (Left/Centre/Right/Woofer)
Smart Tizen 5.5 TV with apps – uses SmartThings to connect to the smartphone
Works with Bixby, Google Assistant and Alexa
Screencast, Mobile to TV mirror, and AirPlay 2
Wi-Fi 5 AC (No Ethernet) and BT 4.2 LE for external headphones or speakers
3 x HDMI 2.0 with eARC
564.7 (W) x 1200 (H) x 327 (D) mm x 33.3 – the stand is 170mm deep and on castors for easy movement (forgetting power and TV aerial)
Power 96-135W (.5W off)
GadgetGuy's take – The Samsung Sero fills a niche market
It is a good 4K QLED TV to start with and has a decent 4.1 sound system. The idea of portrait style will appeal to smartphone addicts.
Our only caveats are that it and the stand are inseparable and you won't easily be able to use a soundbar if you need one.
You can read other Samsung 2020 range articles here