Sonos Five is the second new whole-of-home multi-room speaker from US-based Sonos. It is both 2.0 stereo and stereo pairable. And it has a 3.5mm line-in AUX jack for direct [pre-amp] connection.
The Sonos Five is a heavy little beast – and it should be to house six speakers and six D-Class amps.
Left high excursion 10cm woofer
Centre woofer
Right woofer
Left-angled side 20mm tweeter
Right-angled side 20mm tweeter
Centre 23mm tweeter for clear voice
And a sealed case – no passive faux bass radiators/ports – it comes from the speaker!
Sonos Five specs
Website here
Support pages here
Replaces: Play:5 Gen 2
Note: Can only use the new S2 app
Colour: White matte or black matte case, graphite (Audiofoil polycarbonate) grille that also allows its six Wi-Fi antennae to get reception
Supports: Apple AirPlay 2
Connects: Via Wi-Fi N or Ethernet 10/100 cable
Size: 364 x 203 x 154mm x 6.36kg
IP rating: No, but being sealed helps withstand higher humidity like in a bathroom
What it's not: Voice assistant compatible (needs another speaker). No BT but you can Wi-Fi stream to it as a multi-room speaker
Price: $749 inc free delivery and 100-day return policy
Warranty: 12-months ACL
County of manufacture: China
Sonos is an American Audio company based in Santa Barbara, California [Est 2002]. It develops and manufactures smart speakers designed to last for at least five years. Sonos speakers play music simultaneously in multiple rooms.
First impression – Sonos Five is substantial
Beautifully boxed – Sonos style. It is a heavy little speaker at over 6kg. Use it horizontally for stereo or place a pair vertically for a wider stereo sound stage.
Setup – easy via the app
The Sonos S2 app identifies the speaker and connects to 2.4GHz Wi-Fi. Name the speaker, e.g. lounge.
The app provides for limited EQ – Bass/Treble, stereo balance and a loudness switch (best left off).
You can also set up music sources and NAS libraries. You can add it to Google Assistant or Alexa via the app, but you need to use a separate voice compatible speaker to play content to the 'named' speaker. Note that voice assistants support a far smaller number of content providers.
Or you can use the S2 app to stream content from any Sonos supported provider.
Line-in assumes a sufficient pre-amped signal.
I looked for TruePlay room calibration, but that is only for the iOS app.
3.5mm jack
We did not have a vinyl turntable to test, but we did a test on the outputs from a headphone jack on an HP Spectre 2019, and an OPPO Find X2 Pro phone. In both cases, it offered its typical flat frequency. But the OPPO surprised us an even wider sound stage with the Dolby Atmos/Digital processing and hi-res DAC to a 2.0 speaker.
And the music can be streamed via the Sonos app to other Sonos multi-room speakers.
Sound
It reaches 83dB with minimal distortion. This is more than enough to fill a large open space lounge area.
Sound signature is almost perfect. Bass kicks in at around 50Hz and is very strong from 64Hz (quite amazing for a standalone desktop speaker) and it is flat pretty well to 5kHz. Then it dips a little to take the harshness of upper treble out and ramps up until 16kHz.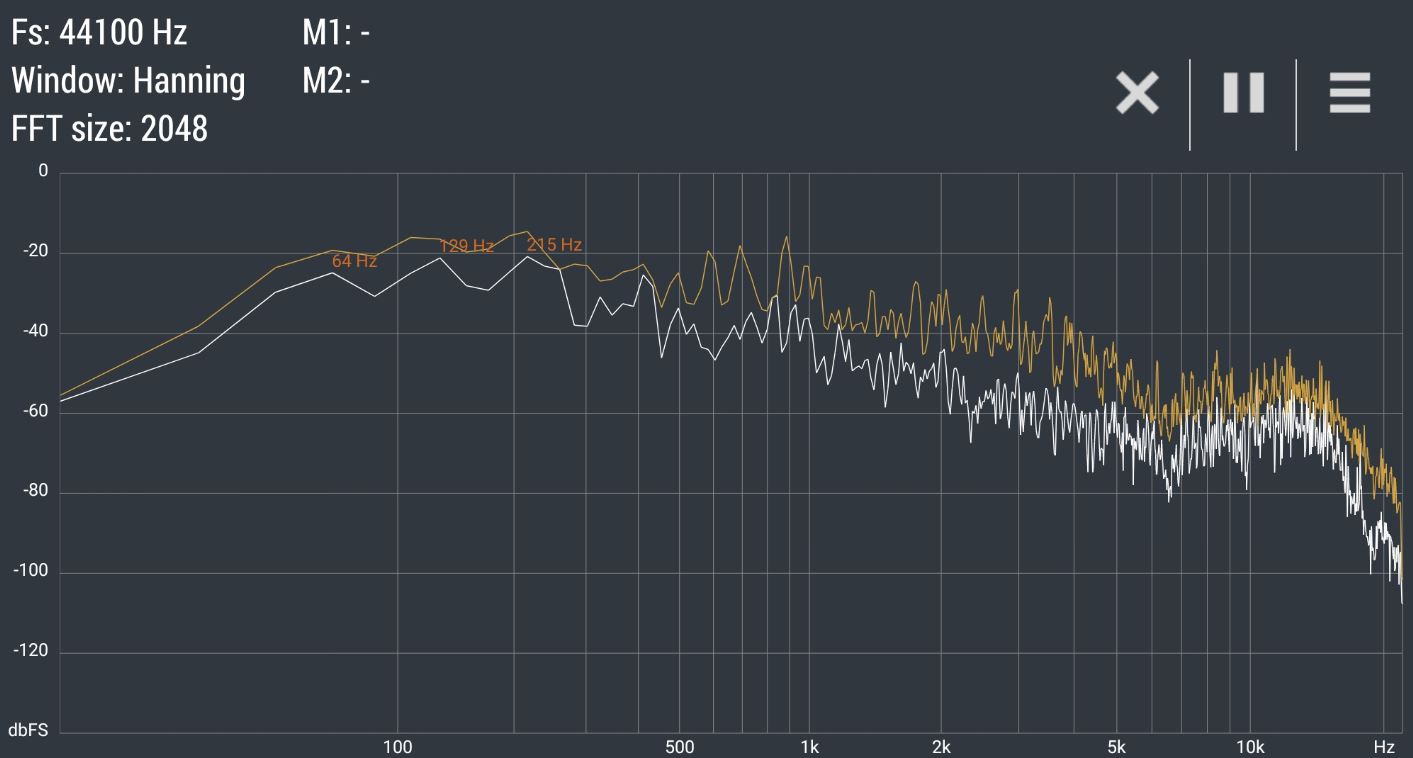 I can say that one of our test tracks – The Blues Brothers Peter Gunn theme was superb – better than any desktop, BT or Google speaker in the house!
We did not test as a stereo pair, but we understand that the bass enhancement is even greater.
As we said before in the Sonos Arc soundbar review, Sonos wants to present music as the makers intended. The relatively flat (that's good) frequency response means just that – it doesn't produce artificial sounds. The EQ has bass and treble for minor adjustments – I would leave it flat!
GadgetGuy's take – Sonos Five is a great single or multi-room speaker
This is a perfect 2.0 speaker capable of filling a large room with a reasonably wide sound stage.
Sound – you could not ask for better. But audiophiles will ask about high-res music. As the Sonos S2 app now supports 24-bit, 44.1/48kHz, and FLAC/ALAC 1536kbps you should be able to stream from high-res sources (like the OPPO FInd X2 Pro) or a NAS.
The Sonos Five It is the speaker that you could use every day – regardless of whether you have a multi-room setup.
I am rating it as a stereo desktop speaker – it is great. I can't help feeling that the absence of voice control is an oversight, but it works fine with a voice control speaker as long as you tell it to play on the Sonos Five.
Positives
Lots of volume and low distortion
3.5MM AUX jack
Put it near a power point and in Wi-Fi range and you are good to go
Negatives
Might have been nice to have voice assistance out of the box
Its time to get TruePlay tuning to Android!!!