Samsung's Galaxy Note10 and 10+ hit the streets on 23 August, and the press releases on cases, accessories and more roll in. Here is a round-up from bulletproof to bling.
Note that Australia only gets the Note10 Aura White and Aura Black devices. Note all prices are RRP and for the Note10+ – the Note10 may be lower cost and freight may be extra.
Led 'starlight' cover illuminates the back of your phone with mood lighting and simple notification icons.  $69 (image left below)
Protective Standing Cover stands up to drops and falls while also propping up your phone at two viewing angles. $59 (image rigth below)
Clear View Cover lets you take calls and control music without opening the cover. $69 (image left below)
LED View Cover gives you a range of custom LED icons that notify you at a glance. $89 (image rigth below)
Leather Cover wraps Galaxy Note10 and Note10+ in luxurious calfskin, available in a range of colours $79 (image left below)
 Silicone Cover protects your phone with a soft and smooth material that also provides a comfortable grip. $39 (image rigth below)
 45W Travel Adapter plugs Galaxy Note10+ in for a fast boost of power with 30 minutes PD 2.0 charging (no image)
Wireless Charger Stand – Fast Wireless Charging 2.0 10W+ $129
Convertible Wireless Charger flat to stand 15W $119
Wireless Charger Duo Pad gives your phone a fast boost with Fast Wireless Charging 2.0 while charging Galaxy Watch Active2 at the same time. $149 (image left below)
Type-C to 3.5mm Adapter lets you use your favourite headphones without sacrificing audio quality. $20 (image rigth below)
100W USB-C to USB-C cable $15 (no image)
Wireless battery pack charger $99 (no image)
DeX USB-C to HDMI adaptor $69 (no image)
Next  a huge range from MobileZap Australia (online)
The URL link for all Note10/10+ cases is here. Note the numbers below may include colour variations. Prices range from $8.49 to $100.
It offers 95 cases/colours from both Samsung Genuine and cases from Eiger (1), GHOSTEK (13), iBlason (1), Obliq (2), Olixar its house brand 22), Ringke (6), Spigen (2), UAG (3), VRS Design (12) and Zizo (6)
Plus you will find 'third-party' cables, car holders/chargers, wall chargers, docks, screen protectors, speakers, stands and more. Just a note – while this is an Australian site (part of the MobileFun UK group) please ensure you specify Australian plugs – just in case.
Tech21 has its Samsung Note10 cases here.
Its claim to fame is its antimicrobial cases that come in Tough (Pure $59.95) and Tougher (Evo Check $49.95). There is also an Evo Wallet that holds two credit cards ($64.95). These are best married to a Glass Impact Shield ($34.95) although the Note has a pre-fitted plastic protector). The cases come in Black, Clear or Blue.
Otterbox has its traditional Commuter (slim), Defender (Rugged) and Symmetry cases ranging from $49.95 to $89.95 in a variety of colours including black, pink, clear, purple, Beguiled Rose Pink, Gone Fishing Blue, and Sapphire Secret Blue.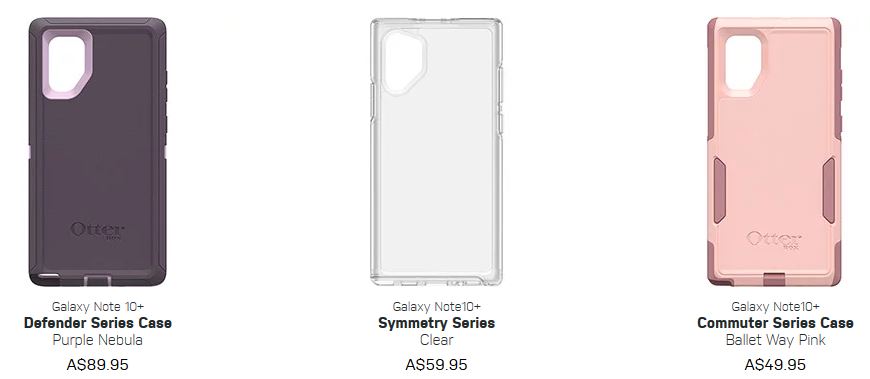 Lifeproof has its Next series in Black Crystal, Limousine and Clear lake at $89.95. Lifeproof's motto is Dropproof, Dirtproof and Snowproof.
Incipio has its Dual Pro, Tran5form – the latter comes in iridescent red/black, clear and black. These cases and usually sell via CaseStore in Australia.
3SIXT has not announced covers yet (Note9 link here) but typically have a PureFlex Soft-Edge case and Curved edge glass screen protectors. It is a value brand – you see the distinctive Red/Black/White packaging everywhere – supermarkets, service stations, Newsagents and corner stores. It makes a range of cables, chargers and accessories.
EFM has yet to announce its Note10 series, but it will include the Impact Flex, Cayman, Aspen and Verona. I have been using EFM on the Note9, and it has been superb.
And you can take pot luck with buying third-party cases online – Bling for Note10 URL is here.
As we receive more releases, we will add to this quick guide.