Want to update to LED lights, save on power bills and likely never have to replace them again? LED lights are the answer. Our 'Dummies Guide to LED Lights – you can do it' is all you need to get motivated.
The Dummies Guide to LED Lights is part of our #Stop the energy rip-off campaign that focuses on how to save energy and money. It is among our highest rating series in 2020-2021. Why? Because we all want to reduce power bills and LED lights are almost the no-brainer thing you can easily do.
Let's not forget that the switch to LED lights has already saved Australia over 570 million tonnes of greenhouse gasses (2017 figures). This alone has more effect that the zillions of hectares of wind farms or solar panels.
Yes – that is right. Save the planet simply by switching to LED lighting. Now with replacement bulbs less than $10 its time to act.
GadgetGuy spoke to David Ellingsen Metropolitan Electrical Contractors for the inside tech info. The company is Australia wide and apart from doing the usual sparky things has expertise in smart homes.
Consumer Advice: If something has a three-pin AU power plug, then you don't need a sparky. If it does not have a plug, you do.
We also spoke to Chris Lau, MD of LaserCo that supplies Laser brand Smart Bulbs and Connect Smarthome indoor and outdoor lighting by LaserCo). The following is the joint expert's advice.
Dummies Guide to LED Lights – you can do it!
To be blunt, we want all readers to replace older Halogen, Fluorescent, CFL and incandescent bulbs and start reaping the energy savings.
In my home alone, the change meant lowering my lighting energy usage by 83% from over 3000W to 250W. Then I added smart task lighting so that most of the time at night we use about 10W-50W.
Halogen vs LED Lights
Halogen bulbs last between 1000 to 2000 hours (and weaken considerably over time). A LED still produces at least 70% brightness after 50,000 hours – 20 years of average use.
LEDs use up to 85% less electricity. That means you pay 85% less to run them. A 50-60-watt halogen bulb replacement is a mere 5-7.5-watt LED.
Halogen bulbs burn hot – LEDs are not a fire risk (no more 'Ruddy' Pink Batts fires)
LED on the colour/white rendering index (a way of determining how 'natural' colours appear under the light) are now similar to conventional lighting.
Colour Temperature
LEDs come in different colour temperatures. Some even have a switch to select the one you want.
Warm (2700° Kelvin) is closest to daylight and the old incandescent bulb – what most want
Neutral white (3500K)
Cool white (6500K) is bluer and can be useful for makeup mirrors, early mornings, and task lighting. It can disturb circadian rhythms (sleep) so keep cool blue light out of bedrooms.
Replacing Halogen with LED is easy to DIY (Do it Yourself) but DFOTL (don't fall off that ladder)
Older 50-60W Halogen non-dimmable downlights usually fit into a 90mm ceiling hole. Some have square or ornamental frames over the hole.
These have a transformer tucked in the ceiling that either has a 240V AU Plug or it is hardwired – if you do a bulb-for-bulb replacement that is no issue. These take 240V and supply up to 60VA (Volt-Amps = 12V/5W). These only work with 12V/5W LED lights.
We have tested the Philips 5W Warm White GU 5.3 fitting from Bunnings for $41.80 for a six-pack with the ATCO Possum brand transformer. Buy one bulb to try first – if it works, then replace the rest.
Consumer advise and warning:
When you buy LEDs, be aware that most are 6.5W and only 4.5 or 5W will work with your transformer. If the bulb does not work or flashes intermittently, it is not the right one.
Most fittings have a GU5.3 fitting (2-pin narrow neck), but some have a GU10 fitting (2-pin larger round neck). Check what you have first!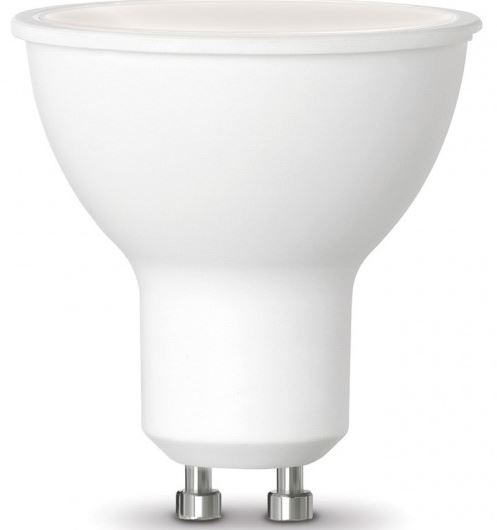 Dimmable halogen downlights
If you have a dimmer on the halogen lights, you should be able to use a 5W LED blub-for-bulb replacement without any electrical issues. But most existing dimmers will only dim the light in one or two steps – not infinite.
Consumer advise and warning:
If you have a dimmer try one bulb first. If it does not work, you may buy a complete dimmable LED light fitting with a 240V plug and try it. We have had success with the Arlec 9W RGB Dimmable 90mm fitting for $9.95 from Bunnings.
Our best advice is that if it does not work, call a sparky. Metropolitan Electrical Contractors are LED downlight replacement specialists. They even have adaptor plates if the hole downlight hole is too big or too small.
LED Tubes to replace Fluorescent tubes
So far, we have looked at LED replacements for Halogen downlights.
You can now get a range of T8 and T5 LED tubes that replace the old fluro light (600/1200/1500mm) without the need to change the ballast.
LEDs to replace CFLs (Compact Fluorescent Lamps)
These are the twisty or long shaped that usually fit into a standard light socket.
You can get dumb and smart LED bulbs for
E27 (standard ES)
E14 (Half size ES)
B22 (Bayonet Cap)
B15 (BC half-size)
or a two-or-four-pin reading lamp socket. You may know them as PL, Quad, Triple or PLL and drawing 10/13/18/26W. You can see these here.
Decorative and reading lamps – Edison Screw and Bayonet cap
These replace an incandescent bulb. Because these also need to have an inbuilt transformer, they are physically longer or have a wider base than the old 60/100W bulb. So be sure they fit the light fitting first particularly if it is a compact fitting.
Smart Bulbs are perfect here as you can link via an app to OK Google (or Alexa) and turn/on/off or dim. Or in the case of RGB lights vary the colour.
BTW – you can also replace those energy-hungry Para flood lights or the old circular ring lights. See here for the Philips range.
But this is where Smart Lights can be a great alternative.
Some LED lights are smart lights that can be controlled by an Android or iOS app on your phone or by a voice assistant. That opens up things like 'geofencing' – turning on or off when you arrive/leave, change colours to suit moods etc.
These have a globe/fitting that includes a transformer and usually a 240V Plug. All you need to do is remove the old fitting and transformer (if it is a plug-in type), and away you go. Connect Smarthome (by LaserCo) have White and RGB dimmable smart lights (use OK Google, Alexa or the Connect Smarthome app)
There are two types.
Philips Hue requires a smart hub that, in our experience, can be more reliable and have greater distance/reach than the Wi-Fi connected type. These continue to work even if the internet is down.
Wi-Fi connected join your home 2.4Ghz network and are reliable as long as you have a good Wi-Fi signal. These will not work if the internet goes down.
Or if you want some mood lighting, then LaserCo has a Smart white or RGB 240V Plug pack for $49.95/$69.95 – perfect for the bedroom. OK, Google turn on my boudoir!
Other suppliers are Brilliant Smart, HPM and LIFX as they have the best privacy apps. Avoid unknown Chinese brands from Amazon and online merchants.
There is a third option, and that is to use a smart switch. Now we are back in sparky territory, and you may want to look at updating to a smart wiring solution – if you have the money.
GadgetGuy's take – Dummies Guide to LED Lights – you can do it – is the beginning
Back in September 2019, I used the subsidised NSW Government-sponsored program to replace my halogen bulbs, and I could not be happier. Regrettably, that program is over.
Let's say you have 50 x 60W halogen downlights, and you can buy the 5W replacements (say $5 each) and DIY, your cost is $250, and you will save that on the next couple of power bills.
If you can't reuse your Halogen fitting the pop down to Bunnings and buy some 6W fittings with 240V plug for about $10 – $500 well spent.
The point is that it is time to replace all those incandescent, Halogen, fluorescent and CFL bulbs – you will save the install costs pretty quickly.