The LG 2019 soundbar range builds on its expertise in Dolby Atmos and its partnership with high-end Meridian Audio.
The LG 2019 soundbar range covers (note the 2018 range is prefixed SK)
Model Code
RRP
Availability
Dolby Atmos and Meridian
.
.
SL10YG Sound Bar
5.1.2, Meridian, Google Assistant, Hi-Res 24-bit/192kHz, Passthrough 4K HRD/Dolby Vison, 570W
$ 1,699.00
April
SL9YG Sound Bar
4.1.2, 500W, plus as above
$ 1,499.00
June
SL8YG Sound Bar
3.1.2, 440W, plus as above
$ 1,099.00
April
DTX Virtual X (no Meridian)
.
.
SL7Y Sound Bar
3.1, 420W, 24-bit/96kHz
$ 799.00
April
SL5Y Sound Bar
2.1, 400W as above
$ 549.00
March
SL4Y Sound Bar
2.1, 300W,
$ 399.00
March
SPK8-S Wireless Rear Speaker Kit for all models
2x70W
$ 199.00
March
Meridian partnership
Meridian has a quarter century of Digital Signal Processing expertise with its Bass & Space technology. This creates a soundscape to immerse the listener in rich, distortion-free tones and powerful bass. Add its Image Elevation technology, which virtually raises the presence of the soundstage, and you get a more life-like cinematic experience.
Meridian also has Upmix technologies that take two-channel audio and virtual upgrades to create a multi-channel experience. The resulting balanced tones and distortion-free delivery can enhance vocals and lead instruments in the audio mix.
Angus Jones, General Manager of Marketing at LG Electronics Australia commented on the LG 2019 Soundbar range,
"Our partnership with Meridian means we can deliver amazing audio performance to Australian households – and really provide Aussies with a fully packaged premium viewing experience. The 2019 line-up of LG Sound Bars has an additional benefit with the convenience of Google Assistant integration as well. It's incredible how just from just one simple wireless Sound Bar – that anyone can set up – an incredible virtual surround sound experience is achieved.
GadgetGuy's take: Good, better and best. Buy Dolby Atmos!
We only heard the premium models SL8/9/10, and they were impressive. The SL9YG can wall mount (front-firing instead of up-firing). LG says it has an internal gyroscope to understand its position and advanced sound processing algorithms to allow these premium Sound Bars to enhance conventional audio to a three-dimensional experience.
All have Google Assistant, Chromecast, Bluetooth and a host of advanced sound pre-sets.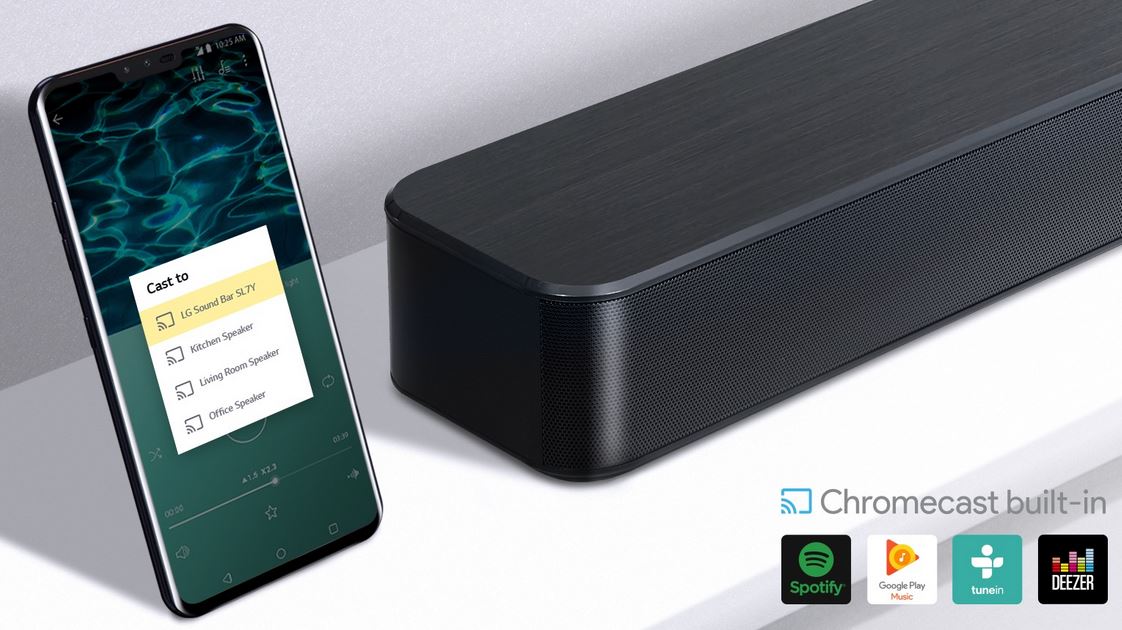 The rear wireless speakers were a handy addition.
You can find more at LG here.