The Logitech Z407 Bluetooth 2.1 speakers are for a PC – that is, until you discover the 40W RMS power, excellent 20W sub-woofer and left/right 10W full-range satellites. And it has a remote-control BT 'dial' that completes the package.
The Logitech Z407 Bluetooth 2.1 harks back to the days where PCs needed external speakers, and laptop speakers were (and still are) pathetic capable at best of 2 to 5W stereo. But with the plethora of BT speakers from Sony, JBL, LG and hundreds of others, Logitech is often overlooked. It should not be so, especially as it eats their lunches and only costs $149 – amazing. Best use cases are for a PC, Mac, or laptop, but its connectivity lends itself to so much more.
Review: Logitech Z407 Bluetooth 2.1 speakers
Website here
Price: $149
Warranty: 1-year ACL
Country of Manufacture: China
Logitech (Est 1981) is a Swiss-American manufacturer of computer peripherals and software, with headquarters in Lausanne, Switzerland and Newark, California. It is best known for keyboard and mice. You can read GadgetGuy Logitech news and reviews here.
First impression – black and somewhat traditional looking
If you saw the Blue box on a retailer's shelf, you would probably overlook it for more flashy packaging. First mistake. For inside that box is a separate subwoofer, two satellite speakers and a natty dial style remote control. And if you look closer, there is Bluetooth, micro-USB (it has an internal digital-to-analogue DAC) and 3.5mm analogue AUX-in connectivity. You can connect to three devices and use the dial to select the source. That means it will connect to a smartphone, PC, laptop, tablet, iPad, TV, games console and more.
The little dial remote – about the size of a hockey puck
Dial left/right to increase/decrease volume. Long press down in the middle to change bass levels. Press one, two and three times for play/pause, skip and rewind. Interestingly the puck first BT pairs to the speakers them you BT pair it with any BT host device. You can then move the puck up to 10 metres away and still control the music. Under the bottom of the puck is a BT/Source/Reset switch. A LED also shows system status and battery life.
Codec support
BT 4.1 is SBC 16-bit/44.1kHz, so it plays CD-quality sound. But the analogue and USB inputs are pure PCM 2.0. It will not autoplay USB flash drives. Analogue does not have a pre-amp, so you would need a low cost one to connect a turntable.
Speaker specs
The 5.25" 20W RMS 4Ω sub-woofer uses mains power. Both 2.5" 8Ω 10W satellites use RCA connectors to attach to it. Not that you would, but that means you could plug in any 8Ω bookshelf speakers if you wanted to. The speakers have clip-on stands for landscape or portrait use.
Volume
Maximum volume is a little over 90dB but its more controlled at 85dB. Frequency response is 40Hz to 20kHz.
Sound signature
You can vary the bass by a long press on the puck and adjust it linearly from minimum to maximum. It can never offer room-shaking low-bass but it gives a very satisfying mid-bass to mid-treble range. The sound signature below used the mid-bass settings, and the adjustment is approx +/-5dB. We see outstanding mid-bass starting to climb from 40Hz to peak at 64Hz – excellent. From there, it has a strong flat (good) response out to 15kHz. There is a slight dip at 8-9kHz to avoid harshness.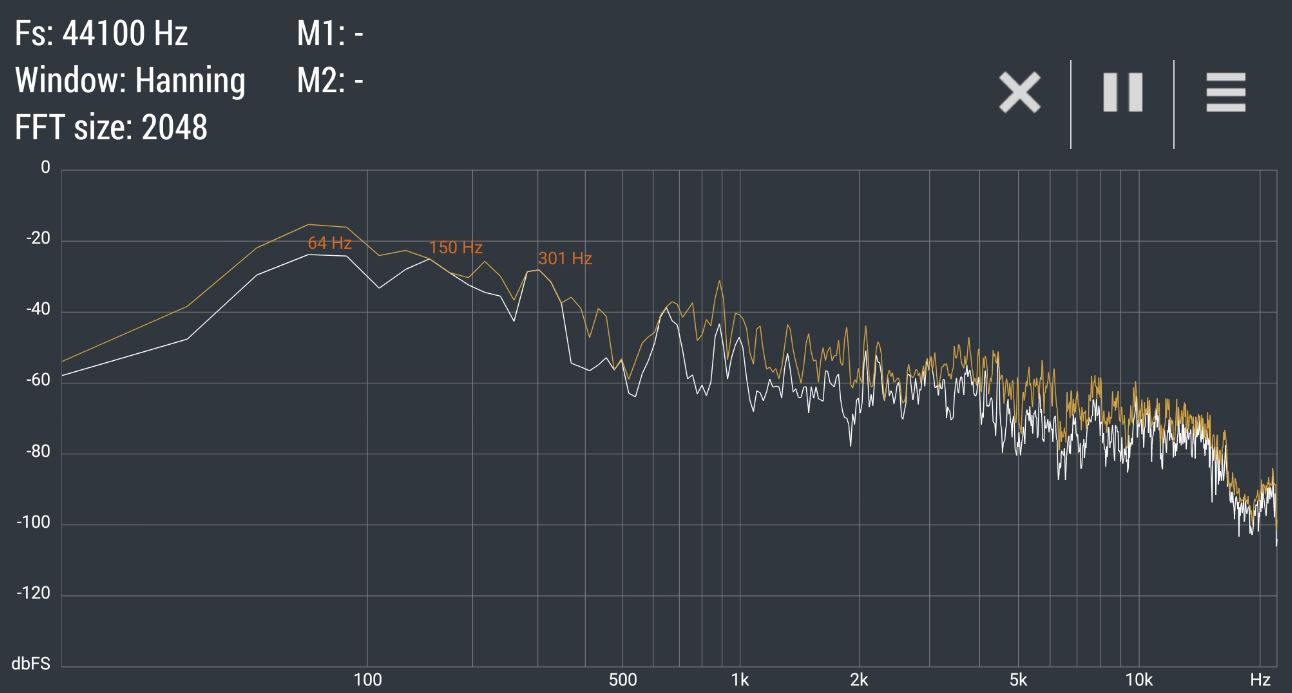 What this means is that it neither adds nor subtracts from the audio source. The mid-bass is nice when the music content needs it, and the 4-10kHz treble defines the crisp high notes. But this type of signature means if you play 'garbage' quality tracks, you will hear it just that way. It has a digital signal processor (DSP) and digital analogue converter (DAC), but we can't comment on their pedigree.
You can read more about sound signature and why it is so important here.
GadgetGuy's take
Logitech Z407 Bluetooth 2.1 stand alone, and that is good. Had Logitech not offered this for review, we would have happily gone on testing mono and stereo BT speakers and lamenting the absence of bass on most. The closest this comes to is the Sonos Five 9/10, a 2.1 mains powered speaker in a single enclosure. It is also $749!
Now I won't compare the Sonos and Logitech because apart from 2.1 sound, they are entirely different animals. Interestingly, the Sonos and Logitech sound signatures are almost identical, with bass kicking in a 64Hz and flat response to 15kHz! A side-by-side listening test reveals that the Logitech is almost as good. In fact, because it has two separate L+R satellite speakers, you can get a more expansive sound stage. And it is a tad louder. So, this is a hidden gem.
Rating
On the value stakes, it is 10/10. On the sound stakes, it is almost as good as the Sonos. Can it substitute for the Sonos? Yes, if you are just playing BT, USB or 3.5mm music, it is pretty close.
Logitech Z407 Bluetooth 2.1 speakers
The sound quality competes with speakers many times the price.
Positives
Lots of usable volume - over 90dB
Interesting multi-function BT dial remote
Excellent bass from 64Hz
Excellent top-end to 15khz
Many uses apart from a PC, phone or laptop
Negatives
Boring traditional black design
No multi-room speaker ability (no deal breaker)
Satellite cables could be a little longer (or buy an RCA extension cable)