It wasn't very long ago when we reviewed the Moto G5 Plus, a lowish cost but rather fine phone from Motorola. But now it has been replaced with an "S"-tagged upgraded model, as has it's lesser sibling, the Moto G5. And joining them is the latest of Motorola's mid-priced Moto X series, the Moto X4.
Moto G5S Plus
Priced at $429 and available now, the "S" marks a considerable upgrade over the previous model. The most obvious part of that: dual 13 megapixel f/2.0 cameras. These allow a range of effects, such as reduced depth of field photography (one camera can be less in focus than the other, and software puts the subject over the softer background). Meanwhile, the front camera is 8 megapixels and also f/2.0, but with an 85 degree field of view and scores its own LED flash.
4K video capture of up to 30 frames per second is also supported.
The display is a largish 5.5 inches, has full HD – 1080 by 1920 pixel – resolution and is covered in Gorilla Glass 3 with curved 2.5D edges to allow a smooth meeting with the metal unibody.
It runs a Qualcomm MSM8953 processor, otherwise known as a Snapdragon 625. This is an octacore processor running at up to 2.0GHz. It supports up to Cat 7 downloads – 300Mbps – and Cat 13 uploads of 150Mbps. The processor runs 3GB of memory, or if you buy online from Motorola's own store, 4GB. Graphic processing uses an Adreno 506. It runs Android 7.1.
The phone is dual SIM or SIM plus microSD card of up to 128GB, in order to expand the built in 32GB of storage. WiFi is dual band up to 802.11n
Extras include a built in FM radio, fingerprint unlocking and banking app security – it looks like the scanner is on the home button – and Near Field Communications (NFC) for Bluetooth.
The battery has a 3000mAh capacity and the TurboPower charger allows fast charging. Motorola says that a fifteen minute burst of power will get the phone going for another six hours. Power and wired comms are via Micro-B USB.
Moto G5S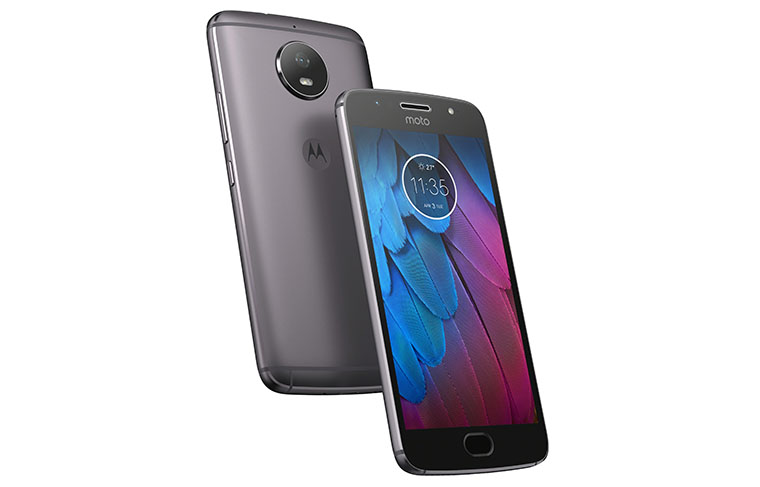 The Moto G5S is significantly lower in cost at $349 and very similar in most respects. Indeed, I'll mostly only mention the differences. Most obviously, the screen is 5.2 inches (but still full HD). It still has a 3000mAh battery, but the TurboPower thingy gives you five rather than six hours from that fifteen minute boost.
There's a single f/2.0 16 megapixel main camera with phase detect auto focus and a 5 megapixel f/2.0 selfie camera with LED flash. Full HD at 30fps is the limit for video.
But the storage is the same, along with the SIM and expansion options. The processor is the lesser Qualcomm Snapdragon 430 octacore, running at up to 1.4GHz. Again, it has 4GB of working RAM if you buy it from Motorola online, and 3GB if purchased elsewhere.
Pretty much everything else is the same. Looks like bit of a bargain if you're not after the highest performance and are satisfied with a lesser camera, in favour of watching the dollars.
Moto X4
Enough of the third rank of Moto phones. The Moto Z models are the company's premium ones, but between those and the G models is the new Moto X4. Priced at $699, this upgrades quite a few things, but not everything, from the Moto G5 Plus.
Or, perhaps, the Moto G5 with which it shares a 5.2 inch screen size along with Corning Gorilla Glass 3. But I note that for the Moto X4, the display is specified as LTPS IPS, that is, Low Temperature Poly-Silicon and In Plane Switching, which are the two best LCD technologies for phones. Those aren't mentioned for the lower cost device.
The battery and charging specs are the same as the Plus, but the phone is water tight to IP68 – full immersion to more than a metre for up to half an hour. If you drop it in the pond, and don't tarry looking for it, all ought to be okay.
And there are dual rear cameras, but with a very different arrangement. One is 12 megapixels with dual pixel phase detection autofocus, 1.4µm pixels and a maximum f/2.0 aperture. The other is only eight megapixels and f/2.2, but has an ultra wide angle 120 degree field of view. Built in software provides landmark and object recognition – something I'd be keen to check out. Would it work in Australia? There's also barcode, QR code and business code scanning available. The camera is good for up to 2160p30 video too.
The front camera is a bit tricky. It's normally a 16 megapixel, f/2.0 unit, but it has a low light mode which chops things back to four megapixels. That essentially allows it to capture four times the number of photons, increasing sensitivity, and I expect reducing noise.
Of course a hotter processor is used: the Qualcomm Snapdragon 630 – new out this year – which runs its eight cores at up to 2.2GHz and it features an Adreno 508 GPU. It has 4GB of RAM, regardless of where you buy. The Android version is 7.1. There is 64GB of storage built in, and the microSD card support is up to two terabytes (remembering that you'd be hard put currently to find a card of more than 256GB). Or you can leave out the microSD card and stick in a second SIM instead.
The phone supports LTE Cat 9 downloads, up to 450Mbps. WiFi goes all the way to 802.11ac. The power and wired communications connection is USB Type-C.
Tricky stuff? Well, fingerprint scanning of course and NFC, but also the Amazon Alexa voice assistant. Not having used Alexa yet, I can't offer an opinion on whether it might be better than, for example, the Google Assistant built right into Android.
Oh, and I shouldn't forget. The Moto X4 also includes an FM radio.