Each year everyone in the world of mobile phones and associated matters gathers together at the Mobile World Congress in Barcelona, Spain. New products are announced, market directions are mooted, and advanced technologies drooled over.
Well, just about everyone gathers, anyway. The biggest absence is Apple, which has declined to attend the thing for years. It prefers its own events for its big announcements. So what's the big news so far?
LG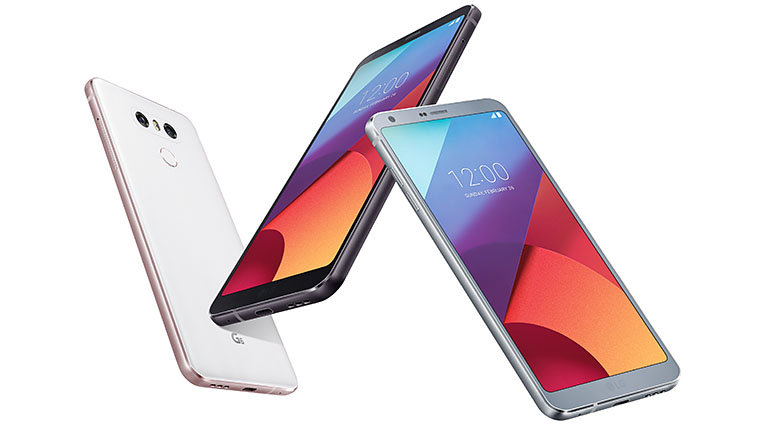 LG's participation in the mobile phone market reminds me of its participation in the television market fifteen years ago. It was as near as spit as good as the best of the others, but for some reason the reputation hadn't quite caught up. Perhaps it will with the LG G6.
I guess we can consider the G6 to be LG's repudiation of last year's G5. That, you'll recall, was a modular model with the ability to plug advanced cameras and audio modules and such onto it. Not the G6. This is a return to fundamentals, taking the features users consider most important and improving them.
LG is calling it a "milestone in modern industrial design" and it brings things back to basics: large (5.7 inches) and better screen, thin bezel to keep overall size down to that of a 5.2 inch phone, improved camera and water and dust resistance. The screen offers 1440 by 2880 pixels in what the industry is calling 18:9 aspect ratio, but normal people would call 2:1. That is, with the phone on its side, the picture is wider than normal widescreen. It also supports Dolby Vision and HDR (High Dynamic Range). LG doesn't mention the display technology, so it's unclear whether it's OLED or IPS/LCD.
There are two rear cameras: standard and wide angle. This seems to be unlike those of the iPhone Plus, which are standard and telephoto. The wide angle one has a 125 degree field of view. The ingress protection rating is IP68, which means it can be dunked (not too deeply) for half an hour. The frame of the phone is metal and a heat pipe helps dissipate CPU heat. The user interface has been upgraded with particular attention to the camera and the phone packs Google Assistant, the upgrade to Google Now which can apparently talk back to you, and which, as far as phones go, has until now been available only on the Google Pixel phone.
Google
Speaking of which, Google announced that Google Assistant will begin rolling out to US users this week, followed by those of us in the rest of the English-speaking world, including Australia. It will work with phones running Android 6.0 or 7.0.
I haven't used it yet, but it seems to be a step up in interacting naturally by voice, allowing more free form expression by the user. This natural language interaction is one of the most exciting things in technology now, and promises to make our gadgets much easier to use.
Samsung
Perhaps reports of the demise of the tablet have been premature. The Samsung Galaxy S8 and (I presume) Note8 are to be announced another day. Meanwhile, Samsung has announced a new premium Android tablet, plus a Windows 2 in 1. The Samsung Galaxy Tab S3 is an intermediate size between the S2 8.4 and 10.5 inch sizes, with a 9.7 inch Super AMOLED screen (now 1536 by 2048 pixels). The screen provides high dynamic range, and there are "Quad" speakers for improved sound. The Tab S3 runs Android 7.0 Nougat on a Qualcomm Snapdragon 820 processor with 4GB of working memory, comes with 32GB of storage and can support up to 256GB via a microSD card slot. Boding well for the future of Samsung phones, the connector is USB Type-C with support for USB 3.1.
The Samsung Galaxy Book is what Samsung calls a 2 in 1, but it's more like a tablet with keyboard cover, like the Microsoft Surface Pro. There are two sizes: 10.6 inches and 12 inches. All are powered by Intel core processors and of course run Windows 10. The smaller one runs 4GB of RAM and 64 or 128GB of storage. The larger one has an 8GB and 256GB option (but no 64GB model). Samsung says they're good for ten and twelve hours of battery life, respectively.
Both the TabS3 and the Galaxy Book work with an "refined" version of Samsung's battery-less S Pen.
Huawei
I've been bothering Chinese giant Huawei for weeks now, trying to get a hold of its shiny new P9 phone for review, only to have it announce at MWC the P10 and P10+, plus a smart watch to match.
The Huawei P10 looks like it follows the standard design cues and builds on the P9, which introduced dual Leica-co-engineered rear cameras. Now its front camera is also by Leica. It spends a fair bit of time on camera features, specifically "portraiture features", including facial detection, hybrid zoom for combining overall picture sharpness with a specific focus, and a Kirin 960 imaging signal processor that allows things like depth of field to be viewed real time.
The Huawei Watch 2 features a 1.2 inch AMOLED display running at 326 pixels per inch, protected by Corning Gorilla Glass. It has a rated battery life of two days, unless you're running GPS (which is built in) and real time heart monitoring, which might drag it down to ten hours. There are a host of other sensors built in. It gets IP68 rating – that's completely dust tight and safe for dunking to more than a metre for at least half an hour. It runs Android Wear 2.0. All the built in sensors mean that having a phone paired while exercising isn't required.
Nokia
Nokia is back! After flogging off its phone business to Microsoft which had a shot at creating the Windows phone, the Finnish company is back with its own line up, largely featuring Android. The Nokia 3, Nokia 5 and Nokia 6 are low to mid-priced models – "average global retail prices" are, respectively (in Euros) 139, 189 and 229 (or 299 for the Nokia 6 Arte Black Limited Edition), which translates at today's exchange rates to $190, $260 and $315 ($412).
Good on them. But I have to say the most interesting product is a 2017 take on the famous Nokia 3310, of which it sold 126 million between 2000 and 2005. The new Nokia 3310 has colourful cases and is updated for modern networks, and its average global price is expected to be 49 Euro, or $67.
ZTE
Another Chinese giant, ZTE, didn't make any huge consumer announcements as far as I can tell. In fact, its premium, high value model, the ZTE Axon 7, is presently housing my SIM and I'll be providing a review here in the near future. But what it has announced will have impacts upon we consumers.
Specifically, it's demonstrating the infrastructure for the next stage of mobile networks – 5G – along with a kind of pre-5G system. There's a lot of high level testing and things like prototype verification going on, but the benefits will be worth it when they arrive. 5G networks are expects to provide peak download speeds of five gigabits per second. In practice, the promise is for everyday, usable 100Mbps in metro areas, within improved efficiency and coverage. For an idea of what that means, 100Mbps is four UltraHD Netflix streams at once, and is the top speed available from the NBN.
Meanwhile, it has been demonstrating what it calls the ZTE Gigabit Phone, which uses ZTE's "Pre5G" technology to allow it to achieve download speeds of up to 1Gbps.
If that's the future, I'm liking it.