I see that JB HI-FI has a special on for the Microsoft Surface Pro 4. The run out price is $899. JB's price is $799 until 3 May. That's for the Core M 128GB version.
Of course, the release of the Surface Pro 5 is anticipated to be very soon, which why the Pro 4 is currently a bargain. Remember, it was $1200+ when released. I'd be surprised if the entry price to the Surface Pro 5 isn't some 50% higher than the current Surface Pro 4 price.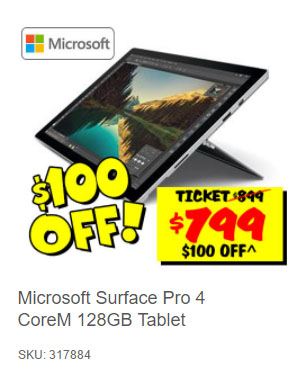 Yes, I had my problems due to firmware related reliability issues with the Surface Pro 4. All that has now gone. Seriously, since before Christmas with a set of firmware updates in December the Surface Pro 4 has been utterly reliable in every way. And the speed boost to the face recognition logon provided by the recent Windows Creator update has made logon super fast.
So, if you want to save some money, go for it now while you can. (Don't forget, you'll almost certainly want a keyboard to go with that.)