While Samsung showcased a number of cutting-edge products at the IFA show in Berlin, there were a few exciting standouts that could be finding their way to your living room soon.
Currently, Australian consumers can walk into retailers and purchase LED TVs with incredibly detailed ultra-high definition (UHD) panels, or they can choose one of the brand new OLED TVs that have only just gone on sale. The thing is, which should you choose – the ultimate in realistic detail found in UHD LED TVs or the ultimate picture quality found OLED?
What consumers can't do at the moment is choose a TV that has both technologies combined together. However, at the IFA show in Berlin, Samsung demonstrated the holy grail of television: OLED TVs with ultra-high definition resolution.
With around 8 million pixels (compared to 2 million with full HD screens), and unprecedented contrast, refresh speed, colour depth, viewing angles and sharpness, Samsung's UHD OLED TVs represent the best that display technology can offer.
We spoke to Samsung Australia's Director of Audio Visual, Brad Wright, who gave us a tour of the stand. "You've got all the panel speed, you've got those amazing blacks, the colour reproduction is something else, and then you've got the resolution component as well."
UHD OLED was demonstrated in both flat and curved screen varieties, with the curved unit producing a near 3D depth effect with images seeming to float in the middle of the screen. The total effect was stunning and one of the best pictures we've seen to date.
While OLED panels also have the benefit of being more power efficient than older display technologies, Wright expected that some of the extra processing required for the UHD resolution, and additional chipsets to support multi-viewing features such as 'Dual View', would negate some of the panel's inherent energy benefits.
Also, considering that UHD is a new standard, and broadcasters are still working things out, Samsung's OLED TVs will be upgradable via an 'Evolution Kit' to stay abreast of any changes along the way.
Rather than plugging into the back of the display like Samsung's current range of LED Smart TVs, the UHD OLED Evolution Kit is fitted into a separate connector box, which is also where the HDMI, RF and power cables are connected.  Currently, Samsung's UHD OLED is the only TV that can adopt to future standards.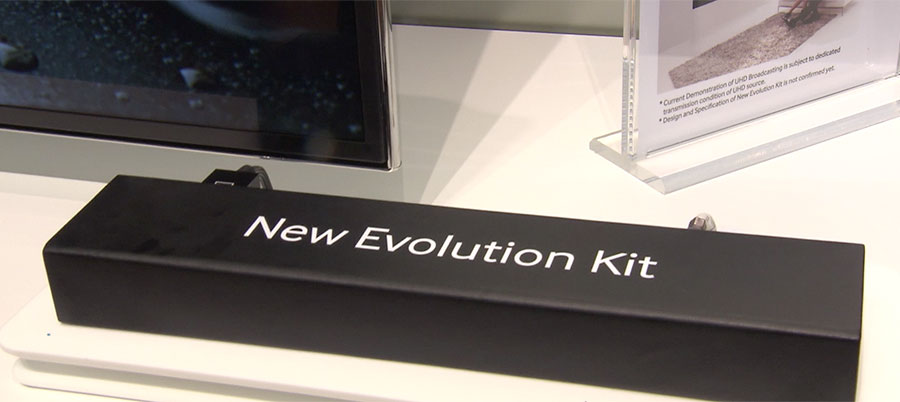 While the demonstration units on the stand appeared to be fairly complete, the UHD OLED technology is not yet ready for the mass market. "It's not mass now but in the future it's something that people will be readily embracing. Natural progression, as with all new technology, takes a while to get it right."
Wright also believes that there's also no clear indication of when we might see products like this for sale in Australia. "… I couldn't hazard a guess; It's a statement of what we're capable of doing."
While UHD OLED was the headliner, Samsung also showcased a 65-inch curved UHD LCD television in another corner of its stand. It's unclear if the technology will be mass-produced, but it's a pretty impressive feat and the picture quality was difficult to distinguish from the curved OLED version, and would potentially offer consumers a cheaper entry point into curved, ultra-high definition viewing.
"Samsung is about providing as many different types of options to customers and letting them decide for themselves," Wright Said.