Apple's Watch wasn't the first to arrive, and we've been using the LG G Watch R for quite some time. So six months past the review, how does it fare?
Whether or not you're a fan, smartwatches are here to stay, providing a second screen to your wrist, of all places, and delivering notifications to your arm with a simple glance, rather than forcing you to take out your phone.
This idea essentially means you can see a message come in, know if it's worth taking out your phone, change songs or volume on the screen, or simply accept or refuse a phone call simply by looking at a watch and swiping whether you want to talk to someone or not.
They also mean you can change how your watch looks on a regular basis, with a different watch face style easy to do from the phone, great for people that would normally buy several watches for different moods.
Not everyone is sold yet, granted, and we suspect this comes down to price, functionality, design, and battery life.
We've touched on functionality, and that's shared between pretty much all of the smartwatches. Regardless of what you go for — Android Wear or Apple Watch — the features are similar, though all have their differences.
Battery life is also very similar between the products, with as much as two days offered for devices on each platform, though we'd probably charge nightly if it were us.
Price is also more than most are willing to fork out, at least for a first generation product, with the Android Wear watches charging from $199 onwards, while Apple Watch starts at $599, making these not for everyone in the beginning.
But design is where you might find some dramatic differences, and was one of the first times we found an Android Watch hugely compelling.
Most people know that a clock is circular.
Indeed, it's that old school understanding that a watch generally comes in the shape of a circle because a clock does too, and outside some of the more fashionable varieties crafted from a triangle (Hamilton Ventura) or something from a square (loads of brands, but Hugo Boss has one, as does Fossil and Hermes), circles are where watches are.
And that's why where Android Wear came out with circular watches, we practically jumped at the idea.
Motorola was there first, but its circular option didn't quite hit the nail on the head, with a sliver of the screen missing and a very thick frame. It was nice, but not for everyone, and the one that really did it for us was the LG G Watch R, LG's second attempt at a smartwatch.
Its first attempt was square, much like everyone else, with a device that provided a screen for your wrist, and that's kind of the view Apple has taken with its own watch.
We understand this, mind you, because while square watches aren't really a new thing, the idea is that they emulate a phone or a computer screen, so a square makes the most sense.
Except when it doesn't.
It doesn't make a lot of sense on a wrist when we're all used to circular watches, and that's part of the reason why skeuomorphism is such a big deal, or the idea that something new should look like something old simply because we're used to it or prefer it that way.
In essence, there's no reason why a smartwatch should be circular — a square or rectangle can hold more information — but it makes more sense because it's a watch.
And LG's G Watch R helped make the case for us, forgoing the sliver at the bottom where Motorola left the ambient light monitor and making a perfect circle of a watch.
On the wrist, the experience is much the same as we saw last year, with a capable smartwatch that offers plenty of watch faces, and compatibility for pretty much every notification your phone offers.
Control Pandora, Google Play, security systems, health and fitness apps, calendar information, and get Google Now to listen to your commands and send messages or setup appointments.
The list goes on, and while LG doesn't control Android Wear, it does make one of the nicer circular smartwatches.
We still wish the charge mechanism was a little more friendly than a proprietary dock — Sony's SmartWatch 3 relies on microUSB, for instance — and it would be nice of the button on the edge of the screen actually did something when you rotated it like the crown on the Apple Watch.
Simply put, this spins because it can, and is reminiscent of a watch crown but doesn't function like one.
But this isn't the thing that we paid close attention to throughout our wearing of the LG G Watch R over the past few months.
Rather, wear and tear is one of the areas we highlighted that might be a concern, and after a week, we noticed the paint was gradually wearing away.
Six months of near constant use and there's a little more to speak off, with the paint chipping away on the edges as the Physical Vapour Deposition coating starts to decay, but all in all, it's held up better than we expected.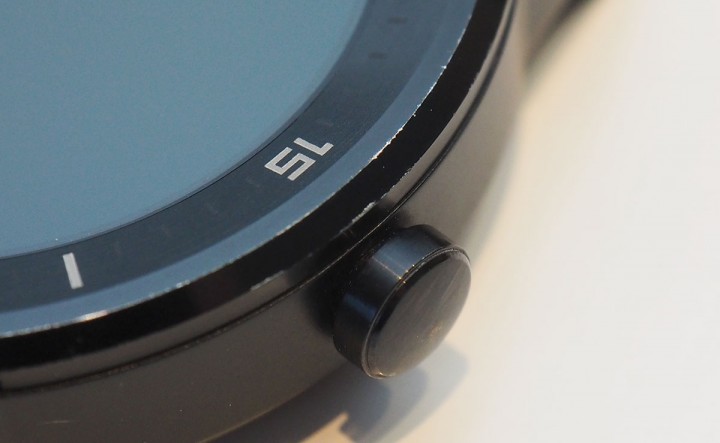 Actually, it's held up better than the leather band, which too looks better than we expected, but now incorporates the bumps and folds from a strap that has been folded over a limb far too many times.
We still stand by the belief that LG should have provided a metal band as an option, as the leather just feels cheap in comparison to the rest of the unit, but they're both doing all right.
Seriously, six months of pretty much constant use tells us both parts should be good in another six months.
Then again, watches are supposed to last a while, aren't they?
And that brings us back to the slight concern of the G Watch R: basically, it's doing well, or well enough, but watches are made to last longer than a year, with many lasting five or ten, and even longer.
We're not sure if that could be said for the G Watch R, and suspect by the time two or three years are up, we'll see so much paint chipping that it might have been easier to leave this in a steel look rather than a black coat or charcoal grey.
That said, LG's watch could surprise us, as it has done so for the past six months, and we're looking forward to it.
Now we'd just like to see it do more, because right now, we're using it as a watch that occasionally vibrates to tell us when there's a phone call.