A totally automated home is coming soon, and Aussie security specialist Swann wants to make sure it's not just about automation, but piece of mind with security, too.
This week, the Melbourne-based Swann is returning to store shelves with a kit of technology aimed at keeping your home in good hands even when you're not there, as the company embraces the modern security age where we all check our phones to find out just what is going on, as well as a bit of something else.
It's coming from a product Swann calls "SwannOne" which aims to unify the elements of your home, bringing together video monitoring, motion sensing, window and door security, thermostat control, and more, with the ability to talk to other smart devices you might already have.
For this, Swann starts with a special hub that makes everything work together, called the "Smart Hub".
This is exactly what it sounds like it is, with a hard drive sized device that sits in your home for the other devices to talk to. Swann's Smart Hub even supports USB ports, which means later on it will be able to connect to a 4G network in case your home network goes down, or even plug in a hard drive to record from cameras if need be.
But those other devices we just mentioned are key, and these will be what make the SwannOne system a little more than just a revamped edition of Swann's previous security solutions.
For instance, there will be two styles of camera, with both an indoor and an outdoor model, both of which can pick up on sounds heard by the microphones on the camera. Video footage from these can be streamed, and it will be 720p HD, at that, with that audio pickup by the microphones able to discern the difference between broken glass, gunshots, a smoke alarm, and a crying baby, with all of these telling the SwannOne system to alert you, the user, via the SwannOne app.
These cameras will use motion detection over video to pick up on movement, too, but there will also be a motion sensor that uses infrared to work out if someone is entering your home or office when they shouldn't, again alerting you if or when that happens.
And while those gadgets all sit on the security side of things, SwannOne will try to do a little more than just act as security, coming together with other smart gadgets to automate your home.
If you have a Philips Hue lightbulb, the SwannOne system will talk to that, switching a light on when you turn the system on or off, with programmable logic similar to the "if this then that" model IFTTT uses, though not the same.
If you have a Kiwkset Kevo Bluetooth door lock mechanism, you can actually tell the Swann system to disengage using one of the Swann key fobs — or even the app — and the door will open for you.
That communication happens through the Swann Smart Hub, and will even do other things, such as switch on electronics plugged into Swann's Smart Plug, a gadget that reminds us of the Belkin WeMo Switch, albeit with a way of talking to other gadgets.
This means if you have the Smart Plug plugged into a lamp, it can switch on either at a certain time or when you come home, and when the security system is flicked off, letting your home come to life in a way that makes you feel like it's the future.
There will even be a thermostat that can be plugged into existing thermostat solutions. This product — the Zen Thermostat — was built by another Australian company, Planet Innovation, with Swann teaming up with this company to release the Zen locally.
Fit it into place on your existing thermostat electronics and your air conditioning system will gain some WiFi access with a clear LED notification system on the unit. Adding to this, if you have a SwannOne system, it will even talk to the Smart Hub and again allow the system to switch on when other actions are programmed.
Leaving for the day, you can switch the security system on which can shut off the air conditioning for you, saving some energy. As you arrive back home, this can be switched back on when you disengage the security system, which can be done from either that key fob or the SwannOne app.
"SwannOne is a smarter way to look at security for the home or business, and offers the user peace of mind knowing that their loved ones are safe, and their space is secure," said Nicole Tyquin, Swann's Marketing Communications Manager for the Connected Home.
"We have designed a complete and affordable smart home solution driven from one app to enable users to experience convenience, security and practical features no matter what life they live."
In talking to Swann, the company appears ready and open to talk to existing smart device manufacturers, such as Philips with the Hue and Kwikset with the Kevo, and has even expressed possibilities in working with other manufacturers, such as Netgear for Arlo and Belkin for WeMo, though those companies would also have to want to play ball for openness, we're told.
This makes the system very open, which could be very good for consumers.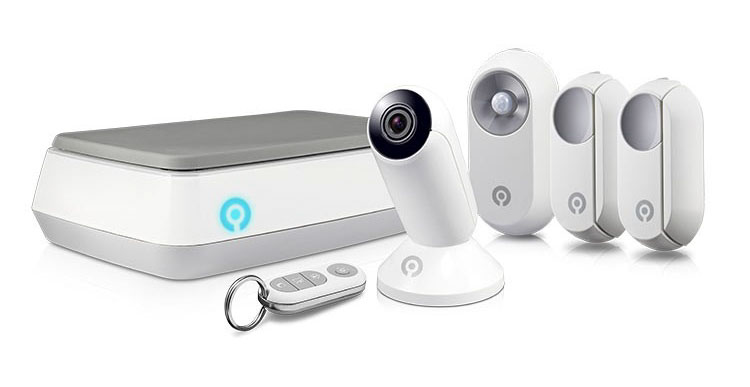 Where Swann's system starts to get a little concerning is the pricing. We don't think the do-it-yourself aspect of Swann's gear is all that troublesome — starting at $499.95 for an alarm-based kit, $699.95 for a single camera with the alarm kit (above), and $799.95 for a smart home kit with a Smart Plug — but these services only provide a service that includes streaming video and limited notifications for up to two users.
If you need more and want unlimited notifications, the custom rules similar to IFTTT, and remote lock control, you need to shell out $13.95 monthly for your system to talk to Swann's system and make this happen.
Video storage is also extra — because only streaming is included — with each camera costing either $11 or $35 depending on if you want a week or a month worth of storage, while professional monitoring will also incur its own cost.
This last one starts at $22 for a week, $35 for a month, or $359 for a year, and will allow your alerts to be checked on by one of Swann's security experts if you're not there, with a call to emergency services handled by these people, handy if you're on holiday.
We're not against any of that, but the cost of video storage on a camera-by-camera basis could get expensive, especially if you equip your home with several cameras, and we've asked Swann to look into household licensing, as that would probably make more sense for people who plan to rig cameras everywhere in their home.
Outside of these caveat, however, Swann's system definitely looks compelling, as it could finally find a way to bridge the various smart devices homes are now receiving, at least until a company like Google, Apple, or Microsoft finds a way to build a friendly and open operating system for the home that everyone — and we mean "everyone" — will be using.
Regardless, availability for Swann's SwannOne system is now, with the kits available at Officeworks, JB HiFi, and Dick Smith, with Harvey Norman shortly, starting at $499.95.
The devices can all be purchased separately outside of the kit, with both the SoundView indoor and outdoor camera costing $229.95 each, the motion sensor for $69.95, the window and door sensors for $49.95, Smart Plug for $79.95, an indoor siren for $199.95, an outdoor siren for a little more at $229.95, the Zen Thermostat for $349.95, and a Smart Hub for $329.95. An extra key fob will cost $44.95.