Imagine being able to show people what's happening on your phone via your TV, and there is no lag, no slow-downs, no hiccups, and just plain streaming. Imagine no more, because Miracast is here, and it's pretty awesome.
A wireless standard, Miracast allows selected devices with the technology – such as the LG Optimus G and HTC One smartphones – to communicate with TVs and projectors without the need for one of those microHDMI or MHL (HDMI over microUSB) cables.
The setup is insanely easy, and requires that you plug in a tiny box roughly the size of a box of matches – thinner, even – into your TV over HDMI, with power supplied by a microUSB plug.
If your TV features a USB port, you should be able to take advantage of power from that, which will be useful since it will only power the Miracast box when the TV switches on.
For everyone else, you can simply use a microUSB cable plugged into a USB plug in the wall. It's the same port and connection normally used to charge pretty much every non-Apple smartphone, so if you have a device that isn't an iPhone or iPad, you'll know what it is.
Once that's plugged in, simply turn your TV on, switch into the right input, and then grab your Miracast enabled phone.
Given that this is an LG Miracast box, we tried the LG Optimus G, which finds the Miracast box quickly once you switch the "Miracast" function on inside the smartphone.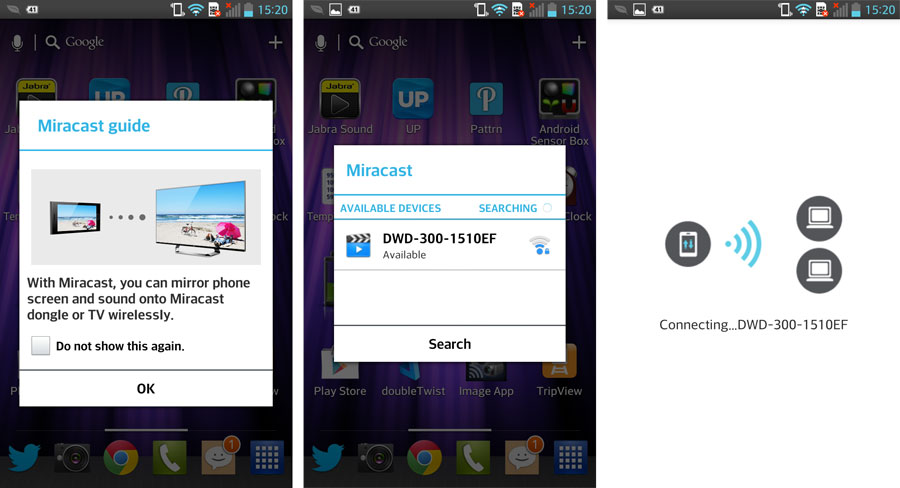 The connection between the Miracast box and smartphone is made in less than a minute, and your phone's screen is displayed on the TV.
Now, anything you do on the phone will show up on your telly, including surfing the web, playing games, or even take a photo.
Our experience showed that there was barely half a second of lag between what you did on your phone and when it showed up on the TV, and as such, we were able to play games pretty easily, with the audio coming out of the TV's speakers with volume controllable by both the remote and the phone (different audio, though, with phone output on the volume rocker and TV output from your TV's remote control).
Surprisingly, wireless connectivity back to our router worked too, which was interesting because we had heard that it probably wouldn't.
With that in effect, we were able to browse the web in a SIM-less phone, and even switch on Pandora and listen to music through the sound-system of our TV.
Watching movies was possible too, though we did find that whenever we switched the phone's screen off and put it in standby, the video stopped, hardly surprising given that's what the phone would do normally. This could just be a software glitch, or even a setting we hadn't fiddled with yet.
Also of note was the compatibility between LG's Miracast box and a different manufacturer. We couldn't actually get the HTC One – which supports Miracast – connecting to LG's box during our time with both. This could be down to an issue with the pre-production Miracast box, or even just a compatibility problem between HTC's and LG's interpretation of Miracast.
In any case, our first experience with Miracast was a positive one. The technology is easy to use, and we hope to see it in more devices in the near future, as it can essentially make any TV into an easily controlled Smart TV.