Sponsored
Belkin
Your phone is one of the most important devices you own. Not only does it make calls and send messages, but it also organises your life and functions as an entertainment hub. With top-of-the-line phones now costing over $2,000, it's more important than ever to keep your device safe so you don't have to pay for expensive repairs or replacements.
There are many ways you can protect your phone, including physical protective accessories and software solutions like VPNs. In this guide, we'll explain some quick and easy ways you can prolong the life of your phone.
Fit a protective case to your phone
An easy way to protect your phone is to get a protective case that protects against drops, bumps, and scratches. Many phone and tech retailers stock a wide variety of affordable cases for phones from different brands. Alternatively, you can usually buy cases made by phone manufacturers directly from their stores. Depending on your budget, you can get something to suit your aesthetic, or a case designed purely for durability.
When buying a phone case, it's also worth thinking about how it impacts some of your phone's features. Most modern phones support wireless charging like Qi or MagSafe (more on these later), but some cases may not let you do this without removing the case first. Often, first-party cases support wireless charging, as do some third-party products, so it's worth checking beforehand.
Use a phone screen protector
One of the first things you can do to protect your phone is to apply a well-fitted screen protector. Start off by getting the right size for your device. Screen protection isn't a one-size-fits-all scenario, so it's important you get the right tool for the job. Each phone has slightly different dimensions, and you can get protectors that match a device's measurements, resulting in the best possible safeguard for your investment.
There are also different types of phone screen protectors, too. Take Belkin's range for example: beyond different sizes made for specific devices, they're also made from different materials, each with their own unique benefits. One common phone screen protector material you may be familiar with is Tempered Glass. An ultra-thin strengthened glass designed to protect your device from drops and scratches, it also reduces visible blemishes like fingerprints and smudges.
Another type of phone screen protector Belkin offers is TrueClear, which not only protects your phone but also protects your eyes. TrueClear provides edge-to-edge protection on curved-edge devices like the recently launched Samsung Galaxy S23 range. Plus, it also includes an antimicrobial coating to fight against discolouration and last longer. As an added benefit, the latest TrueClear screen protectors also reduce exposure to blue light to help ease eye strain.
If you want the ultimate in phone protection, Belkin's UltraGlass is the answer. Engineered for a wide range of iPhone models, UltraGlass is twice as strong as Tempered Glass, giving you even more reassurance if your phone slips from your grasp. Despite its strength, it's also extremely thin at 0.29mm, so you barely even notice it's there.
Make sure you align the phone screen protector correctly
To ensure a screen protector provides maximum coverage, it's important to install it as neatly as possible. Application anxiety is absolutely real, with air bubbles and particles caught underneath reducing a protector's effectiveness. Belkin has a couple of solutions to help you here, with one being the in-store Screenforce Pro Application System. Here, a trained retail assistant applies the protector for you using specialised equipment when buying a Belkin product.
Another method is to do it yourself at home using the recyclable packaging a Belkin screen protector comes in. Included in the box is an Easy Align Tray, which functions similarly to the Screenforce Pro Application System. Here, you use the tray to line up your device with the protector, remove any dust, and then make the application. Once you're done, simply place the packaging in your recycling bin!
Keep your phone out of extreme elements
Every device is different, but it's generally a good idea to avoid exposing your phone to extreme elements like heat and cold. Sub-zero temperatures are a no-go, and you shouldn't let your device get hotter than mid-30 degrees Celsius. Maintaining safe temperatures protects your phone and helps its battery last longer.
Another factor to consider is a device's Ingress Protection (IP) rating. This international standard refers to how resistant devices are against elements like water and dust. The first IP digit references particle resistance (dust, dirt, etc.), while the second digit refers to liquid protection. For example, if a phone has an IP68 rating, it is fully resistant to dust exposure and can be submerged in water for a period of time. Some phones will be okay if you drop them in a swimming pool, while others might only withstand gentle water splashes.
Check your phone's manufacturer details for specific information, but try to keep your phone out of the elements unless absolutely necessary.
Use a verified charger to protect your phone's battery
An easily overlooked factor in protecting your phone is to ensure you use an approved charger. Using a verified charger helps to maximise battery life and get more value on your purchase. We previously looked at some of the best Samsung chargers that use USB-C and wireless technology. Due to international regulations, USB-C will also be used across more Apple devices, which means wider compatibility between brands in the future.
For USB-C wall chargers, look for products that support the Programmable Power Supply (PPS) standard. These chargers, including the Belkin 25W BoostCharge, 30W BoostCharge, and 65W BoostCharge Pro, generate less heat during charging, which helps preserve a device's battery capacity.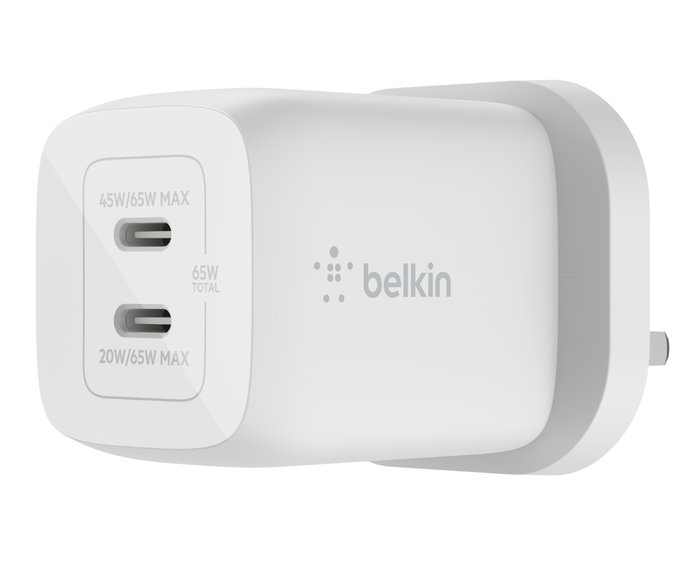 Meanwhile, wireless chargers also have their own set of standards. If your phone supports wireless charging, look for Qi certification to ensure a wireless charger is safe and compatible. Both the Belkin BoostCharge 15W Wireless Charging Stand and BoostCharge 15W Dual Wireless Charging Pads are Qi certified and work with a wide range of Android and Apple devices.
Apple also has its own wireless charging technology, MagSafe, which offers fast recharge speeds and the ability to magnetically attach compatible devices to various stands and mounts. Multi-device chargers like the Belkin BoostCharge Pro 3-in-1 Wireless Charger let you safely recharge up to three MagSafe devices at once, so you can top up your iPhone, Apple Watch, and AirPods simultaneously.
Protect your phone by backing up, updating, and using a VPN
Protecting your phone is about more than just the outside: data and security are also important. Often, it's what's stored on your device that's more valuable than the actual hardware itself. Banking apps, password vaults, treasured photos – they're all things worth protecting.
Make sure you back up your phone regularly, whether to your computer, to the cloud, or preferably both. This ensures that if something does happen to your device, you still have access to your data and can recover important files.
Also, install your phone's latest security updates as they become available. Hackers uncover new exploits and security vulnerabilities all the time, threatening your personal information. By using the latest software, you minimise security risks and reduce the chances of someone gaining unwanted access to your phone.
Another software consideration is to use anti-virus or VPN apps. Many different products exist, and some offer all-in-one solutions. These services help provide secure online connections, encrypting your data to add an extra layer of protection against hackers and third-party trackers. One VPN service we recommend is Private Internet Access, thanks to its combination of security features and commitment to privacy. In addition to widespread desktop support, it also has mobile apps to protect your phone at a data security level.
---
By taking a holistic approach, you can protect your phone using various hardware and software solutions. In the long run, preserving your device for longer gives you added peace of mind and saves you money on one of your most important investments.