Sponsored
Segway Online
A fun and easy way to zoom around, electric scooters make for a comfortable and stylish form of transport. During the Black Friday sales, Segway Ninebot has big savings across its 2023 KickScooter range, with discounts of up to $400 on offer.
Perfect as a gift for the outdoorsy types, these electric scooters combine power and safety for an enjoyable way to cruise. Segway Ninebot launched its latest range of electric scooters earlier this year, including the MAX G2, F2, and E2 KickScooters, many of which are on sale now until 30 November.
As electric scooter laws vary between Australian states and territories, make sure you check the local rules so you know where you can and can't ride. You can ride to your heart's content on private property: public use is the main difference between jurisdictions.
Black Friday sale on Segway Ninebot electric scooters
Equipped with electric motors, brakes, and indicators, the KickScooter range lets you zip along at up to 25km/h, which is great for everyday commuting. Many of Segway Ninebot's electric scooters also support built-in Apple Find My tracking, giving you peace of mind that you know where your ride is at all times.
KickScooter F2 range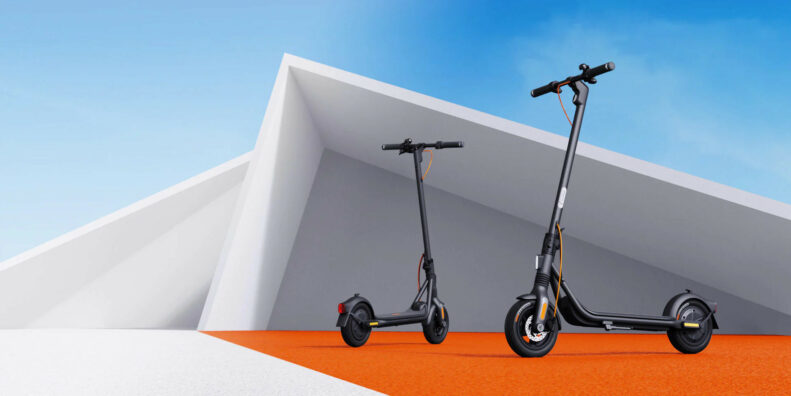 Included in Segway Ninebot's Black Friday sale is its F2 Kickscooters. Aimed at everyday commuters, these electric scooters offer up to 55km in distance on a single charge. During the sale, you get a bonus gift when purchasing a selected F2 model.
With the base F2 KickScooter, $50 off during the sale, you receive a free multifunctional seat with an attached bag valued at $199. It comes with a 10L storage space and a thickened seat cushion, providing comfort and convenience all in one.
If you buy either an F2 Plus or F2 Pro, you receive an electric scooter password lock valued at $49 and a phone holder valued at $49. As part of the electric scooter sale, the F2 Plus is $200 off, while the F2 Pro has a $400 discount.
KickScooter MAX G2
As you go up the KickScooter range, you get greater battery capacity, with the MAX G2 providing up to 70km between charges. This top-of-the-line model also wields an anti-skid Traction Control system in addition to double suspension to help navigate bumpy surfaces with ease.
Included with the purchase of a MAX G2 KickScooter is a bonus helmet valued at $99. At $400 off, it's a great discount on an electric scooter built to go the distance.
Check out the full electric scooter Black Friday sale range from Segway Ninebot