Black Friday sales have arrived with a bang, bringing many great discounts on technology from the hottest brands including Apple, Samsung, LG and more. Australians are expected to spend more than $6 billion during the sales, as good an indication as any that we've adopted the overseas retail event as our own.
Last year's sales saw huge discounts on devices from many of the biggest brands, including phones, computers, and home entertainment. If you could name it, it was likely on sale. Black Friday is officially 24 November, with discounts typically running through to 27 November, on a day known as 'Cyber Monday'. Despite this, many retailers have had discounts live for a while now, and even advertising deals for the rest of the month.
Check out the best Black Friday technology deals below, which will be updated regularly as new sales go live. While you're at it, make sure to keep an eye out for scams during the increased shopping activity.
Best Black Friday technology deals
Black Friday deals on phones, tablets and mobile accessories
Up to 50% off Motorola phones
Capping off a strong year of device releases, Motorola has discounted many of its best phones for Black Friday. Highlights include $300 off the premium Motorola Razr 40 Ultra foldable and $200 off the excellent mid-range Edge 40.
Motorola Razr 40 Ultra $1,199 (RRP $1,499)
Motorola Razr 40 $799 (RRP $999)
Moto G53 5G $249 (RRP $329)
Moto G14 $199 (RRP $229)
Motorola Edge 40 $499 (RRP $699)
Motorola Edge 30 Fusion $449 (RRP $899)
Belong supercharges its affordable mobile plans with more data
Belong, the budget-friendly telco owned by Telstra, has a Black Friday bonus for data-hungry users. If you sign up for an eligible monthly plan from now until 18 January 2024, you'll get an extra 20GB per month for 12 months at no extra cost. $35 for 60GB is pretty nice if you regularly chew through your data allowance.
Regularly among the cheapest SIM plans, Belong doesn't lock you into a contract, and includes unlimited talk and text from the outset. They're also offering a bunch of deals through a pop-up store at the Highpoint shopping centre in Melbourne, including discounted NBN plans and half-price SIMs.
$200 off iPhone 15 with an Amaysim SIM plan
Discounts on Apple devices are rare so soon after launching, and this is a decent little saving on the reliable iPhone 15 via Amaysim, a carrier operating on the Optus network. Down to $1,299, the catch is that the deal requires you to purchase a corresponding SIM. Despite this, you can always opt for the cheapest $30 plan and swap back to your original plan, still saving $170 in the process.
There's also plenty of savings on other iPhones, too, in addition to discounted SIM plans.
iPhone 11: $479 (was $679)
iPhone 13: $1,029 (was $1,229)
iPhone 14 (base model): $1,199 (was $1,399)
iPhone 15 (base model): $1,299 (was $1,499)
Optus X-Lite: $29 (was $59)
Optus X-Sight 2: $49 (was $99)
Samsung A13 4G: $150 (was $329)
28-day plans
$10 for Unlimited 15GB

Save $8 and get bonus 5GB on the first renewal

$12 for Unlimited 60GB

Save $18 and get bonus 28GB on the first renewal

$15 for Unlimited 100GB

Save $25 and get bonus 20 GB on the first renewal

$24 for Unlimited 120GB

Save $26 on the first renewal
365-day plans
$130 for Unlimited 150GB

Save $40 on the first renewal

$170 for Unlimited 200GB

Save $50 on the first renewal
Amaysim's Black Friday sales are live now until 10 December 2023 on its website.
Get $350 off a Samsung Galaxy S23 Ultra
Both the Galaxy S23 Ultra and Galaxy A54 are excellent phones, and they're on sale for a great price during Black Friday.
Up to 25% off affordable Nokia phones
Sustainability has been a big focus lately for HMD Global, the brand that makes Nokia phones. You can repair the Nokia G22, and its souped-up 5G Nokia G42 cousin, yourself, keeping costs down and preventing unnecessary waste. Plus, the sturdy Nokia XR21 is built from recycled materials.
If the idea of a sustainably-made phone you can fix at home appeals to you, check out the Black Friday deals live now until 29 November.
50% off selected Belkin accessories
Black Friday deals on TVs and soundbars
Up to 50% off LG soundbars and TVs
LG's Black Friday deals are now live with some excellent prices on its home entertainment range. It includes massive discounts on one of our favourite TVs, the LG C3 OLED, and the flagship S95QR soundbar.
Up to 40% off LG TVs
Up to 50% off LG soundbars
Save up to $6,000 on big Samsung TVs during Black Friday
There are huge sales on Samsung tech this Black Friday, including a whopping discount on its 98-inch TVs. You can also save big on its QLED range and portable projectors.
Samsung TVs
Samsung soundbars
There's a lot to like about the HW-Q990C Dolby Atmos soundbar. Even more so when it's $500 off. Samsung's other soundbars also have some pretty nice discounts to check out.
Sonos discounts soundbars and speakers by up to $300
Sonos speakers don't go on sale as frequently as some other brands. When they are discounted, however, we highly recommend you check them out.
Get a 75-inch EKO 4K Google TV for $749
Black Friday deals on outdoor and power technology
Save up to $1,399 on Bluetti portable power stations
A reliable portable power station brand, Bluetti is one of many brands with early Black Friday sales. This includes sizable discounts on devices like the AC180 power station and B80 expansion battery. Big deals are also available on bundles that come with a bonus solar panel to recharge from anywhere. Some of the highlights are below, with the full on-sale range listed on the Bluetti website.
Bluetti AC300 + B300 bundle $4,998 (was $6,397)

Includes a bonus PV350 solar panel valued at $1,299

Bluetti EP500Pro $6,299 (was $7,698)

Includes a bonus PV350 solar panel valued at $1,299

Bluetti AC200P $1,999 (was $2,799)
Bluetti AC180 + B80 bundle $2,598 (was $2,898)
Take up to 38% off EcoFlow portable power stations
On sale now until 3 December 2023, save $800 on the 3.6kWh-capacity DELTA Pro portable power station. There are also hundreds of dollars off many other devices for an outdoor trip glow-up, like camping fridges and air conditioners. We've got the full rundown, with some highlights below:
EcoFlow DELTA Pro portable power station $5,799 (was $6,599)
EcoFlow Dual Fuel Smart Generator $1,999 (was $2,399)
EcoFlow RIVER Pro portable power station $899 (was $1,199)
EcoFlow WAVE 2 portable air conditioner $1,799 (was $1,999)
EcoFlow GLACIER 3-in-1 portable fridge, freezer, and ice maker $1,399 (was $1,499)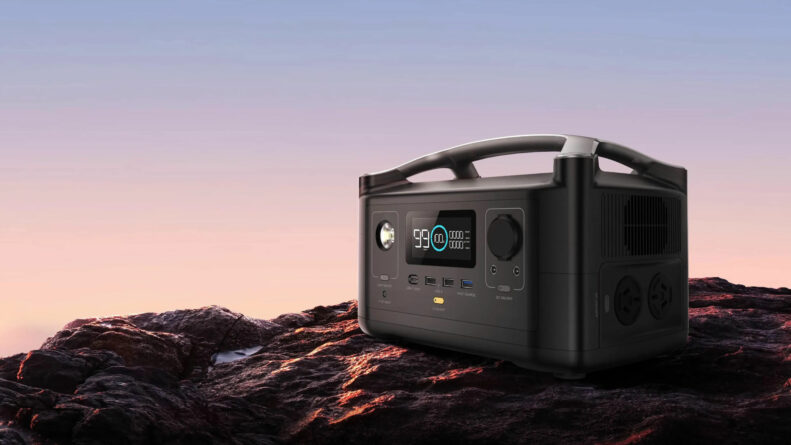 Save up to $400 on electric scooters
Segway Ninebot's 2023 KickScooter range also has a bunch of great Black Friday savings. In addition to hundreds of dollars slashed off the regular price, you also get added value via bonus accessories.
Black Friday deals on smart home and security technology
Save more than 30% on Arlo security camera and video doorbell range
Known for its smart home security devices, Arlo has up to $60 off some of its most popular products. We've reviewed many of the discounted items, too, including the Arlo Pro 5 2K, the Essential Wireless Video Doorbell, the Arlo Go 2, and the Arlo Ultra 2 devices.
Arlo Essential Indoor Wired Security Camera $99 (was $159)
Arlo Ultra 2 Wireless Security Camera $319 (was $379)
Arlo Essential Wireless Video Doorbell $169 (was $229)
Arlo Go 2 4G/Wi-Fi Security Camera $379 (was $429)
Arlo Pro 5 2K Wireless Security Camera $299 (was $329)
Up to 63% off Amazon smart home devices
It wouldn't be a sale if Amazon wasn't involved. This Black Friday, the global conglomerate has a massive 14-day sale across its range of smart tech in addition to many other deals across major brands.
Other brand sales on Amazon
Up to 35% off Nanoleaf smart lights
A flashy way to add ambience to any room, Nanoleaf's extensive range of smart lights is heavily discounted during Black Friday. Included in the sale is the nifty Nanoleaf 4D Screen Mirror kit, producing different-coloured light based on your TV's action.
Kobo eReaders discounted by up to $50
Although the excellent Kobo Elipsa 2E isn't part of the Black Friday sales, you can still save on several other eRreader models. Kobo is a good option if you like borrowing books from your local library, as it works with eBooks on Libby.
Black Friday deals on computers, laptops and peripherals
Big savings of up to $450 on Asus laptops
From now until 3 December 2023, save hundreds on Asus laptops via its online store and at tech retailers. Eligible laptops also come with up to three months of Adobe Creative Cloud Membership at no extra cost. For purchases of selected Expertbook business laptops, you also receive a complimentary Asus SimPro Dock valued at $250.
There are also some great deals on the brand's gaming laptops further down. For now, here are the highlights from Asus' lifestyle laptop range:
Save up to $700 on Samsung gaming and smart monitors
Netgear slashes prices on Wi-Fi mesh systems by up to $500
Mesh Wi-Fi systems are a straightforward way to improve your home's internet coverage, and the Netgear Orbi range comes highly recommended. We reviewed the Orbi 860 earlier in the year, finding that it delivered on its network-expanding promises.
Save up to 36% on Elgato cameras, mics, lights + more
Deals running between 24-28 November:
Blaupunkt and Thunda monitors from just $99
Black Friday deals on home appliances
Get up to $800 off Samsung fridges, vacuums, and laundry appliances
Save up to $500 on Ecovacs robot vacuums, cleaners and mowers
Now's a good time to snag a deal on robot appliances, with massive discounts across the Ecovacs range via the brand's website, Amazon, The Good Guys, Bing Lee, and more.
You can save hundreds on robot vacuums like the excellent top-of-the-range Deebot X2 Omni, the good-value N10 model, and the hot water mop-washing T20 Omni. Deals also include the recently released GOAT G1 robot lawnmower, and the Winbot W1 Pro that automatically washes your windows.
Up to 45% off Cricut DIY art cutting and heat transfer machines
Known for its devices aimed at DIY creatives, various Cricut models are discounted by up to hundreds of dollars. These nifty gadgets let you make labels, precisely cut materials, heat transfer designs onto apparel, and more. Check out the on-sale range at retailers including Spotlight, Big W, Harvey Norman, Officeworks, and JB Hi-Fi.
15% off sitewide at Vitamix
Save on blenders and accessories between 24-27 November as Vitamix discounts prices by 15% sitewide.
Take up to $1,100 off Dreame robot vacuums
Tineco wet-dry vacuums up to 36% off
Black Friday deals on video games + accessories
Save more than $200 on PS5 Spider-Man 2 bundle and controllers
Arguably one of the most popular early Black Friday deals so far, you can grab a PS5 bundle on sale with an included copy of Marvel's Spider-Man 2 for well under $700 at several retailers. Both items collectively retail for $904.95 at full price, making this one heck of a deal.
Other PlayStation Black Friday deals include the following:
God of War Ragnarök $79.95 (RRP $124.95)
Gran Turismo 7 $64.95 (RRP $124.95)
Horizon Forbidden West $64.95 (RRP $94.95)
Ratchet & Clank: Rift Apart $64.95 (RRP $124.95)
The Last of Us Part 1 Remake $79.95 (RRP $124.95)
PS5 DualSense wireless controllers (various colours) $89.95 (RRP $109.95/$119.95)
PlayStation Plus Deluxe: 30% off
PlayStation Plus Extra: 25% off
PlayStation Plus Essential: 20% off
EA Sports FC 24 Standard Edition (PS4 | PS5): 50% off
NBA 2K24 (PS5): 50% off
Assassin's Creed Mirage Standard Edition (PS4 | PS5): 20% off
Diablo IV Standard Bundle (PS4 | PS5): 40% off
$150 off Xbox Series X consoles, discounted controllers and games
Through the Microsoft Store during the Black Friday sales, you can get a sweet discount on an Xbox Series X console. However, the real savings come from other retailers dropping the prices even further. At the moment, EB Games and Amazon have the console for $649, a saving of $150.
As for what's available via the official Microsoft Store, here are the details:
More than $200 off SteelSeries headsets, keyboards & mice
One of the best video game peripheral brands, SteelSeries has some huge discounts on its premium-level devices. Heaps of stuff is on sale during Black Friday until 29 November, with some of the highlights below. Standouts include the cheapest prices ever on the brilliant Arctis Nova Pro headsets and a huge price drop on the Apex Pro TKL Wireless Keyboard. Amazon has taken some of the discounts even further for bigger savings.
Headphones
Keyboards
Mice
$200 off ROG Ally, up to $700 off Asus gaming laptops
One of the very few handheld gaming PCs available in Australia, the ROG Ally is a decent alternative to importing a Steam Deck. At $200 off, it's even more tempting for hardcore gamers wanting portability. All the while, Asus has several strong deals across its gaming laptop range, with decent specs at a reasonable price.
Check out the deals via the brand's website and computer retailers:
Other video game Black Friday deals
---
Check back regularly as we update this page with more Black Friday technology deals as the sales ramp up.
GadgetGuy occasionally uses affiliate links and may receive a small commission from purchased products.