Believe it or not, 'gooder' is now an official word – and the LG 2019 TV range makes Life that much gooderer.
The LG 2019 TV range is gooder than the 2018 range and even gooderer than the 2017 range – and they were 'awesomer' to start with.
The LG 2019 TV range (LG website here), at least those you can buy soon, is entirely 4K. Yes, there will be 8K as well – one 88-inch Z9 OLED and 75-inc Super UHD coming soon (H2 2019). I need a much bigger house!
Angus Jones, General Manager of Marketing at LG Electronics Australia treated media to a closeup of the new 2019 OLED, Super UHD (LCD backlit) and UHD (LCD edge lit) range and without exception, you would be pleased with any of them.
New model numbers for the LG 2019 TV range
In OLED the identifier is 9, e.g. OLED77W9PTA.AAU is a 77", W panel, 9 series. There are W (wallpaper), E (premium picture on glass) and C (standard) panel types. 2018 is the 8 series.
In Super UHD the identifier is SM followed by 8100, 8600, 9400 or 9450. 2018 is SK.
In UHD the identifier is UM followed by 7400, 7600. 2018 is UK.
New features across the LG 2019 TV range
LG webOS 4.5
Regardless of panel type they all have the latest LG webOS 4.5 and have a magic remote (that has a pink on-screen cursor) for ease of use.
I like webOS – it's clean, intuitive and logical. The main additions include more rollover actions, more auto-identification of content devices, auto resume of content like Netflix and much more.
LG Australia has worked with a metadata service to provide extra detail and the latest information on the content (enhanced free to air program guide) you view.
Voice assistant
Google Assistant uses the microphone key on the magic remote.
During the year an Alexa skill accessible via a long press on the Amazon Prime key and Apple AirPlay 2 and Apple Home Kit connectivity is coming via a firmware update. This makes LG the only TV brand to talk directly to leading AI platforms without the need for additional hardware.
This is in addition to LG's ThinQ that offers these voice assistants the deeper integration with the TV as it understands the hardware context of what the voice assistants want to do.
LG OLED
"OLED is the best and only self-emitting light source panel. LG makes the OLED panels for most TV manufacturers," said Jones. He had an oblique dig at the largely misunderstood term QLED that still uses LEDs and LCD filters to make colours.
"More and more Australians are falling in love with LG OLED TVs – their perfect blacks and stunning visual experience – and this year with the added AI benefits embedded in these models viewers will truly get the best visual experience that LG has to offer. We are excited to bring Australian consumers the new range of OLED TVs in a variety of sizes and price points, matched with a game-changer Alpha 9 Gen 2 Intelligent Processor."
The Alpha 9 Gen 2 has more processing power for a better picture and sound experience. LG's deep learning technology optimises the viewing experience based on both the source content and the viewing context. The processor will identify the quality of the source material and produce the best possible audio-visual experience such as clearer speech for the ultimate upgrade in home entertainment.
LG OLED is 4K cinema standard with HDR/Dolby Vision and Dolby Atmos.
LG Super UHD
LG uses the term NanoCell with their Super UHD TV – in fact, it is another term for QLED, but that term is already in use. These have the Alpha 7 gen 2 processor. This delivers Full Array Dimming (SM90) and Full Array Dimming Pro (SM94/99) to produce deeper blacks; Dolby Vision and Atmos integration. Some models feature AMD Freesync control.
We saw the Super UHD beside an equivalent sized 9-series OLED. The colours were both excellent, but the OLED was slightly better. Super UHD has the advantage over OLED of being able to be used in brighter rooms.
Select 2019 AI ThinQ OLED, and SUPER UHD models will support HDMI 2.1 for viewing 4K content at 120 fps (4K HFR), Automatic Low Latency Mode (ALLM), Variable Refresh Rate (VRR) and enhanced Audio Return Channel (eARC).
UHD
The UHD 4K LCD range comes in 43-86-inches and range in price from $1299 to $7,999. In every respect, these are equal or better to any brands premium edge-lit LCD screens.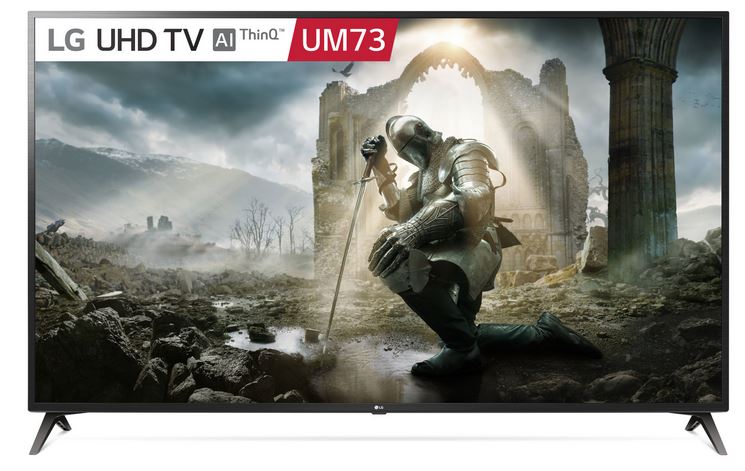 GadgetGuy's take: Life can be gooder, gooderer and gooderest
The LG 2019 TV range reaffirms why so many Australian's are buying LG. It's well-made, technically advanced and you can be proud of your purchase for many years to come.
I am an OLED lover but the caveat there is the right environment. It works best where you have good ambient light control. Super UHD and UHD work best in the wide open spaces of Aussie lounges replete with wide open windows and lots of ambient light.
8K is interesting and shows the future of TV but until there is 8K content and a good content delivery system all early adopters will be able to do is upscale 4K – and there is still not enough native content there either.
You can read more about the LG CES 2019 announcements here.
TV Pricing & Availability
Range
Model Code
RRP
Availability
OLED
OLED77W9PTA.AAU
$ 19,999
April
OLED
OLED65W9PTA.AAU
$ 9,999
May
OLED
OLED65E9PTA.AAU
$ 7,099
April
OLED
OLED55E9PTA.AAU
$ 4,299
April
OLED
OLED77C9PTA.AAU
$ 15,999
April
OLED
OLED65C9PTA.AAU
$ 6,399
March
OLED
OLED55C9PTA.AAU
$ 3,899
March
SUPER UHD
86SM9400PTA.AAU
$ 10,999
July
SUPER UHD
75SM9400PTA.AAU
$ 7,899
May
SUPER UHD
65SM9450PTA.AAU
$ 5,399
April
SUPERUHD
75SM8600PTA.AAU
$ 5,299
April
SUPER UHD
65SM8600PTA.AAU
$ 3,599
April
SUPER UHD
55SM8600PTA.AAU
$ 2,499
April
SUPER UHD
65SM8100PTA.AAU
$ 2,999
April
SUPER UHD
55SM8100PTA.AAU
$ 2,199
April
SUPER UHD
49SM8100PTA.AAU
$ 1,999
April
UHD
86UM7600PTA.AAU
$ 7,999
May
UHD
82UM7600PTA.AAU
$ 5,499
July
UHD
75UM7600PTA.AAU
$ 3,699
July
UHD
65UM7600PTA.AAU
$ 2,399
April
UHD
55UM7600PTA.AAU
$ 1,799
April
UHD
50UM7600PTA.AAU
$ 1,599
April
UHD
43UM7600PTA.AAU
$ 1,299
April
UHD
70UM7300PTA.AAU
$ 3,099
April