You've come to just the right place! You're stuck, aren't you? It has finally occurred to you that Xmas is looming and you have no idea what to get her. Now you realise that you've been a little light on in your reading about cosmetics and perfumes and women's wear and accessories? That's fine. The first step in overcoming a problem is admitting it.
We're here to help, and since we know nothing about those things either, we've curated – that's the fancy word we use for it these days, isn't it? – a list of gadgets that we reckon will appeal to her.
iPhone 7 – $1229
Look, who wouldn't want an iPhone 7? Okay, we may, possibly, have expressed the view that it might not be a compelling upgrade over an iPhone 6s or even an iPhone 6, but this is Xmas, the time for extravagance! Anyway, if she has an iPhone 5 or earlier, she'll definitely be pleased with the larger screen and the gorgeous Retina display.
And if she has Android (and wouldn't mind the change – find out discreetly), changing to the iPhone is now relatively easy.
Mu-so Qb by Naim – $1295
Yeah, yeah, you're thinking, the name is exotic but it's just another wireless speaker, and an expensive one at that. But pause for a moment. "Naim" is one of the most highly respected British high fidelity brands, so perhaps there's something special going on here.
It handles not only Bluetooth, but also connects to a WiFi network so she can use AirPlay on that iPhone 7, or Spotify Connect to play just about everything. Our reviewer listened to Miles Davis and Beethoven and Radiohead and Muse and concluded the sound was "what we'd expect from high-end bookshelfs".
The Smoking Gun from Breville – $119.95
Appliances in general, and kitchen appliances in particular, can as gifts be – how do we say it? – problematic. But luxury kitchen appliances are a different matter, as are special purpose devices which say not "why don't you cook more", but "I recognise and applaud your creativity in the kitchen". Which brings us The Smoking Gun from Breville. This is a specialist tool, as specific in function as you can get, injecting smoking Applewood and Hickory flavours into meals.
Hey, check back over coming weeks too. We have a Breville Smoking Gun, and we're plannin' to use it. We'll let you know how it went.
Meanwhile, read all about it here.
Gramovox Floating Record Player – $669
We cheated a little here, because we also recommended that she might like to give this gift to you. So check with all the discreetness you can muster before committing to this turntable. If she's not buying it for you, it'll be a hit.
There's something more immediate, more physical about vinyl on the turntable than there is with digital pits on the surface of a CD, let alone the immaterial binary bits of digital music files.
The Gramovox record player is easy to set up, easy to use, and can play either with or without a stereo.
Logitech K830 Illuminated Living-Room keyboard – $149.95
One of the weirder aspects of modern life is that so much stuff connects to the Internet, and a lot of that self same stuff isn't all that competent at letting people use it efficiently. Unless they're equipped with a pointing device and keyboard.
The Logitech L830 is a neat, compact keyboard with a touchpad included. A tiny dongle can be plugged into a smart TV or a Blu-ray player, and the web browser on the device can be used by your love as easily as a computer's browser.
If, perchance, she hasn't got an iPhone (cheapskate! See the first suggestion) and is on Android, there's a reasonable chance with the addition of an OTG cable* she could type her emails and messages on the phone using this keyboard.
iRobot Roomba 980 vacuum cleaner – $1499
There's a simple question that must be asked and answered before going for a Roomba. For sure, this top of the line model is a generous gift, but cui bono? Who benefits? If you're the one who drags the Electrolux around, even if it's only a quarter of the time, a Roomba will likely seem self serving.
But if she's the one who'll find a robotic vacuum cleaner relieving her of a major task, then it'll be worth it. Especially if you promise – and follow through, of course – to empty the little fellow's waste receptacle on a regular basis.
HP Spectre 13 notebook computer – $2399
You know, there's this strange myth that only Apple makes stylish computers. We think of the HP Spectre 13 as the Apple computer you'd have if you weren't using Apple. It's gorgeous. It's thinner than most Apple models. It uses USB Type-C connections so it's fit for the future. It is powerful. It's gorgeous – oh, we said that already.
Anyway, if she already knows Windows, making her move to the Mac's different way of doing things is just cruel.
iRobot Braava 380t floor mopping robot – $599
Already got a Roomba? Then what about its little, and rather damp, sibling, the Braava? This isn't as well connected as the Roomba – it relies on the signal from a "navigation cube" for it to work out where it is. And it's not vacuuming carpet, but giving a hard floor a good old wash.
We weren't quite as smitten with it as the Roomba, but we could see it finding a useful role in the home. Just remember, the aim here is to make her life easier.
DeLonghi PrimaDonna Elite coffee machine — $3599
Now, we can't deny that you also might gain some benefit from having a first class coffee maker in the house. So such a gift must be accompanied by a heartfelt commitment – followed up by real action – that you'll be making the coffee for her.
But sometimes she might want to do it herself. As our reviewer said: "this machine does what coffee fanatics want most, delivering excellent coffee with little to no effort".
And, he adds, "there's even an app. A freakin' app."
Bissell SpotClean portable deep cleaner – $229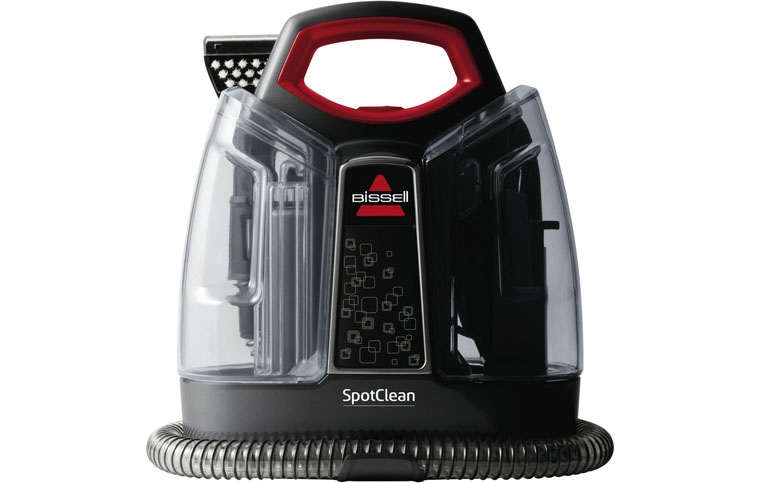 We don't think we've seen this kind of thing before, and we don't think she has either, so that would put the Bissell SpotClean into the "specific and helpful" appliance category, and thus be fairly safe … if handled sensitively.
So you have a spill (maybe a semi-intentional one on Xmas day could provide a salutary demo) on the carpet or upholstery. Load the freshly unwrapped SpotClean with either the OXYBoost or Spot & Stain formulas and set it to work, removing the mess, restoring the surface which took the brunt of the spill.
Or, just maybe, that's too much of a hard sell for Xmas. We think it looks so useful, perhaps its something you should get today, rather than give it as a gift for Xmas.
BenQ WiT LED desk lamp – $249
How about her home office?  Does she spend a lot of time there? Perhaps work full time in it? Then a little something that might remind her of you wouldn't go astray.
As desk lamps go, the BenQ WiT LED one is remarkably stylish, and it has an adjustable colour temperature that is designed to improve one's productivity and mood. The "WiT" of the titles stands for "Wide", "intelligent", and "Tailor-made".
---
* Just to be entirely clear, do not, under any circumstances, buy her an OTG cable for Xmas. Unless you feel your relationship is at an end and you want administer a quick coup de grâce.