This week at CES LG has catered to both extremes for the kitchen, from minimalist home appliances, to a light-up fridge with a party mode. The overarching themes from the 2023 LG appliances were updates, personalisation, customisation and catering to a startlingly wide variety of aesthetics.
Dance with your LG MoodUP fridge
The most eye-catching new product was the LG MoodUP refrigerator, featuring Pantone's 2023 Colour Of The Year, Viva Magenta. However, if you don't like magenta for some reason, users can change the colour of the fridge using an app, thanks to the fridge's LED colour-changeable door panels.
That's right, it's a light-up fridge that can change colours, in line with the current maximalist trends on TikTok. Technically, the MoodUP was announced at IFA in Berlin last year, and the new information at CES is that it will now be able to display the Pantone colour, but a light-up fridge that can go into "party mode" lighting functions needs to be introduced twice.
For those after a fridge that is cavernous, but not necessarily magenta, there's also the new LG InstaView French Door fridge. It's a 25.5 cubic feet counter-depth fridge, I don't know what 25.5 cubic feet are, but it sounds big (Google suggests this is 0.722 cubic metres, which sounds less big, but still big enough). That's a 25% increase in storage space compared to previous counter-depth models. To achieve this large size without jutting out beyond the benchtop, LG redesigned the housing of the fridge to make it thinner without losing coolness. It can also make four different types of ice, for some reason. Those ice types are cubed, crushed, round Craft Ice™, and the latest type: mini cubes.
2023 LG appliances bring the bubbles
New kitchen solutions included in the 2023 LG appliances range are a QuadWash Pro dishwasher, InstaView Combination Double Wall Oven, LG InstaView Electric Double Slide-In Range, and Over-The-Range Microwave Oven. The dishwasher's biggest feature is that it can spray cutlery and crockery from multiple directions while soaking them with one million microbubbles, which is a lot of bubbles. It also steams.
The two ovens – the double wall oven and Electric Double Slide-In Range (which also has an induction cooktop built-in) both have InstaView doors, similar to the fridge. You knock twice on the door to check in on how your food is cooking. The Combination Double Wall Oven can also function as an air fryer and has a Steam Sous Vide mode, while the Slide-In Range has a convention setting for cooking quickly without pre-heating.
The microwave is a microwave oven with the ability to Steam cook and Simmer cook, and connects to the ThinQ app to download recipes and diagnose problems before they become problems.
High-end Signature and upgradeable appliances
For those who want even fancier than 'premium kitchen solutions', there's the LG Signature range, which represents the best of what LG has to offer. LG announced a new Signature 4-Door French-Door refrigerator with Dual InstaView, a washer and dryer set with 7-inch LCD touch panels, an Over-the-Range Microwave Oven with InstaView, and a double slide-in oven range with built-in cameras and auto time and temperature setting functionality. This is in addition to an air conditioner, air purifier, OLED TV M3, and Wine Cellar.
For those on the more minimalist side of the fence, LG has announced a new line of appliances with minimalist, primarily white designs, including an oven, dishwasher, fridge, washer and dryer. While the announcement is fairly light on feature details, the company does seem to be keen to emphasise the sustainability benefits of unadorned, minimalist machines with minimal printed parts. The machines also include a variety of unspecified parts and packing made from recycled materials. There is no word on whether easy home repairability is part of this more eco-conscious range.
As well as being minimal and more sustainable, this range will have access to the Upgrade Center in the LG ThinQ app, which has been a major theme across this year's new appliances after being launched in Korea last year. The Upgrade Center allows users to download new features and wash cycles as they become available if they're relevant to the user. For example, if you're not ready to empty the dryer right away but don't want your clothes to get wrinkly, there's a feature you can download that just keeps the drum spinning until you open the door. Another example would be turning down the brightness of your fridge's lighting at nighttime. (Who hasn't gone for a midnight snack while half asleep and nearly burned their retinas on fridge lighting designed for the day?)
The ThinQ Upgrade centre will roll out internationally, starting with the US in March. Australian pricing and availability have yet to be announced.
Finally, if all this cooking has customers wanting to clean the kitchen, LG announced a new CordZero A9 Kompressor with Steam Power Mop. It's LG's first cordless stick vacuum cleaner with a steam mop function. In steam mop mode the mop pads are kept wet and at 60C, but if you lift it off the floor or don't move it for 20 seconds, the steam will shut off.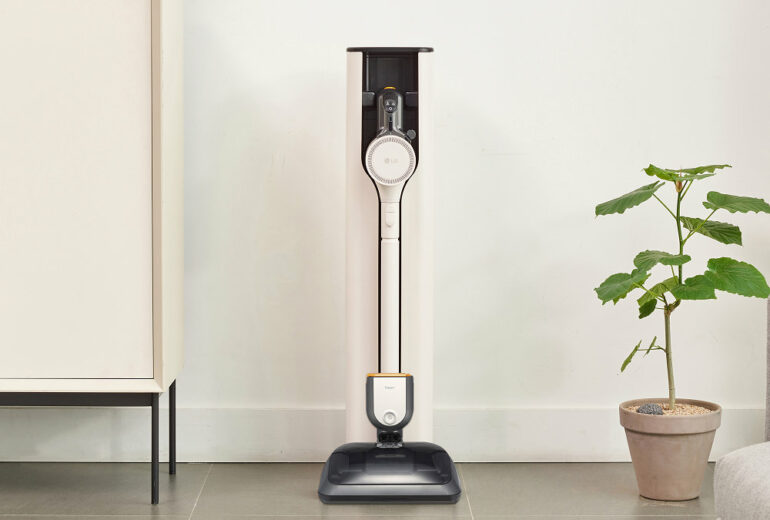 Local pricing and availability are yet to be announced for these products.
Visit our event hub page for the full rundown of everything CES 2023.